Newsletter – April 15, 2018
Korea's Ministry of Environment Supporting Dog Meat Industry
Click

HERE

to see this newsletter from our homepage.
​
[KARA Press Release]
The Ministry of Environment's Neglect of Responsibility for Waste Management Results in Dog Meat Farms Becoming Furnaces for Food Wastes
Below is translation of July 11, 2017 Press Release from Korea Animal Rights Advocates(KARA): We are exposing the dirty secret of how dog meat farms were able to be formed and operated in South Korea, the only nation in the world where dogs are bred in factory farms in which hundreds or even thousands of dogs are raised by only one or two people. According to Korea Animal Rights Advocates (Director: Soon-Rye Im, hereinafter referred to as KARA), it was discovered that the Ministry of Environment was neglecting to properly manage food waste by allowing illegal disposals. By exploiting the laxity of the Ministry of Environment's management of food waste, dog meat farms were able to grow to such immensity with free illegal food and livestock waste.
According to the Control of Livestock and Fish Feed Act, for food waste to be processed and distributed as animal feed, it must first be transferred to an authorized recycling facility where it is sterilized and tested for contaminants such as salmonella and residual selenium content. In 2016, 83 of such recycling facilities processed 1.1 million tons of food waste, and distributed to pig farmers 400,000 tons (approximately 37%) of the recycled food waste collected. However, the Ministry of Environment issued food waste processing licenses to dog farm owners who wanted to collect food waste, without ever inspecting or checking these dog farms to ensure compliance of standards. By granting non-discriminatory waste management authority to dog meat farm owners without supervising their abidance of the Control of Livestock and Fish Feed Act, the government contributed to rampant animal abuse, threats to public health, complaints of odor and pests, as well as the environmental pollution caused by the secondary dumping grounds.
Even more serious is the extent of the mismanagement of livestock waste. Management authority of livestock waste, which must be thoroughly recycled or disposed of, was issued to the dog farms, which is like a free pass for prevention of epidemics. This is no different than the complete collapse of the system to prevent contagious zoonotic diseases such as avian influenza. The response of the Ministry of Agriculture, Food and Rural Affairs has been a complete shame with neglect of responsibilities reaching the level of "waste terror". Remaining unaware of the severity of the situation, they prohibited distribution of recycled food waste wet slops only to poultry, not to dogs.
Click HERE to learn more.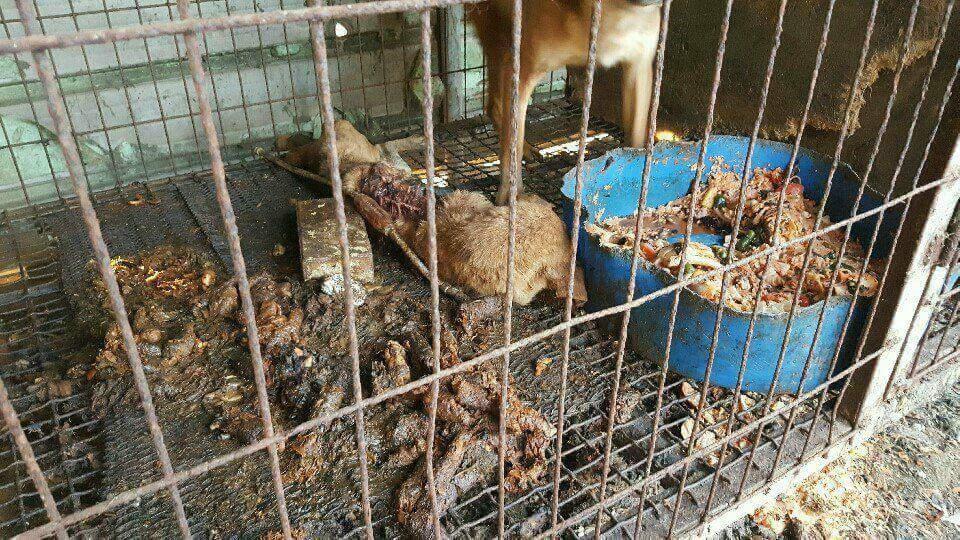 Photo: Dog farm in Gwangju, South Korea. Dogs are forced to eat their dead cagemates and rotten food waste slops. SaveKoreanDogs.org .
San Francisco – Join us on May 26, Saturday
!
We will be displaying our banners and posters, and will be handing out leaflets and collecting petition signatures against the extremely cruel South Korean dog meat trade at the Fisherman's Wharf, the famous San Francisco tourist attraction and landmark. We will need the help of volunteers to hand out our leaflets and to talk to as many of the visitors as possible, to make them aware of our campaign to help the South Korean dogs and cats. Can you help? Free T-shirts and cold drinks are provided to volunteers at this event.

Location: San Francisco, Fisherman's Wharf located near the corner of Jefferson and Powell streets along the chain link fence.

Date/Time: May 26, 2018 Saturday. 9:30am – 5pm.

RSVP on Facebook or send us a message if you will be coming.
Click HERE to share our event. Thank you!
Dogs are welcome! :O) Woof!
Hope to see you there!
Adopt dogs rescued from dog meat industry by SaveKoreanDogs.org

​
Dogs rescued from dog meat industry in South Korea by Nami Kim and her team are waiting for their loving and caring forever homes. Thank you for opening your heart and your home to these angels!
​
​Click HERE to see the dogs available for adoption.
Click HERE to follow SaveKoreanDogs.org on Facebook for the latest updates.

Photo: Yoo's farm rescue.

Please donate to SaveKoreanDogs.org team so that they can continue to rescue these angels and continue their fight to end the horrific dog meat trade. Thank you!!