Newsletter – April 25, 2017
2017 "Boknal" Demo | Gangjin, Shinan & Gyeongju
Click

HERE

to see this newsletter from our homepage.​
​
New Sister City Campaigns –
Gangjin, Shinan and Gyeongju
We are making progress with our Sister City campaign. Regardless of whether these US cities are responding to us or not, I believe, many of them do make contacts with their Korean counterparts. The Korean cities that want to form cultural and economic ties with U.S. cities would have to respond and also make changes in order to show that they are making an effort. So let's keep it going.
Click each of the below campaigns to take action.

We will continue until South Korea ends the horrendous and barbaric dog eating.
Please add your voice today!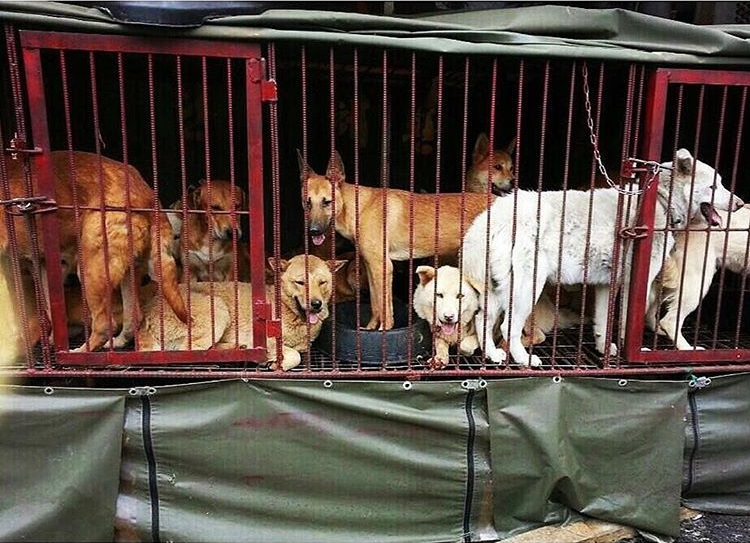 Responses received from Cedar City and Leesburg.
We are grateful to all the cities and their mayors who have respond to our Sister City campaigns. Last week, we had received a further update from Cedar City's Mayor Wilson who shared with us the letter from their Sister city, Gapyeong. We also recieved a response from Leesburg letting us know that they don't have an official relationship with Samcheok. We have now closed these campaigns.
Click HERE to learn more – Cedar City's response.
Click HERE to learn more – Leesburg's response.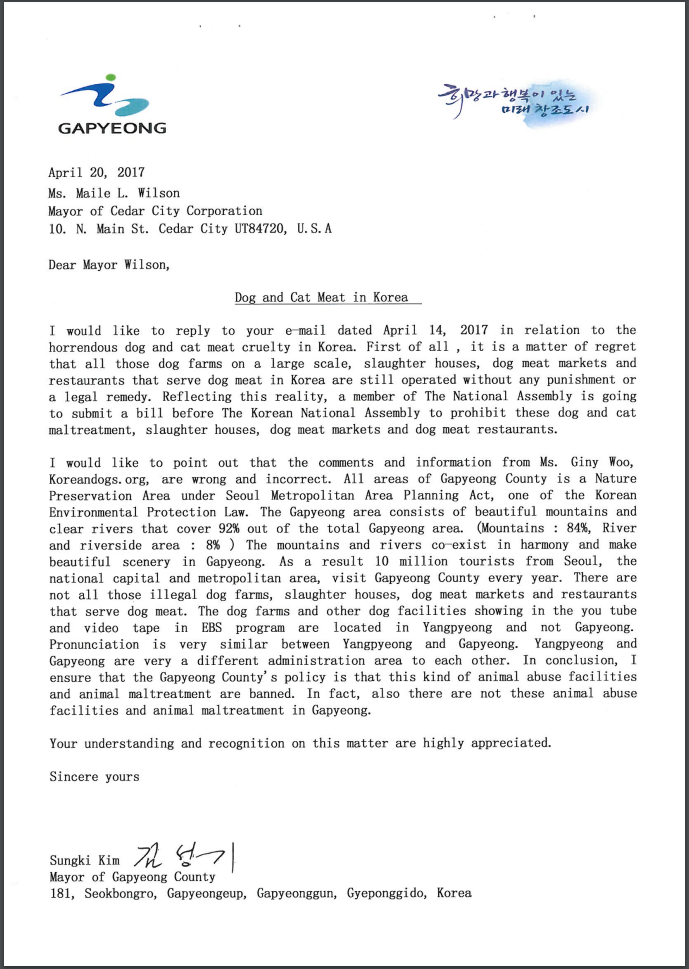 The Animals' Battalion
2017 'Boknal' Demonstrations in New York
We are very excited that the New York based animal rights group
"The Animals' Battalion"
will be organizing demonstrations in front of the Korean Consulate General's Office for the third year in a row for the 3 days of Boknal (dog eating is ritualized in Korea – Chobok 7/12, Joongbok 7/22, and Malbok 8/11 in 2017). They held 3 demonstrations in the previous two years at the same location and were covered by ABC network news in New York and also South Korea.
Day 1: Wednesday, July 12, 2017 Click HERE for Facebook Event.
Day 2: Friday, July 21, 2017 Click HERE for Facebook Event.
Day 3: Friday August 11, 2017 Click HERE for Facebook Event.
Where: Consulate General of the Republic of Korea
460 Park Ave, 57th Street, New York, NY 10022
Time: 2:00 pm – 5:00 pm
(Consulate Hours: Open • 9:00 am – 12:00 pm, 1:30 – 4:00 pm)
Posters and brochures will be provided but homemade posters, props and other materials are encouraged! We also have petitions to be signed and sent to the Ambassador of South Korea.
Click HERE for all of our upcoming events.
Click

HERE

to join the Demo from your home – Phone Blitz.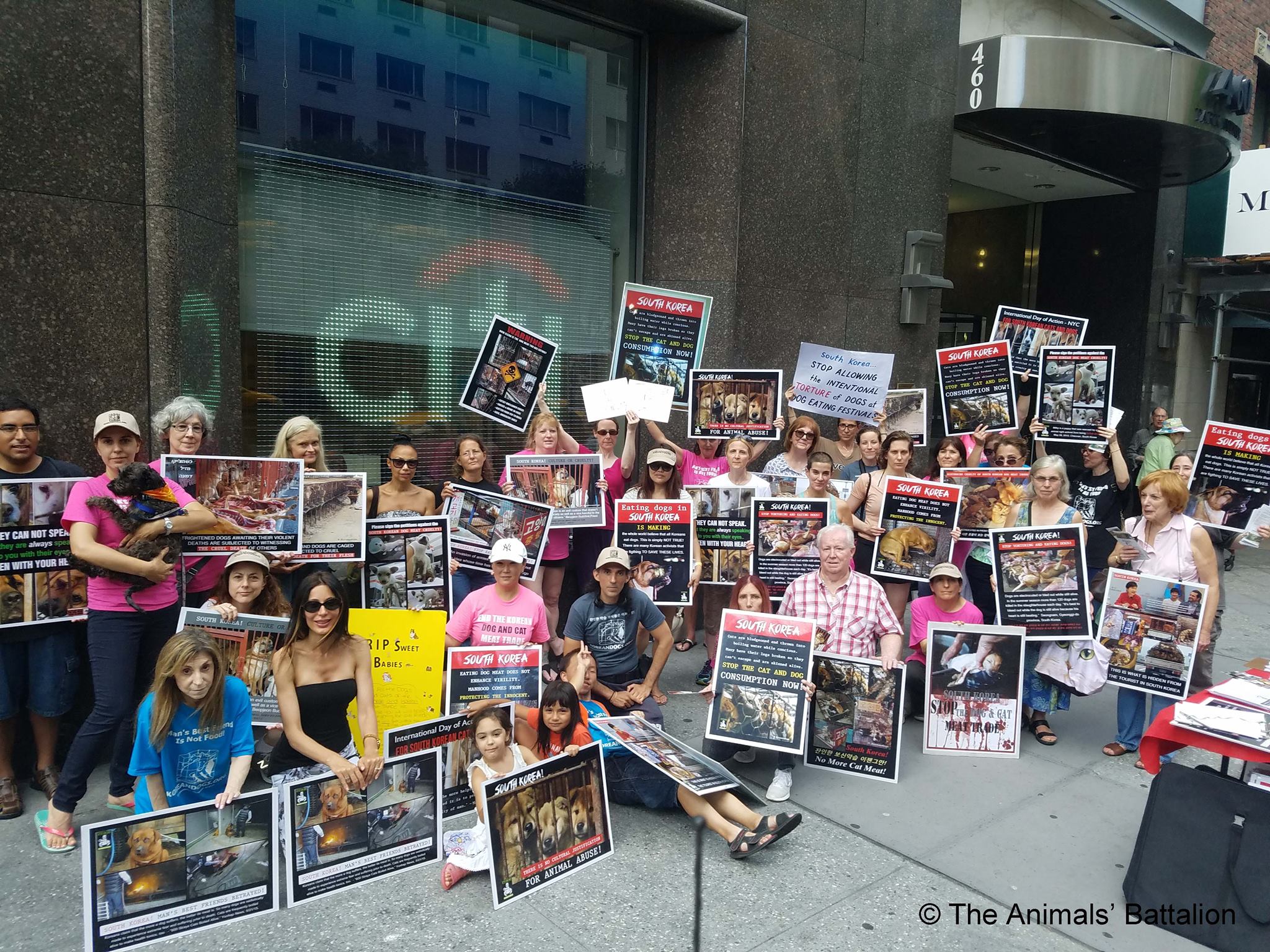 United Nations Food and Agriculture Organization (UNFAO):
The dog meat trade in Asia is an unregulated industry
​ imposing dangerous health risks.
We are urging
the United Nations Food and Agriculture Organization(UNFAO)
to join us in the fight to end the dog meat trade in Asia. The ugly truth is that dog tonics and soup are harvested and created in an unregulated industry in the most disgusting and unsanitary conditions. From start to finish the treatment of the dogs is incredibly cruel and inhumane.
We are reaching out to the UNFAO to help us bring an end to the dog meat trade in South Korea.

Our "Boycott PyeongChang Winter Olympic"
Thunderclap Campaign is Bi-Monthly – Every 1st and 15th!
Please continue to join us. This is one of the easiest ways to raise awareness, the first step to change!
Photo: Yellow dog.