Newsletter – August 23, 2017
Royal Canin | Yeosu's response| New Call for Action
Click

HERE

to see this newsletter from our homepage.​
​
Royal Canin: Speak out against the dog meat trade
operating outside your facility in Korea!

| | | |
| --- | --- | --- |
| Royal Canin, a world famous pet food provider, is currently building a large production facility in Gimje, North Jeolla Province, South Korea. According to the Koreabizwire, North Jeolla provincial government and Royal Canin "signed a memorandum of understanding for | | |
the French company's investment (US$ 64million)and construction of its 13th pet food manufacturing facility in an industrial complex in Gimje by 2017."
We want Royal Canin to speak out against the cruel, in-humane and torturous practices in the dog meat trade operating right outside their own pet food facility in South Korea!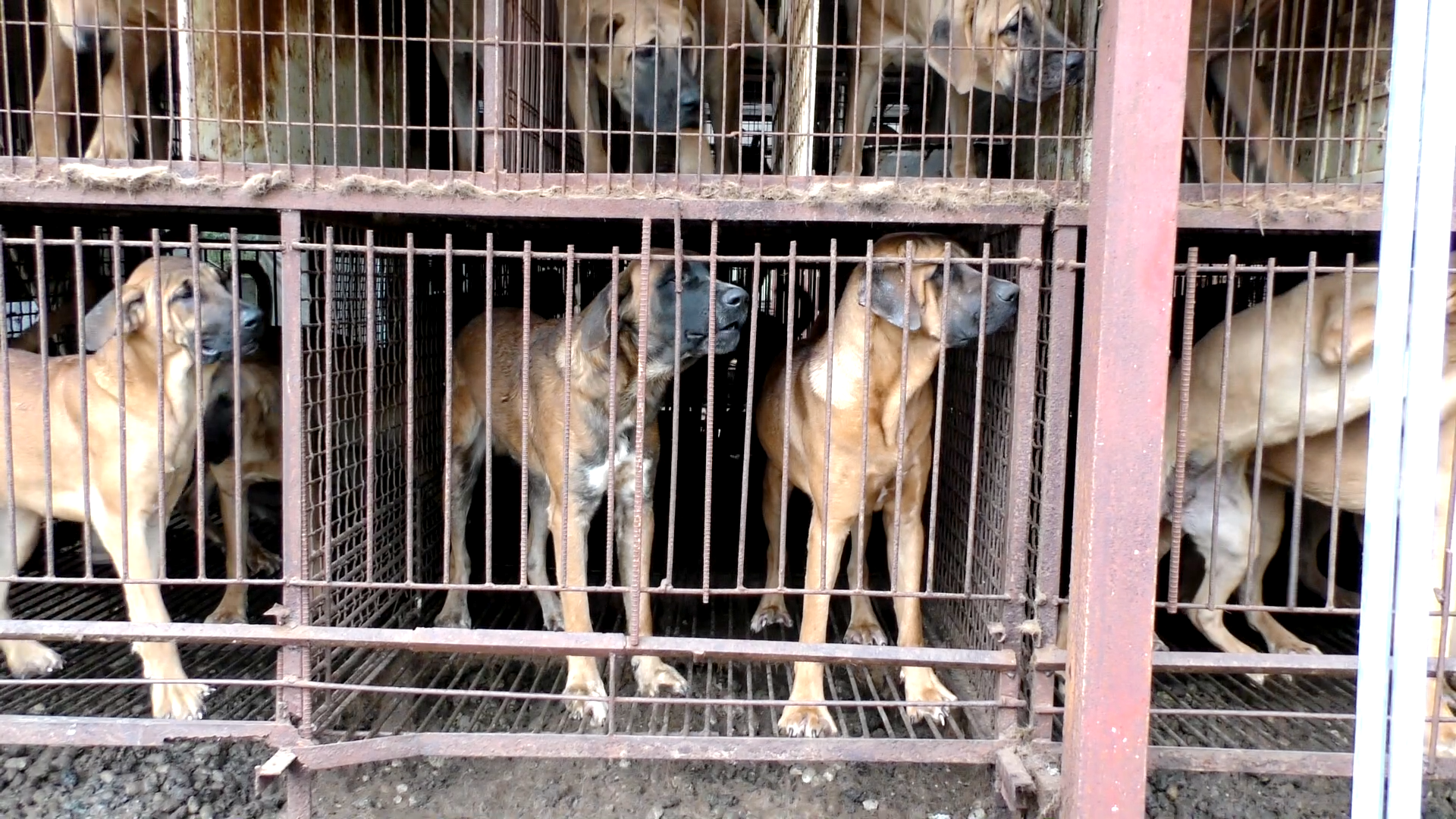 Call for Action: Will the Canadian cities speak out for the Korean dogs?
We completed the Sister city campaign addressed to the U.S. cities and now working on other English- speaking countries. Canada is one of these countries and they have quite a few Sister/Friendship city relationships with Korea. Below are the new campaigns addressed to these cities. Take action now.
Sister City Campaign – Jinju, South Korea – Winnipeg, Manitoba, Canada
Friendship City Campaign – Wonju, South Korea – Edmonton, Alberta, Canada
Sister City Campaign – Gunpo, South Korea – Belleville, Ontario, Canada
Sister City Campaign – Daejeon, South Korea – Calgary, Alberta, Canada
Friendship City Campaign – Seoul Dongjak, South Korea – Surrey, British Columbia, Canada

[Update] Yeosu responds to our Friendship City campaigns.
We received an email from an International Relations representative from Yeosu regarding our three Friendship City campaigns urging Yeosu's Friendship Cities to speak out against the cruel and illegal dog meat industry in Yeosu.

​Photos: The Korea Observer's documentary "The Dog Meat Professional: South Korea" https://koreandogs.org/dmp/
[Update] Councilmember Tom Hucker of Montgomery County responds to call to action against the dog meat trade
| | | |
| --- | --- | --- |
| We had received an email response from Councilmember Tom Hucker of Montgomery County, Maryland regarding our campaign. We asked Montgomery County to take action against the dog meat trade in Goryeong-gun, South Korea. We are grateful to Mr. Hucker for responding to our concern so quickly, and for expressing his support for our campaign. He informed us that he is "strongly opposed to animal cruelty both here and abroad", and that he "will urge the County Executive to take a stand against animal cruelty". We hope that the Councilmember Hucker will be able to bring the county leadership on board to speak out against the horrible cruelty, and urge Goryeong-gun to enforce the law to close down the illegal dog meat industry. | | |
Thank you and Well Done, Activists!!
New York, South Korean Consulate General, 'Boknal' Demonstration for the South Korean Dogs and Cats (Day 3)
​ – August 11, 2017 Organized by The Animals' Battalion
The Animals' Battalion held a series of demonstrations in New York City, for the third year in a row. They demonstrated outside the South Korean Consulate, to make that government aware of how strongly we abhor their indifference to the mass cruelty and suffering inflicted on sentient animals, within the dog and cat meat trades; and also of the failure of their government to bring about an end to this evil trade which makes profits from the suffering of animals.
Friday, August 11, was Day 3 and the last demonstration for this year. Thank you to The Animals' Battalion for organizing this demonstration, especially Noelia and Roberto and all the dedicated animal advocates who came to help. We are thankful to Susan who has helped with promoting this event by sponsoring an advertisement in the local Korean American newspaper inviting Korean Americans to help out, in reading the statement to the Korean government and leading the chants in the Korean language.
The time for this event was changed to extend through 6pm in an effort to get a hold of the Consulate General Gheewhan Kim. The demonstrators had succeeded. Noelia had asked him about the promise he made at last year's demonstration, about delivering their message to the Korean government. The Consulate General said that he had. When the activists asked for further comments, he was captured on video saying that he supports our campaign and that he has a rescued dog at his home.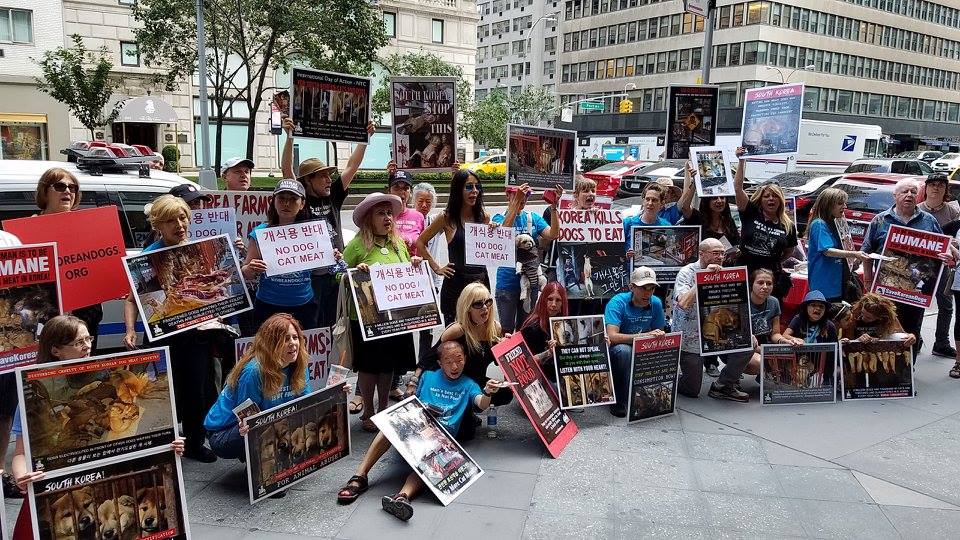 Join us this Saturday in San Francisco – August 26, 2017.
We will be displaying our banners and posters, and will be handing out leaflets and collecting petition signatures against the extremely cruel South Korean dog meat trade at the Fisherman's Wharf, the famous San Francisco tourist attraction and landmark. We will need the help of volunteers to hand out our leaflets and to talk to as many of the visitors as possible, to make them aware of our campaign to help the South Korean dogs and cats. Can you help? Click HERE to see the photos from our previous event on July 1, 2017!
Free T-shirts and cold drinks are provided to volunteers at this event.
Location: San Francisco, Fisherman's Wharf located near the corner of Jefferson and Powell streets along the chain link fence.
Date/Time: August 26, 2017 Saturday. 9:30am – 4:45pm.
Click HERE to RSVP on Facebook.
Click HERE for more info.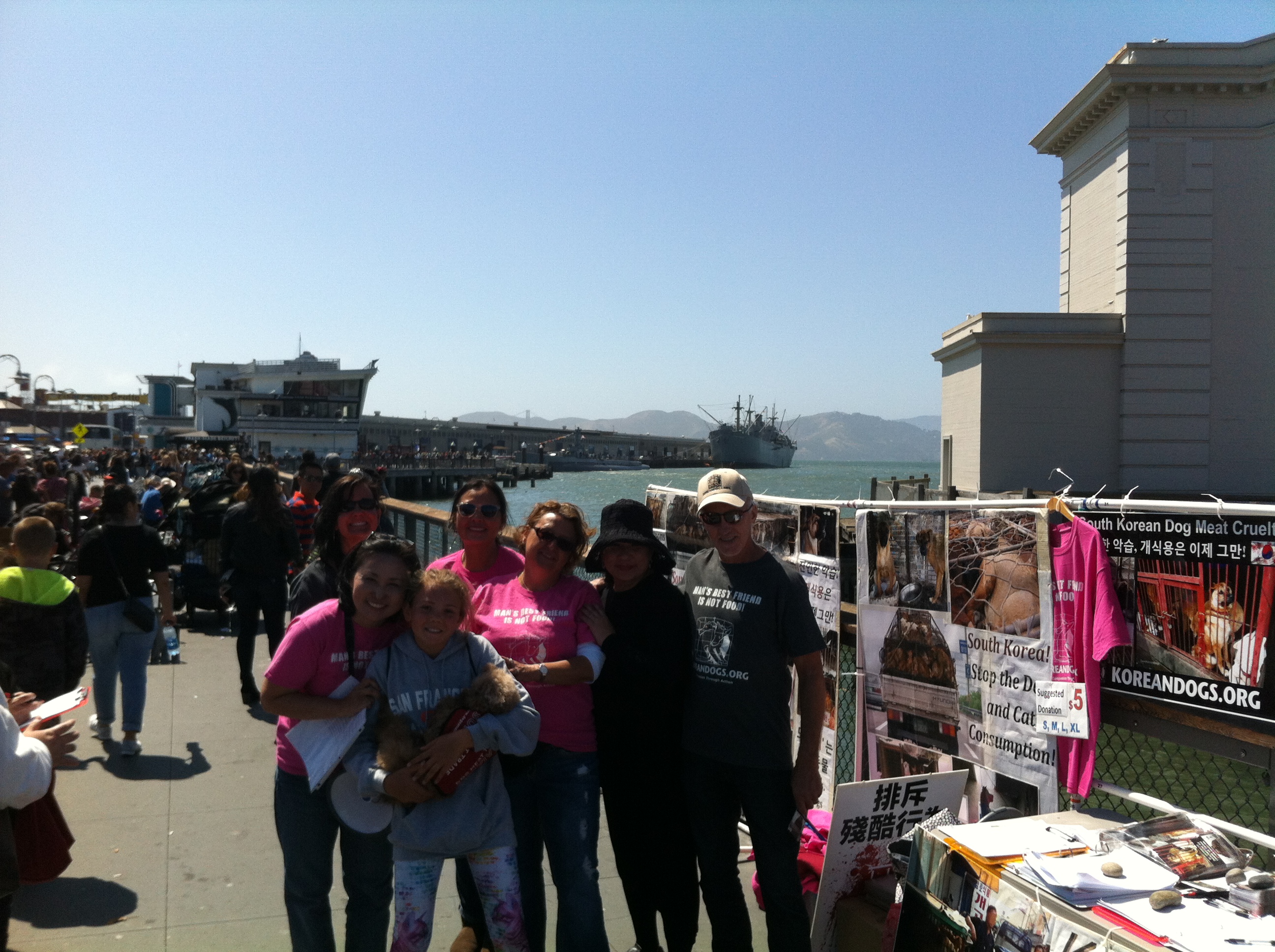 Thunderclap Campaign is Twice a Month!
Please continue to join and speak out against cruelty!
Please click the below photo to join.
Click HERE to join all Thunderclap campaigns.