Newsletter – August 24, 2016
'Gangnam Style' | Will the Korean celebrities play their part?
Gangnam: A Consumer's Delight, or a Consumer's Shame?
Gangnam. A district of Seoul that likes to be top of the charts: it has fabulous shops, fashionable restaurants and rich, rich, rich inhabitants.
But, while the glitterati are busy doing it 'Gangnam Style', the butchers are busy doing it their own barbaric way. Dogs are commodities; they end up in restaurants and 'health food shops'.
But unlike the care and attention that, no doubt, is lavished on the pretty and expensive items displayed in Gangnam's shiny shops (after all, the products must reach their customers in top condition), the only 'attention' that the meat-dogs get is neglect, abuse, terror and torture: eardrums are burst to deter barking, barren cages are used to lessen costs, living creatures are bludgeoned to 'improve flavour'; and the dogs are often blow-torched or boiled alive – for reasons unfathomable and – most assuredly – unjustifiable.
And to put into perspective the scale of this aberrance, a simple search on the most popular Korean search engine, called Naver, will bring up: health food centers: 163 listings; dog-meat restaurants: 69 listing in the vicinity of Gangnam District alone.
Gangnam: a number one chart-topper; or merely a sorry excuse for hellish abuse? You decide.
Click HERE to speak out against the Seoul Gangnam District's horrendous cruelty and shameful indifference TODAY.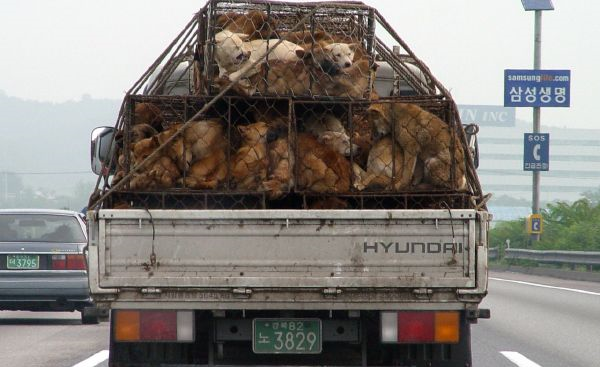 Will the Korean celebrities play their part?
In South Korea, celebrities are worshiped and admired by so many people, from all age groups. Their fans are keen to know all about them, they listen to all their messages, watch everything they do and take in what they say – and this special place in the hearts of their admirers means that the celebrities have a real opportunity to make a difference for their country.
We are now asking the celebrities to make this difference for the animals in their country by publicly opposing the horrendous dog-meat trade and helping to bring about its permanent end.
The celebrities can prove that their country is one to be proud, they can speak out about these wrongdoing, their fans will listen – and they will make a difference.
Click HERE to sign and share our petitions TODAY.



AN EXPOSÉ ON THE DOG MEAT INDUSTRY IN SOUTH KOREA
This fundraiser is to help the investigative reporters at the Korea Observer to create a documentary, to expose the horrible dog meat industry. Their project is still ongoing, but they are short of their fundraising goal and need our help and support. Can you please donate today, whatever you can afford? This will be an important tool to help our campaign fighting this shameful trade, and the better the quality of their work, the more likely this documentary will be distributed worldwide. So, they need your generosity. Thank you for caring!!
Click HERE to donate TODAY.
Video: Undercover by Coexistence of Animal Rights on Earth (CARE)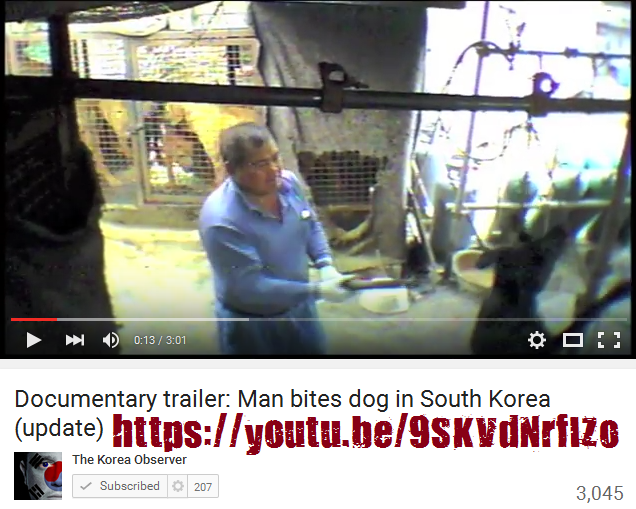 "The fact that our society has been wasting national resources on utterly divisive internal conflicts in all walks of life, such as politics, economy and religion from ancient times is a natural result of evil practice of betrayal and a loss of trust in humanity through the slaughtering and eating of dogs which is then applied consciously and unconsciously in human interactions."