Newsletter – December 28, 2016.
Dog farm urgently seeking help from a rescue group!
Click

HERE

to see this newsletter from our homepage.​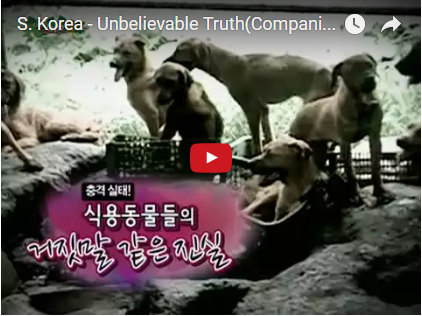 Dog farm urgently seeking help from a rescue group!
A dog farming couple wants to quit farming dogs for meat and is now in immediate need of a rescue group to help them do that. Please share this urgent appeal with any rescue groups you know, asking if they can help. Have them contact SaveKoreanDogs for further information. SaveKoreanDogs is doing their best to save as many dogs as they can but they just cannot take in all of these dogs.
From SaveKoreanDogs:
"We did an assessment on this junk yard meat farm. They want to do what Hong does but this is not suitable. Not all, but most of the dogs here have never been exposed to the sun. This video was taken by me at 3 pm on my first day inspection. It is this black dark during the day. The second video here was taken with a flashlight. Those in the middle line are the ones that will be new to the sunshine. I believe it has to be a step-by-step process for this exposure. I consulted Dr.Kim about their eyesight when we pull them out and put them under the sun overnight. It is like pulling out someone who lived in a cave for life. Unless they remove the roof, there is no way this can be turned into a shelter. In addition to that, I do not personally want the dogs in the middle of junk and scrap either. I am afraid this is not suitable for "Paws On the Ground" or for TURN UPSIDE DOWN. The dogs here don't look healthy at all. I am afraid someone has to take over this dog meat farm and shut it down. The invitation still is open."
Click HERE to see the post from SaveKoreanDogs about this dog farm.
Video: SaveKoreanDogs.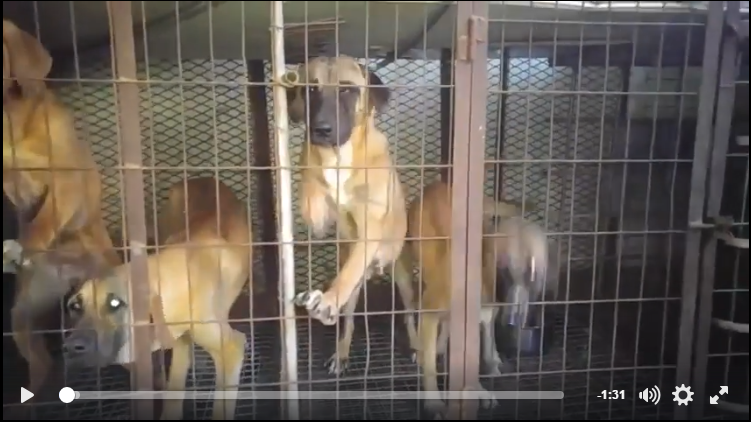 United Nations Secretary General António Guterres:
Help bring an end to the despicable
South Korean Dog and Cat Meat Trade!

| | | |
| --- | --- | --- |
| Now that Mr. Ban Ki-Moon has stepped down as Secretary General to the UN, and Mr. António Guterres has taken over, we must continue our efforts to get this new Secretary General to use his voice and position to speak out against the horrific cruelty going on in South Korea. Click HERE to sign petition and take action TODAY. | | |
KoreanDogs.org – Help Support Busan KAPCA
​(Korea Alliance for the Prevention of Cruelty to Animals)
Only 2 Days Left
Wear one of our shirts! Help fight the South Korean dog and cat-meat cruelty and bring awareness to our campaign. 100% of the funds raised from the sale of these shirts will be donated to the Busan KAPCA(Korea Alliance for the Prevention of Cruelty).
Click HERE to order yours.
Please note that estimated delivery is Wednesday, January 18
(12 working days after the campaign close date).

"What counts in life is not the mere fact that we lived.
It is the difference we have made to the lives of others
that will determine the significance of the life we lead."
– Nelson Mandela