Newsletter – February 16, 2017
Supportive Glendale Responds | Project Save 70
Click

HERE

to see this newsletter from our homepage.​
​
Once again supportive Glendale responds
to call to action against the dog meat trade.

| | | |
| --- | --- | --- |
| On February 14, 2017, we received another positive response from the City of Glendale, regarding our campaign protesting their Sister City, Gimpo's dog meat cruelty. Ms. Eliza Papazian from the City of Glendale's Management Services sent us an email letter in which she states "The City of Glendale has and continues to work in conjunction with our local Korean Sister City Association and Gimpo representatives to monitor this situation and ensure that these atrocities do not continue to occur." | | |
Previously, the former Mayor of Glendale, and the current City Councilman, Mr. Zareh Sinanyan, reached out to Gimpo calling for action to enforce the law. Glendale is also the first city ever, as a result of our many Sister City/State campaigns and petitions, to kindly respond to us by taking positive action. We are very grateful to Mayor Paula Devine and the entire City Council of Glendale for caring about the poor Korean dogs and taking action to speak out for them.
Click HERE to learn more and send a Thank You email to the City of Glendale.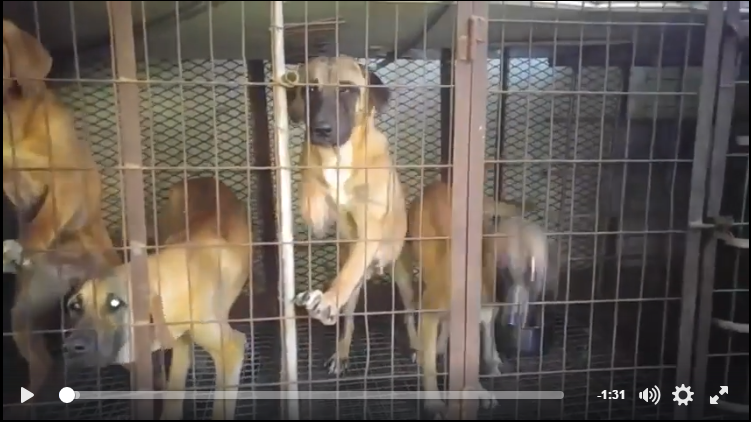 We Must Not Stop Until South Korea Stops Killing Our Friends.
New Sister/Friendship City Campaigns – Take the Action TODAY!
Friendship City Campaign – Asan, South Korea – Lansing, Michigan
Friendship State Campaign – Chungcheongnam Province, South Korea – California
Friendship City Campaign – Chungju, South Korea – Atlantic City, New Jersey
Sister City Campaign – Cheongju, South Korea – Bellingham, Washington
Friendship State Campaign – Gangwon Province, South Korea – Illinois
Friendship State Campaign – Gangwon Province, South Korea – Nevada
Friendship City Campaign – Yeoncheon, South Korea – Palmdale, California
Sister City Campaign – Pyeongchang, South Korea – Auburn, Washington
Sister City Campaign – Icheon, South Korea – Santa Fe, New Mexico
Friendship City Campaign – Daejeon Yuseong District, South Korea – Yolo County, California
​Friendship City Campaign – Daegu Suseong District, South Korea – Rome, New York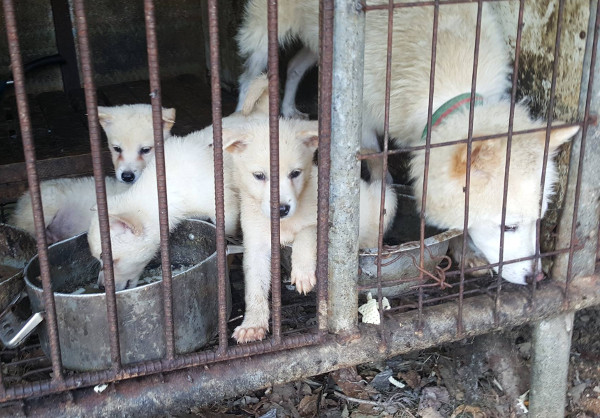 Sharing for Tracey Pitz and Project Save 70 team.
Welcome and thank you for joining!
This group is committed to helping Nami save the junkyard dogs and 100% of your donation goes directly to their care, including food, vaccinations, medications and any other related costs.
Here are some examples of costs.
Vaccinations $20, Spay $150, Neuter $50.This isn't including all other vet bills for checkups, tests, treatment and emergency care.
We are asking for a six month commitment, any amount that fits your budget and you can choose a dog that you would like to sponsor. You can choose any of the dogs from the album 'Save Seventy.' Eventually all 70 dogs will be in the album. All monthly sponsor pledges, will receive a sponsorship package containing a photo, key chain and magnet of your sponsored fur baby. Peggy Cowley is making the sponsor packages, will be mailing them and is also covering the cost of them. Thank you so much Peggy! You can let us know your preferred payment date and we will send you a reminder and will also need your address so that we can mail your sponsor package to you.
If you can't pledge for six months, any donation is greatly appreciated and every dollar helps, no amount is too small. One of the admin team, Jocelyn Miettinen, Lynn Rosa, Peggy Cowley or myself will message you with a pay link on your chosen payment date each month.
Click HERE to learn more.
You can also donate directly to SaveKoreanDogs. Click below to donate.

SaveKoreanDogs is a registered nonprofit charity in South Korea.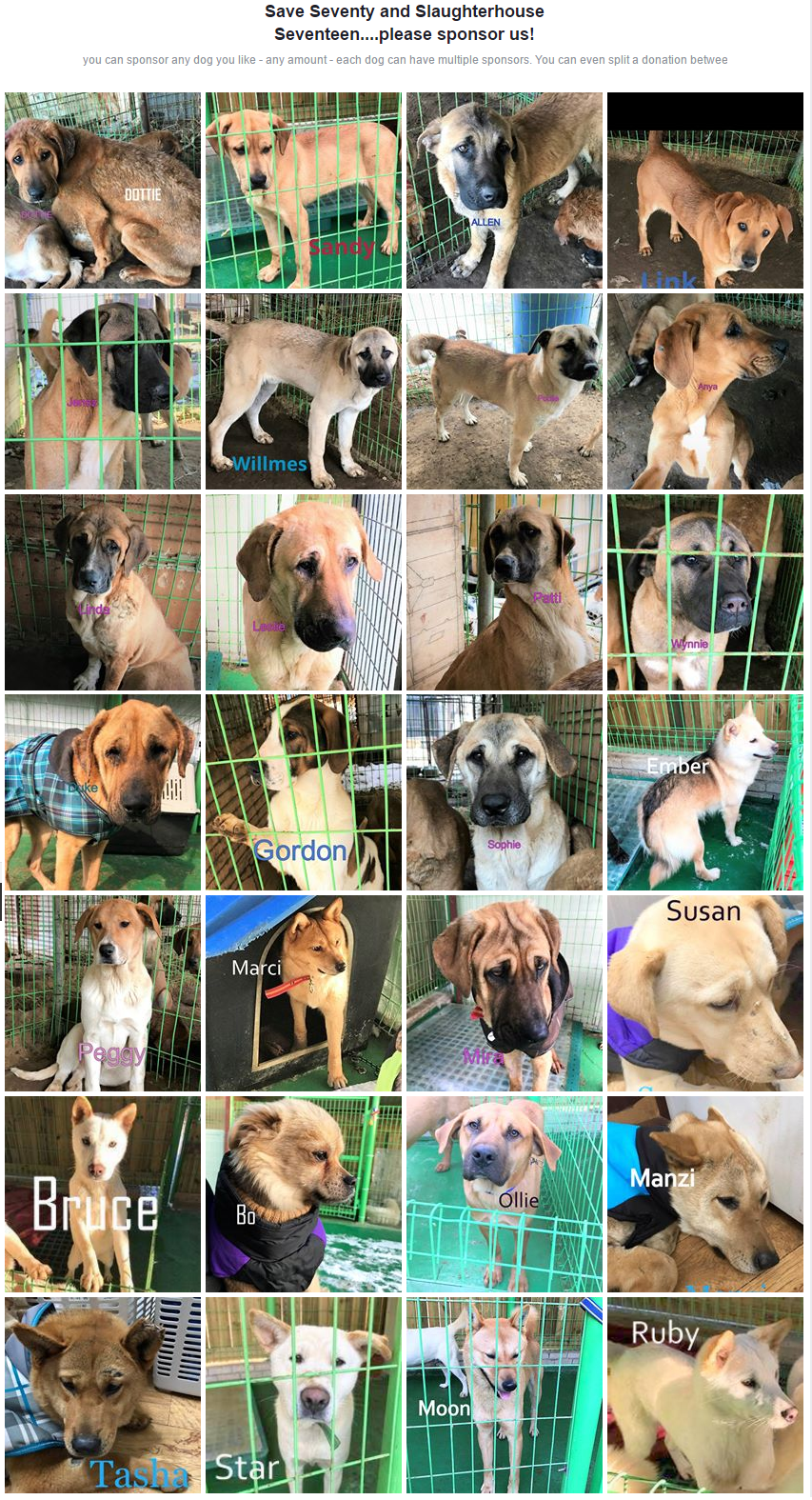 Photo: Puppies rescued by SaveKoreanDogs from a junkyard/dog farm in Gimpo, South Korea.
SaveKoreanDogs.org
Protest the horrific & cruel dog meat trade in South Korea
​at the Canberra, Australia Korean Embassy – February 9, 2017
Francie, Susan, Eloise and Andrew protested at the parliament building and the South Korean Embassy in the Capital city of Canberra, Australia on February 9, 2017. Thank you so much for your compassion and dedication to speak out for the Korean animals in the dog and cat meat trade!

Click HERE to learn more about the protest and see the photos and videos from the day.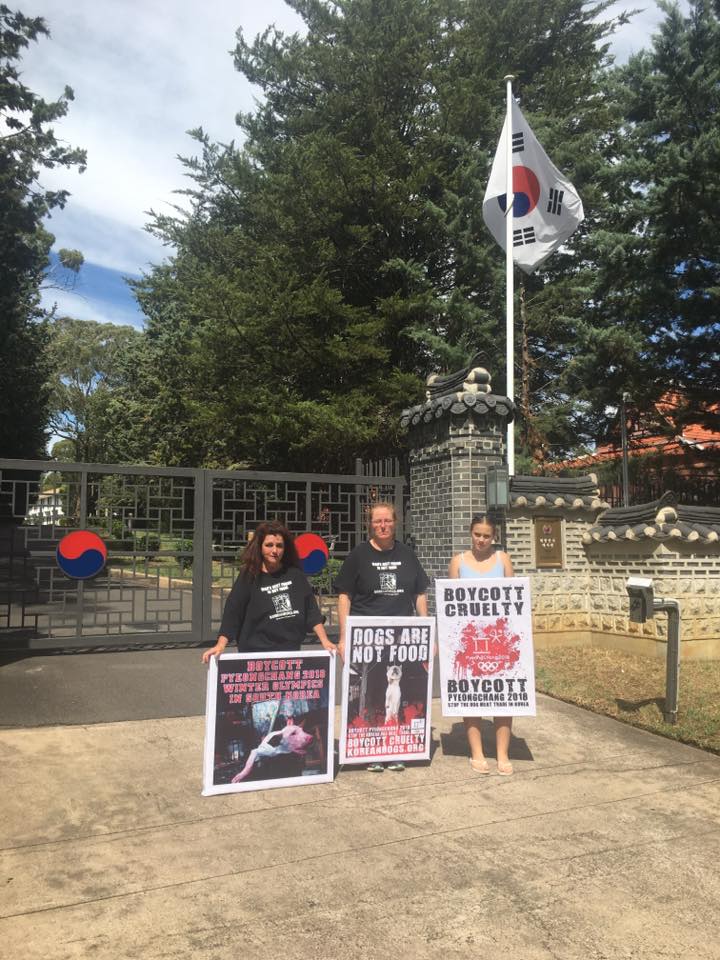 PyeongChang 2018 Winter Olympic in South Korea is underway.
Speak Out Now or Regret Later.
South Korea is now firmly in the spotlight with the run to the 2018 PyeongChang Winter Olympics, being held from 9th-25th February 2018 … and then the light will be on full beam.
And, while part of the journey for many international tourists visiting South Korea for these Winter Olympics will be to experience South Korea's promoted 'international cuisine', we want to be sure that they also know about the 'hidden cuisine': products of the cruel and sadistic dog meat trade … that, once again, this country will be keen to keep from foreign eyes.
Out of sight is definitely not out of mind: the barbaric dog meat trade will still be going on. So let's make sure this trade does not get hidden, and let's make sure that South Korea knows they will be held accountable.
Click HERE to speak out for the Korean dogs and cats TODAY.



Join us in San Francisco Fisherman's Wharf on March 18, 2017
Leafleting & Informational Event on South Korean Dog Meat Trade
We will be displaying our banners/posters, handing out leaflets and collecting petition signatures against extremely cruel South Korean dog meat trade at this famous San Francisco tourist attraction and landmark. Click HERE to see the photos from our previous event on Feb 11, 2017!
Free T-shirts and cold drinks are provided to volunteers at this event.
Location: San Francisco, Fisherman's Wharf located near the corner of Jefferson and Powell streets along the chain link fence.
Date/Time: March 18, 2017 Saturday. 9am – 4:30pm. Setting up our display is a lot of work. We would appreciate it very much if you can come early. But if you can't, please come when you can and stay as long as you can.
Click HERE to learn more.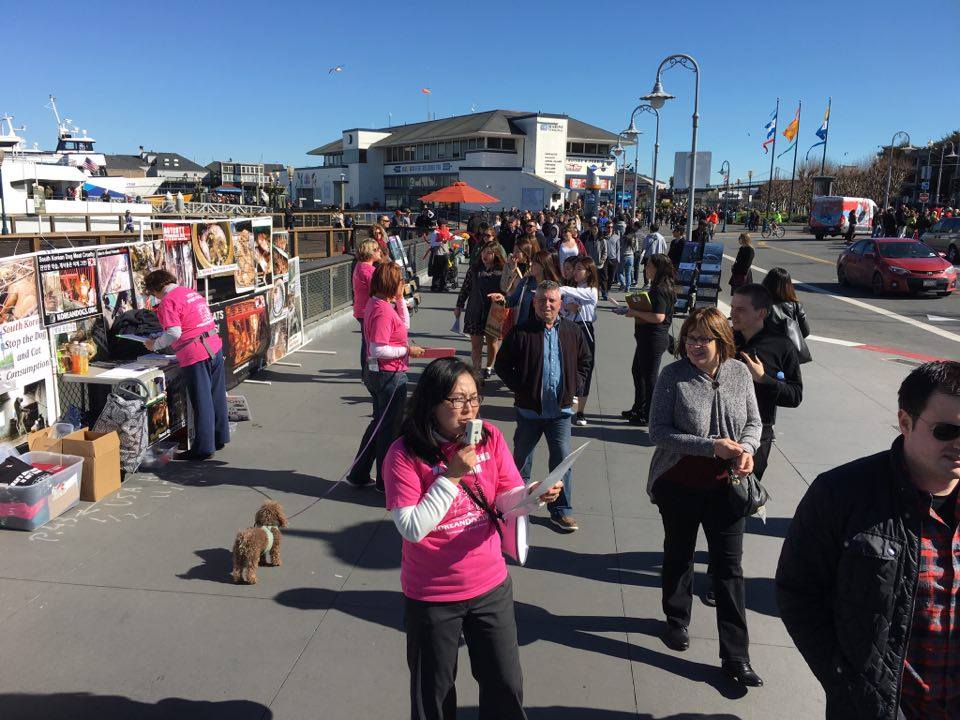 Adopting a dog is a life time commitment.
Please think 10 times before contacting SaveKoreanDogs.
Read the complete adoption info before sending inquiries. Thank you!
"Don't let complexity stop you. Be activists. Take on the big inequities.
It will be one of the great experiences of your lives."
– Bill Gates