Newsletter – February 23, 2018
Dutch skater sparks dog meat controversy at PyeongChang! | Nami's mom's gift to the dogs
Click

HERE

to see this newsletter from our homepage.
​
URGENT – Only 2 Days Left!
PyeongChang 2018 Athletes,
Please speak out against animal cruelty!
There are only 2 days left before the PyeongChang 2018 Winter Olympics comes to an end. So please, will you take a moment of your time today and be a voice for the Korean animals suffering in the dog and cat meat trade? On the Olympic website is a list of all participating athletes. Let's ask these athletes to speak out against South Korea's cruel dog and cat meat trade and help to save millions of animals that each year suffer from horrific brutality and mass slaughter. Your action just might compel a PyeongChang athlete to speak out .
Click HERE to read The Korea Times report: "Dutch skater sparks dog meat controversy at PyeongChang".
Click HERE to take action.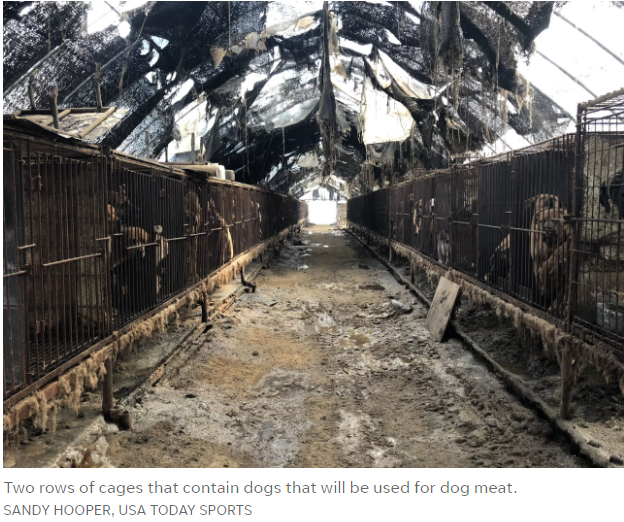 Thunderclap Campaign "Boycott PyeongChang 2018!"
​Only 2 Thunderclap campaigns "Boycott PyeongChang" left to go. So please keep participating and sharing! Thank you! Click HERE to join now.
Adopt dogs rescued from dog meat industry
by SaveKoreanDogs.org
Dogs rescued from dog meat industry in South Korea by Nami Kim and her team are waiting for their loving and caring forever homes. Click the below button to learn about how you can adopt them. Thank you for opening your heart and your home to these angels!
Click HERE to see the dogs available for adoption.
Click HERE to follow SaveKoreanDogs.org on Facebook for the latest updates.

Photo: Santu and Jadu are flying with a PyeongChang Olympic athlete participants. Santu to Winnipeg with a Canadian team coach and Jadu to Los Angeles with US snowboarder Maddie Mastro. 🙂 Santu was very malnourished when he was rescued but slowly gaining weight and Jadu is recovering from stitches. Click HERE to learn more.
While we are all filled with joy knowing the horrors these puppies have been saved from, the work doesn't end with their rescue. It takes a great deal of money to keep the sanctuary afloat, pay the enormous medical costs, pay staff to run the shelter, transport them to their foster/forever homes and continue the rescue work. Won't you please help by donating whatever you can to this ongoing effort? Thank you!

Nami's mom's gift to the dogs
Those of us who are dedicated to closing down the dog meat farms and slaughterhouses of South Korea are aware of how incredible Nami is, how tirelessly she fights to end the practice of dog meat consumption and rescue thousands of dogs from a cruel and horrific fate.
Her struggle against South Korea's dog meat industry has helped to raise awareness of the appalling brutality of this business and has inspired countless others from around the world to stand up and take action. Nami's courage and dedication towards saving these poor dogs is almost unprecedented and her efforts have received worldwide support. Her greatest supporter by far is her sweet, 93-year-old mother!
To help Nami build a second facility which will be used as playground for the rescued dogs, Nami's mom donated over $230,000 USD. Thank you so much, Nami's mom, for your incredible generosity! Nami's mother has been there to support her daughter through this very difficult battle, providing much-needed encouragement as Nami continues her work. We wish there were more people like Nami and her mom in Korea; the barbarism of the dog meat industry would surely end much sooner.

Click HERE to learn more.
San Francisco – Join us tomorrow!
We will be displaying our banners and posters, and will be handing out leaflets and collecting petition signatures against the extremely cruel South Korean dog meat trade at the Fisherman's Wharf, the famous San Francisco tourist attraction and landmark. We will need the help of volunteers to hand out our leaflets and to talk to as many of the visitors as possible, to make them aware of our campaign to help the South Korean dogs and cats. Can you help? Free T-shirts and cold drinks are provided to volunteers at this event.
Location: San Francisco, Fisherman's Wharf located near the corner of Jefferson and Powell streets along the chain link fence.
Date/Time: February 24, 2018 Saturday. 9:30am – 4:45pm.
RSVP on Facebook or send us a message if you will be coming.
​Click HERE to share our event. Thank you!
Dogs are welcome! :O) Woof!
Hope to see you there!