Newsletter – February 27, 2017
[Breaking News] Seongnam has begun removing slaughter facilities
Click

HERE

to see this newsletter from our homepage.​
​
Seongnam has begun removing slaughter facilities from the Moran Dog Meat Market.
Dogs will be slaughtered somewhere else.
The Korea Herald reported that the "Seongnam City Government began Monday, a process to remove butchery facilities from South Korea's largest dog meat market, but was shortly interrupted by angry vendors who went against the removal." , with a video from the scene.
Nami Kim with SaveKoreanDogs.org posted on Facebook: "It is Mayor Lee who is so determined to remove the slaughter facilities at the Moran dog meat market. Meanwhile, the business will go on as usual until the mayor comes up with some very attractive alternatives. It was at 10 am this morning when the chief made it official, despite some vendors against the idea and shouting and interrupting the press release. The vendors/butchers will have to buy the meat from wholesalers somewhere else. There is talk that this market will be shutting down, which means fewer buyers will come to buy the meat here. This is one way of reducing the consumption of the meat. It was a good day for the dogs. All baby steps will bring a huge leap one day, just like the Berlin Wall."
Click the below video to watch.
Click HERE to learn more about this development.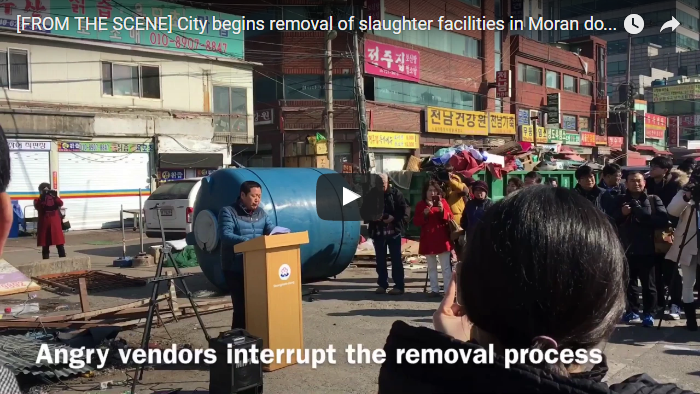 Adopting a dog is a life time commitment.
Please think 10 times before contacting SaveKoreanDogs.
Read the complete adoption info before sending inquiries. Thank you!
"If there is no struggle, there is no progress.
Those who profess to favour freedom, and yet deprecate agitation, are people who want rain without thunder and lightning.
They want the ocean without the roar of its many waters.
Power concedes nothing without a demand.
It never did and it never will."
– Frederick Douglass