Newsletter – January 19, 2018
Calls to Action | Busan KAPCA Yangsan rescue update
Click

HERE

to see this newsletter from our homepage.
​
Let's expose South Korea's appalling cruelty to the world!
PyeongChang 2018 Olympics is only 19 days away!
Dear friends,
PyeongChang 2018 Winter Olympics is only 19 days away. This could be a rare opportunity to shine a spotlight on South Korea's appalling and gruesome dog meat industry and to put pressure on their government to take action to end the horrific trade. So, let's keep it up and continue to take action.
We have campaigns requesting the Olympic teams to take a stand and speak out against the cruel dog and cat meat trade in South Korea, the host of the 2018 Winter Olympics (PyeongChang 2018). There are several ways you can help fight against this cruelty.
Please click each to take action TODAY. Thank you!
Busan KAPCA closes down "meat dog" farm
and rescues dogs in Yangsan
Busan Korea Alliance for the Prevention of Cruelty to Animals(Busan KAPCA) is a small, but very dedicated Animal Rights organization (registered nonprofit) located in Busan, South Korea which has been fighting to end the cruel dog meat trade since 1999. They have tirelessly worked to close down dog farms and slaughterhouses in Busan and the region of Gyeongsangnam-do province.
With the cooperation from the city of Yangsan, Busan KAPCA was successful in getting the dog farmer to sign an agreement to shut down his dog farm and release all 27 dogs to them. However, Busan KAPCA does not own a shelter to where they can relocate these dogs. While they were looking for temporary shelters to move these dogs, the dog farmer sold 11 of the 27 dogs. Busan KAPCA was able to relocate the remaining dogs that includes young puppies to temporary shelters. Right now they desperately need foster homes in Korea, donations for food, medical care, etc. They are able to send the dogs to overseas for adoption (for permanent homes). Click HERE for the update to learn more.
Click HERE for the Busan KAPCA's translation of update.
Photo: Busan KAPCA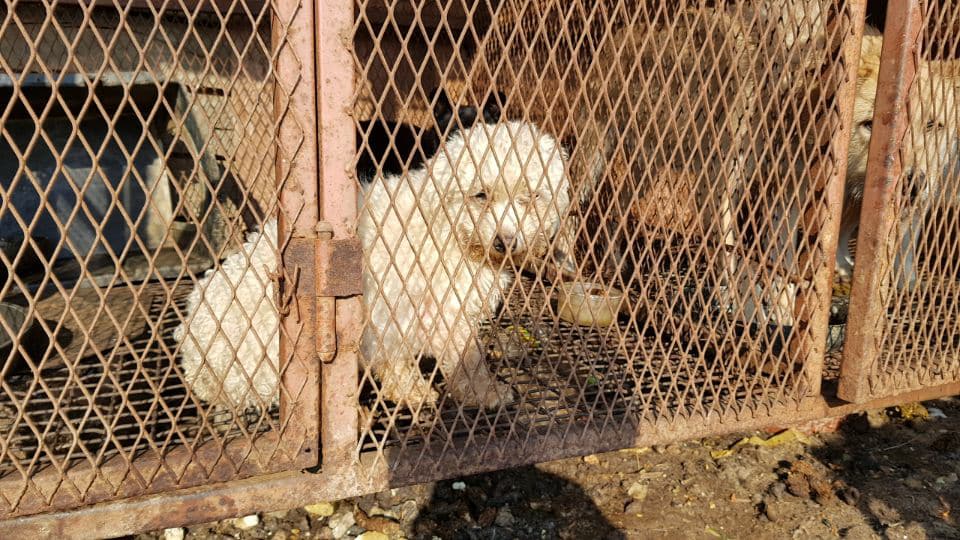 Click below to donate to help these rescued dogs.
[Campaign update]
​ Brisbane Mayor's Office responds

We have filed the petition to the Council Offices in the City of Brisbane, in line with the instructions from the Mayor's Office (click HERE for our campaign page), and we received the response below from the Mayor's Office, dated December 13, 2017.

We are very disappointed with the Mayor's response and unwillingness to engage in any way with their Sister City on this matter. However, we hope that the Mayor and the Council Members of the City of Brisbane will have a change of heart, and to help end South Korea's horrific cruelty through killing and eating our best friends.

Click HERE to learn more.
[Campaign update]
Response from Seoul Gangdong-gu Mayor

Our dedicated volunteer Rudy, forwarded the email response below which he had received from the Seoul Gangdong-gu mayor. This is a response in regards to our Sister City/Friendship City campaigns as below:
Sister City Campaign – Seoul Gangdong-gu – Segovia, Spain
Friendship City Campaign – Seoul Gangdong-gu – Willoughby, Australia

We appreciate the mayor's effort in responding to our campaign. However, we are disappointed that his response is disingenuous, glossing over and concealing the truth. We responded to Mayor Lee informing him that we are able to access information regarding the dog meat industry in his district and urged him to take affirmative action to shut down the illegal dog meat trade.

Click HERE to learn more.
Thunderclap Campaign "Boycott PyeongChang 2018!"
Our Thunderclap campaign has previously been twice a month, but during the PyeongChang 2018 Olympics on February 9 through February 28, it will be ongoing daily. So please keep participating and sharing! Thank you! Click HERE to join now.
Adopt dogs rescued from dog meat industry
by SaveKoreanDogs.org
Dogs rescued from dog meat industry in South Korea by Nami Kim and her team are waiting for their loving and caring forever homes. Click the below button to learn about how you can adopt them. Thank you for opening your heart and your home to these angels!
Click HERE to see the dogs available for adoption.
​
Photo: Blue and her nine pups were rescued just before the new year 28th Dec. 2017 in our neighbors. The weather was freezing and the pups were left unattended, horrible condition. The mom has such a blue eyes she is named Blue. The nine pups will be ready in April 2018. Save Korean Dogs.org