Newsletter – January 26, 2018
The Countdown Has Begun! | Busan KAPCA Yangsan rescue update
Click

HERE

to see this newsletter from our homepage.
​
The Countdown Has Begun!
PyeongChang 2018 Olympics is only 13 days away!
Dear friends,
PyeongChang 2018 Winter Olympics is only 13 days away. This could be a once in a life time opportunity to shine a spotlight on South Korea's appalling dog meat industry and to put pressure on their government to take action to end this horrific cruelty. So, let's keep it going!
We have campaigns requesting the Olympic teams to take a stand and speak out against the cruel dog and cat meat trade in South Korea, the host of the 2018 Winter Olympics (PyeongChang 2018). There are several ways you can help fight against this cruelty.​
Please click each to take action TODAY. Thank you!
[Updates] Busan KAPCA's rescued puppies and dogs
​from Yangsan dog farm are now with foster homes
and at temporary shelters.
All the rescued puppies and dogs are now with foster homes and at temporary shelters. There were 7 small dogs and 6 large dogs rescued previously; two dogs that could not be captured then were able to be rescued with the help of the 119 emergency services.
All the small dogs have completed their medical exams at the Saha Animal Hospital, which provided a discount for their services. Puppies are too young for the spay/neuter surgery. Among the adult dogs, only one large dog was spayed/neutered; surgery for all the other dogs has been postponed as they all have heart worms.
The 11 dogs that the dog farmer sold off haven't yet been returned and the dog farmer doesn't answer phone calls, but Busan KAPCA plans to keep trying.
Click HERE to learn more.
Photo: Busan KAPCA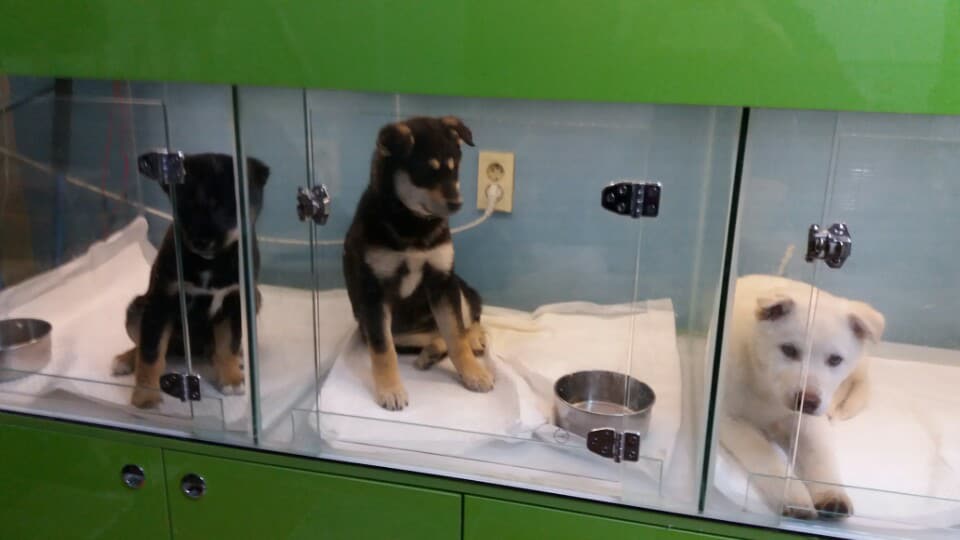 Click below to donate to help these rescued dogs.
Thunderclap Campaign "Boycott PyeongChang 2018!"
Our Thunderclap campaign has previously been twice a month, but during the PyeongChang 2018 Olympics on February 9 through February 28, it will be ongoing daily. So please keep participating and sharing! Thank you! Click HERE to join now.
Adopt dogs rescued from dog meat industry
by SaveKoreanDogs.org
Dogs rescued from dog meat industry in South Korea by Nami Kim and her team are waiting for their loving and caring forever homes. Click the below button to learn about how you can adopt them. Thank you for opening your heart and your home to these angels!

​Click HERE to see the dogs available for adoption.

Photos: Madeline was rescued together with Bob on the 23rd Jan 2018. She is pregnant and due in middle of Feb. Bob is a good friend of Madeline, it is said Bob ran away from a meat farm together with Madeline. He is adorble, currently undergoing health check up and vaccinations. SaveKoreanDogs.org