Newsletter – July 11, 2017
No Sister City Ties with Dog Eaters!
Click

HERE

to see this newsletter from our homepage.​
​
Thunderclap against Cruelty!
Only 3 days left to reach our goal.
Please click the below photo to join.
Click HERE to join all Thunderclap campaigns.
[Update] Busan KAPCA met with Yangsan city authorities regarding animal welfare.
​This is an

update

from Busan Korea Alliance for the Prevention of Cruelty to Animals (Busan KAPCA). They had met with the Vice-Mayor of Yangsan. Yangsan is taking action on this dog farm. Busan KAPCA also discussed the various plans of the city to improve animal welfare, including establishing a department dedicated to it. Busan KAPCA will keep an eye on this city. We need to keep the pressure on Yangsan to make sure their plans are not only empty promises, and that they will continue to take action towards their plan to improve animal welfare. A big thank you goes out to Busan KAPCA for their diligence and dedication. A thank you also goes out to everyone who had filed a complaint. If you haven't already, please go ahead and

file a complaint

to let them know that we are watching.

Photo: Busan KAPCA. Hell on Earth, Yangsan Sangbuk-myeon Dog Farm..

New Petition:
Please ask the leader of the Catholic Church in South Korea, Cardinal Andrew Yeom Soo-jung, to stop encouraging his country's Catholics to eat dog meat.
Please sign and share this new petition by Madeline Warren.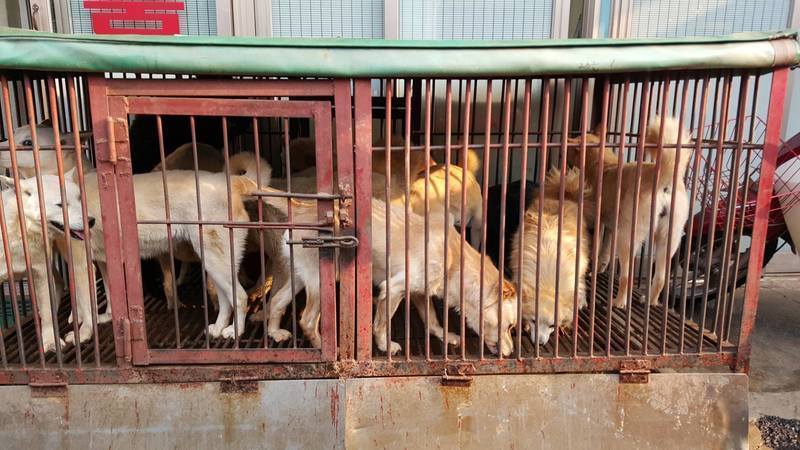 It Starts Tomorrow!
The Animals' Battalion
2017 'Boknal' Demonstrations in New York
We are very excited that the New York based animal rights group
"The Animals' Battalion"
will be organizing demonstrations in front of the Korean Consulate General's Office for the third year in a row for the 3 days of Boknal (dog eating is ritualized in Korea – Chobok 7/12, Joongbok 7/22, and Malbok 8/11 in 2017). They held 3 demonstrations in the previous two years at the same location and were covered by ABC network news in New York and also South Korea.
Day 1: Wednesday, July 12, 2017 Click HERE for Facebook Event.
Day 2: Friday, July 21, 2017 Click HERE for Facebook Event.
Day 3: Friday August 11, 2017 Click HERE for Facebook Event.
Where: Consulate General of the Republic of Korea
460 Park Ave, 57th Street, New York, NY 10022
Time: 2:00 pm – 5:00 pm
(Consulate Hours: Open • 9:00 am – 12:00 pm, 1:30 – 4:00 pm)
Posters and brochures will be provided but homemade posters, props and other materials are encouraged! We also have petitions to be signed and sent to the Ambassador of South Korea.
Click HERE for all of our upcoming events.
Click
HERE
to join the Demo from your home – Phone Blitz.