Newsletter – July 6, 2017
It takes perseverance
Click

HERE

to see this newsletter from our homepage.​
​
Ukraine: Speak out against the dog meat trade
at the PyeongChang 2018 Winter Olympics!
Dear friends,

Fighting for the animals is a long and hard road but with perseverance, we can achieve our goal. So let's stay on course.

The clock is ticking towards the PyeongChang 2018 Winter Olympics in South Korea, a nation of the cruel and brutal practice of eating companion animals. We have a campaign urging National Olympic Teams participating in this event, to take a stand against this atrocious barbarity. This time it's Ukraine.

Click HERE to take action.
New Sister City Campaign – Yeongdong-gun
We are making progress with our Sister City campaign. Regardless of whether these US cities are responding to us or not, I believe, many of them do make contacts with their Korean counterparts. And the Korean cities that want to form cultural and economical ties with US cities would have to respond and also make changes in order to show that they are making an effort. So let's keep it going.

Alameda, California just signed

Sister City agreement with Yeongdong-gun

(in Chungcheongbuk-do province) last week. Please sign petition, call, write and email the Alameda Mayor today!

Photo: Yellow dog.

[Article by Veterinarian Myung Bo-Young]
​Is humane slaughtering of dogs for human consumption possible?
​People's expectation that the new government should institute a phased ban on dog meat is increasing. Until now, the dog meat issue has been stalemated due to the countless opposing arguments and instead, there has even been a move toward legalization.
I assume many people have experienced the same, but when I was a child I witnessed a scene where adults were beating up a dog with a club in a vacant lot. As a child, I was very shocked and wondered how can this be happening. And the trauma from that day has lasted for a while.
I became a veterinarian and have been working in the animal shelter for many years. I wanted to improve the poor conditions of animal shelters but shelters operated by the city were a place where the lives and deaths of abandoned animals constantly crossed. I was able to help many lives but I also suffered for a while because of the psychological impact.
Last year, a veterinarian at an animal shelter in Taiwan committed suicide which sparked a global debate. It is such a tragedy but I think I can understand how she felt.
Government employees who worked on burying animals alive during the outbreak of foot and mouth disease have complained of serious mental suffering. Unless you are in an industry that deals with the death of animals all the time, there won't be many who can cope with it.
Not only people in occupations who work with animals with different purposes, such as companion animals, livestock animals, and laboratory animals, but even the general public would suffer from mental stress if they were to encounter similar situations.
Click HERE to read.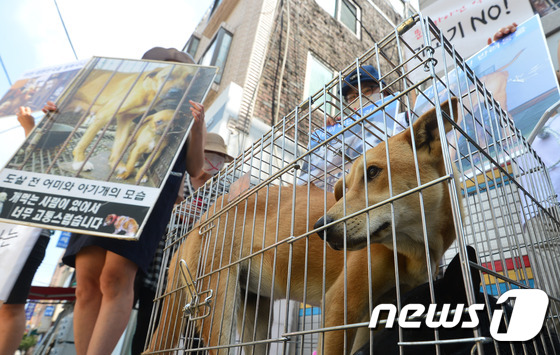 Mark Your Calendar!
The Animals' Battalion
2017 'Boknal' Demonstrations in New York
We are very excited that the New York based animal rights group
"The Animals' Battalion"
will be organizing demonstrations in front of the Korean Consulate General's Office for the third year in a row for the 3 days of Boknal (dog eating is ritualized in Korea – Chobok 7/12, Joongbok 7/22, and Malbok 8/11 in 2017). They held 3 demonstrations in the previous two years at the same location and were covered by ABC network news in New York and also South Korea.
Day 1: Wednesday, July 12, 2017 Click HERE for Facebook Event.
Day 2: Friday, July 21, 2017 Click HERE for Facebook Event.
Day 3: Friday August 11, 2017 Click HERE for Facebook Event.
Where: Consulate General of the Republic of Korea
460 Park Ave, 57th Street, New York, NY 10022
Time: 2:00 pm – 5:00 pm
(Consulate Hours: Open • 9:00 am – 12:00 pm, 1:30 – 4:00 pm)
Posters and brochures will be provided but homemade posters, props and other materials are encouraged! We also have petitions to be signed and sent to the Ambassador of South Korea.
Click HERE for all of our upcoming events.
Click
HERE
to join the Demo from your home – Phone Blitz.