Newsletter – June 24, 2017
1 Million Dogs in Appalling Conditions | Bucheon Mayor | LCA's DC Protest
Click

HERE

to see this newsletter from our homepage.​
​
"Over 1 Million Dogs Being Raised for Food
in Appalling Conditions"
The Korea Bizwire reported on June 23 that "On June 22, Rep. Lee Jung Mi of the Justice Party and animal rights activist group Korea Animal Rights Advocates KARA held a press conference at the National Assembly in Yeouido to publicly disclose the state of dog meat farms in Korea. Beginning in August of last year, an investigation into the general practices of 20 dog meat farms revealed horrifying conditions. Dogs were kept in tiny steel cages so small that the animals could not even stretch out properly."
Please click HERE and read the article to learn more about the survey results.
Click HERE to learn more from KARA's page.
Click below photo to watch the SBS news report.
Czech Republic, New Zealand, Norway, Israel, Iceland:
Speak out against the dog meat trade
at the PyeongChang 2018 Winter Olympics!
The clock is ticking towards the PyeongChang 2018 Winter Olympics in South Korea, a nation of the cruel and brutal practice of eating companion animals.
We have a campaign urging National Olympic Teams participating in this event, to take a stand against this atrocious barbarity.

Click below for the campaign pages:
For all NOC campaigns/petitions, click below:
Bucheon Mayor Kim Man-Soo
publicly suggests that his city become dog meat-free.
On June 23rd, Bucheon Mayor Kim Man-Soo posted a message on his personal Facebook page asking, "How about our city going without dog meat?"

Nami Kim had personally delivered our online petition signatures to Mayor Kim Man-Soo two weeks ago, and had a lengthy meeting with him discussing this issue.
Click HERE to learn more.
Our petition to the Mayor is to thank him for all his efforts to end the dog meat trade in his city so far, which is virtually unheard of in Korean cities and government. It is very important to encourage him to make Bucheon the first "Dog Meat-Free City" in Korea. We would like Mayor Kim to be the example for other Mayors and Governors.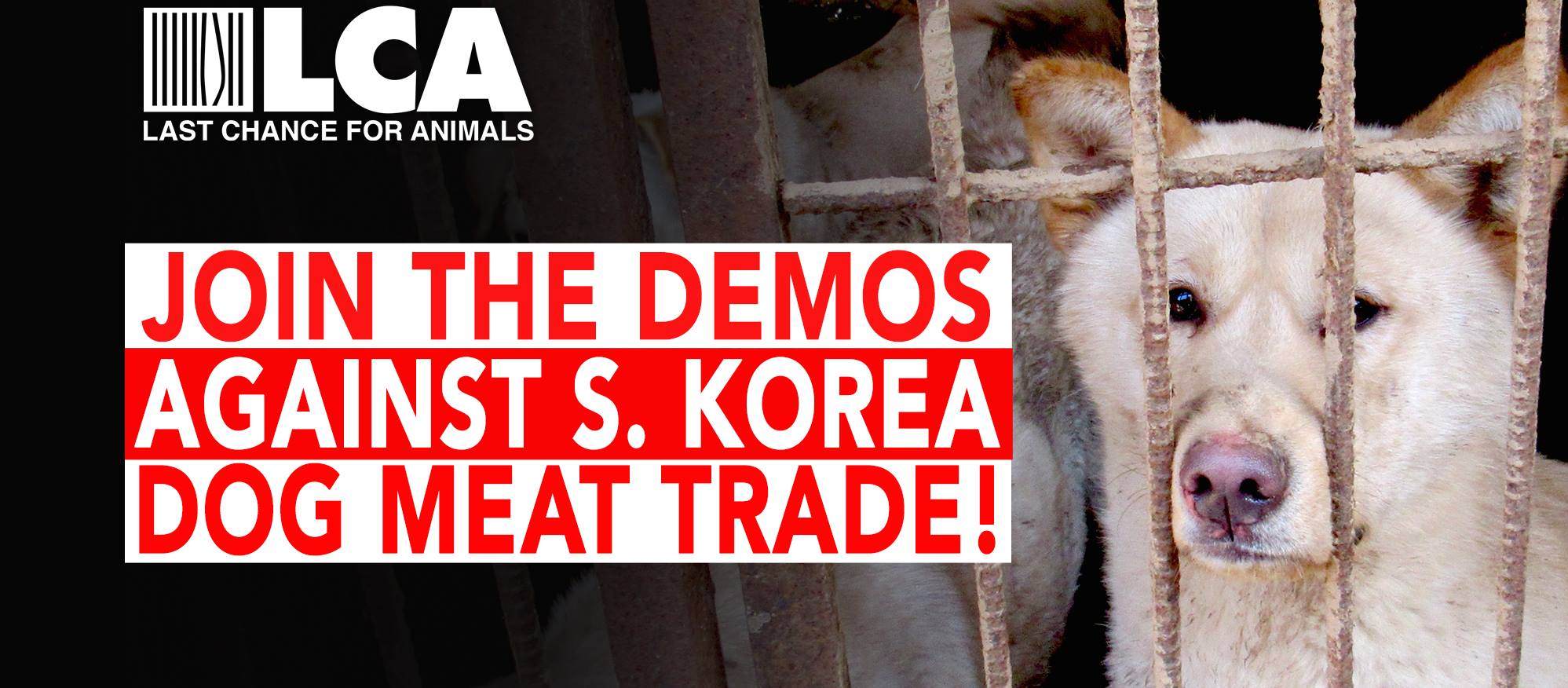 Sharing for LCA:
Join the Two-Day Demo Against the S. Korean Dog Meat Trade!
Last Chance for the Animals (LCA) is organizing 2 demonstrations
at the Washington DC this week. Please join! Thank you!
South Korea's newly elected President Moon will be coming to Washington DC next week to meet with President Trump. LCA will be having a demonstration in DC to urge him to end the dog meat trade now! Please see details below. The demonstration will be held over 2 days and will be at 2 different locations.
Click HERE for the first demonstration.
Click HERE for second demonstration.
FIRST DEMO
WHEN: 10 am – 1 pm THURSDAY, JUNE 29TH
WHERE: CAPITOL HILL
Meet at the corner of Constitution Avenue and New Jersey Avenue – 10 am sharp until 1pm. LCA hope to deliver their message in person to the South Korean President Moon to ban the dog meat trade.
SECOND DEMO
WHEN: 10 am – 1 pm FRIDAY JUNE 30TH
WHERE: S. KOREAN EMBASSY
Meet in front of the Korean Embassy – 2450 Massachusetts Ave NW, Washington, DC 20008
LCA will have posters and banners to hold.
Join us in San Francisco, New York or from your home!
Please join us at our upcoming events in San Francisco or three 'Boknal' demonstrations organized by The Animals' Battalion in New York. You can also join us from the comfort of your home by picking up the phone. Nothing will change without action and people demanding change.
If you would like to hand out our leaflets in your city or organize an event in US, we would be glad to send you our leaflets.
Click HERE to learn more.