Newsletter – March 20, 2017
World Vision | Tweetstorm for SaveKoreanDogs
Click

HERE

to see this newsletter from our homepage.​
​
World Vision: Eating companion animals
is detrimental to the health of Korean children.
Trailer for "The Dog Meat Professionals: South Korea".
Please contact the TV networks, newspapers, social media platforms
​and request that they broadcast this documentary!
​We all have been waiting for this documentary and now it's finally coming together. Please watch the trailer and share everywhere! We must speak for the millions of nameless and voiceless dogs in the horrific South Korean dog meat industry brutally killed every year.
Click HERE to watch.
​
Our special thank you goes out to the

Korea Observer

investigative reporters
for making this important documentary.
Join #HELP NAMI KIM Tweet Storm
SaveKoreanDogs need your partnership to save the Korean dogs.
Nami Kim and her team of activists are on the front line in the battle against the Korean dog meat trade. Working tirelessly to save as many dogs as possible from this barbaric cruelty, the team also campaign vigorously and work to educate people on the horrors they contribute to by eating man's best friend.
In total, Nami and her team saved 960 dogs last year, shutting down six large dog farms and three dog meat restaurants. As the team puts increasing pressure on the Korean government to make the trade illegal, funds are desperately needed to continue this vital work.
This is your chance to have a lasting impact for the innocent victims of this horrifically inhumane trade. No amount is too small to help. Donations will be used to save as many dogs as possible, in addition to funding education materials to change the hearts and minds of Korean dog eaters.
Thank you for your generosity!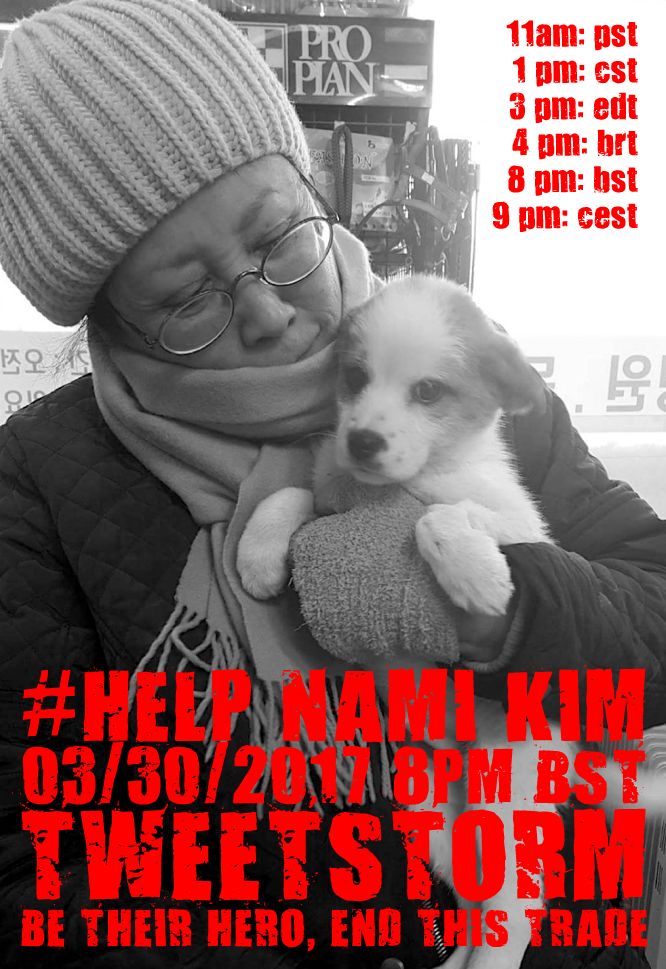 FIFA: Take a stand in FIFA U-20 World Cup Korea 2017
​ against the dog and cat meat trade!

FIFA U-20 World Cup Korea 2017 will be held in South Korea in just about a couple of months – May 20 to June 11. The world will be watching South Korea, which is why this is perfect time you take action to support our campaign to end the horrific dog and cat meat trade in South Korea for good!

You can help by signing and sharing our petitions, sending out letters and emails raising awareness of this brutal and medieval practice and calling for an end to the trade and taking to social media.

Click HERE to take action.
"We have to do the best we can. This is our sacred human responsibility."
– Albert Einstein