Newsletter – May 20, 2016
Nami Kim Trying to Save 300 Puppies | Demonstrations – Stop 'Boknal' Dog Eating!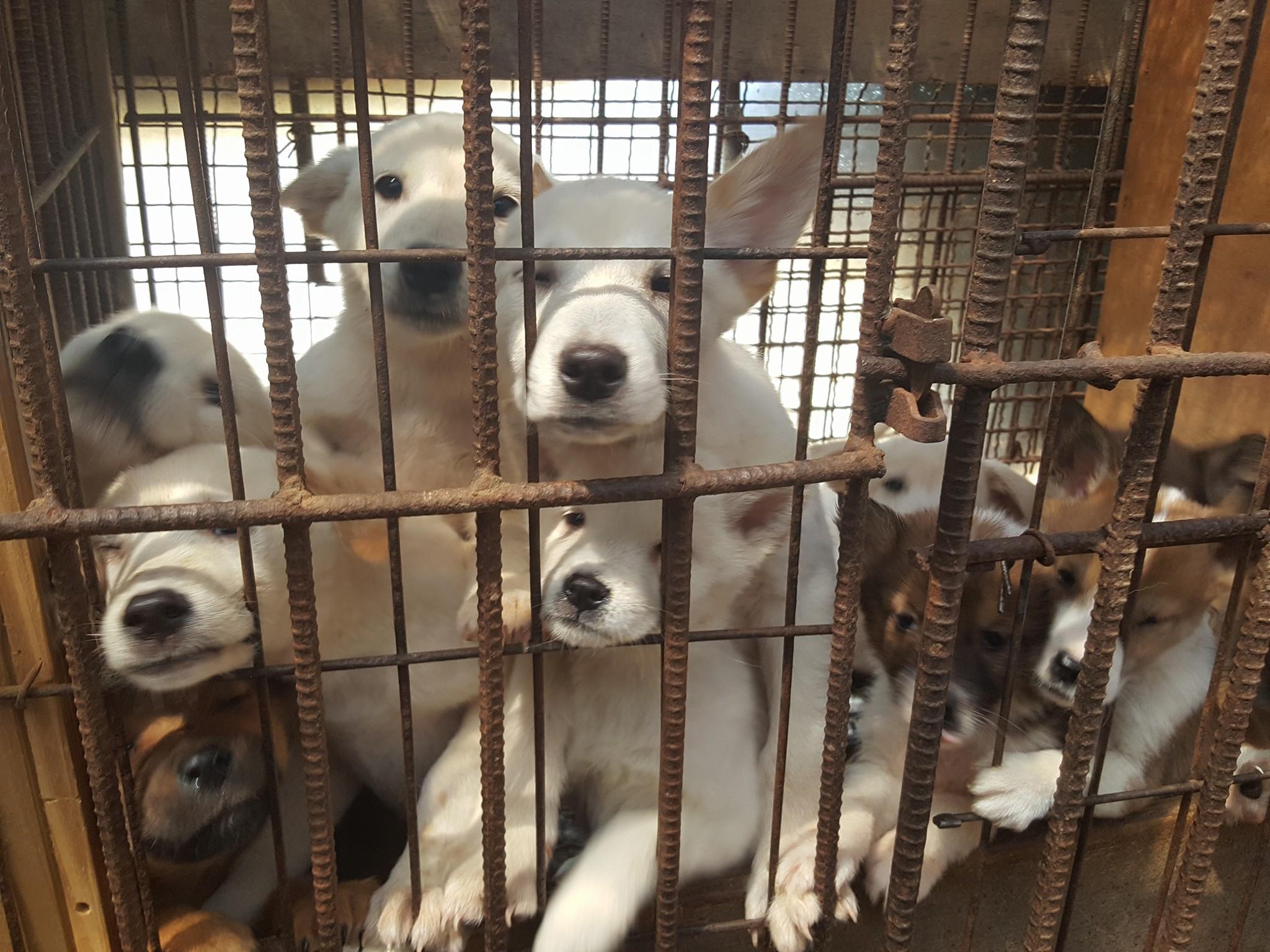 Nami Kim Team tries to shut down dog farm
with 300 puppies in Bucheon
On May 13, 2016 Nami Kim, her team, and the city of Bucheon's animal welfare official visited a large dog farm where 300 puppies were being bred for meat. They are trying to negotiate a release of all the dogs but the dog farmer wants compensation. The negotiation is still ongoing.
CLICK HERE to read the stories and watch the videos from this visit shared by Nami Kim and her team on their Facebook.
CLICK HERE to get the latest development from the Nami Kim Team's Facebook page.
Photo: Dog farm in Bucheon, South Korea. Nami Kim Team.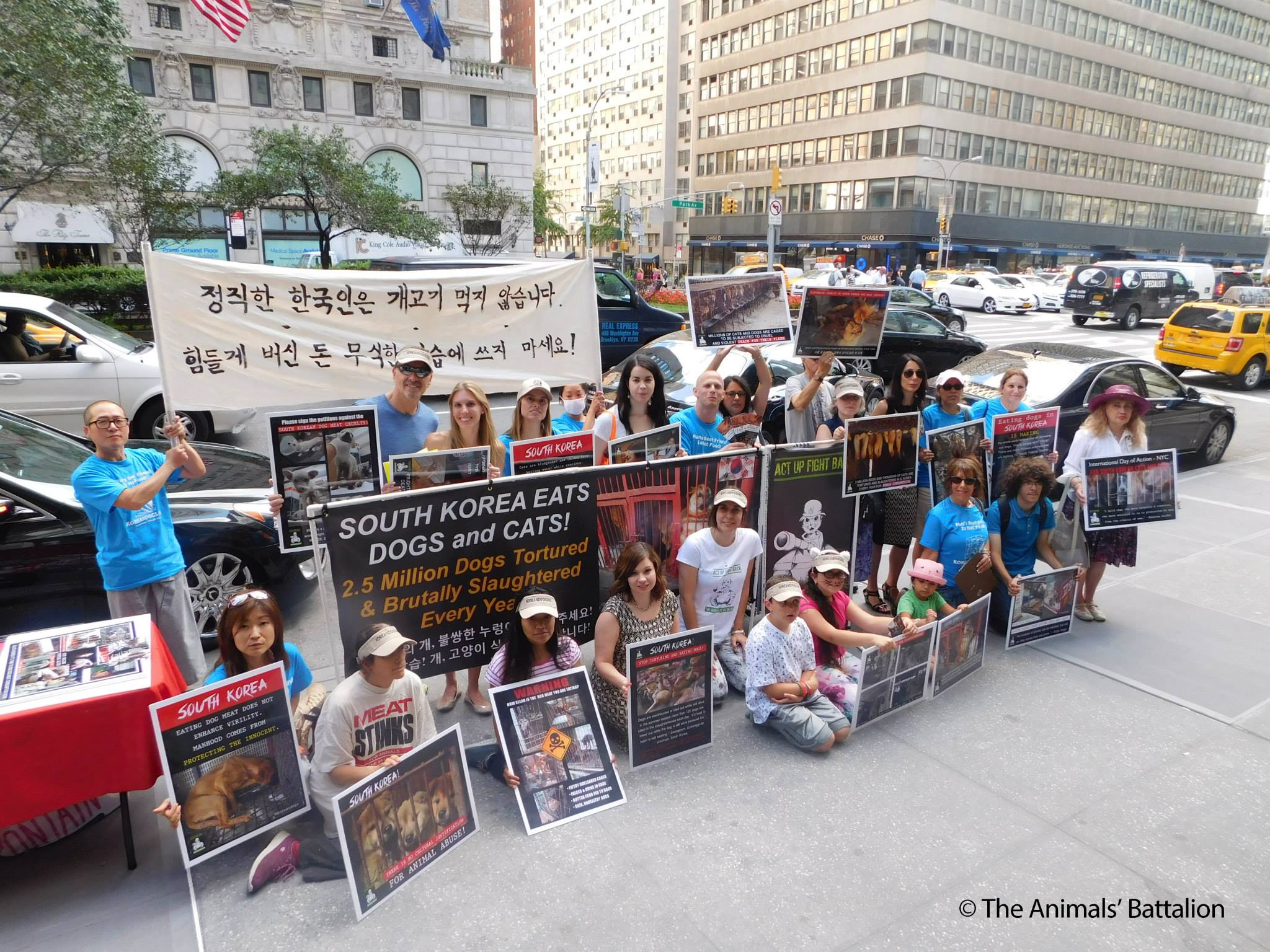 Join The Animals' Battalion
for their 2016 'Boknal' Demonstrations in New York!
We are very excited that the New York based animal rights group, The Animals' Battalion , will be organizing demonstrations in front of the Korean Consulate General's Office once again this year for the 3 days of Boknal (dog eating is ritualized in Korea – Chobok 7/17, Joongbok 7/27, and Malbok 8/16). They held 3 demonstrations last year at the same location and were covered by ABC network news in New York and also South Korea. Click HERE to see the photos from their events last year.
We are so grateful to the Animals' Battalion volunteer activists who participated last year and a special thank you goes out to Noelia and Roberto, co-founders/organizers, of the group! You guys Rock! Thank you!
If you are in the New York area, CLICK HERE to follow the Animals' Battalion for information about these events.
Day 1: Friday, July 15, 2016 CLICK HERE for Facebook Event.
Day 2: Wednesday, July 27, 2016 CLICK HERE for Facebook Event.
Day 3: Tuesday August 16, 2016 CLICK HERE for Facebook Event.
Where: Consulate General of the Republic of Korea
460 Park Ave, 57th Street, New York, NY 10022 USA
Time: 2:00 pm – 5:00 pm
(Consulate Hours: Open • 9:00 am – 12:00 pm, 1:30 – 4:00 pm)
Posters and brochures will be provided but homemade posters, props and other materials are encouraged! We also have petitions to be signed and sent to the Ambassador of South Korea.
Photo: Demonstration at the Korean Consulate General's Office in New York, July 23, 2015. The Animals' Battalion.
Bologna takes more action!
Ms Federica Salsi goes on radio.

Ms Federica Salsi, a member of The Bologna Council, who, following our petition for their City to confront their Korean Sister City, Seongnam, about the dog-meat trade, has been actively supportive in our request by working together with the Mayor of Bologna, who then contacted Mayor Jae-Myung Lee.

Now Ms Salsi is taking further positive action by going on air on the radio to talk about their efforts to address Seongnam's Cruelty: https://youtu.be/pfCZiSzPIq8
English subtitle available.
Click on the icon with "CC" on the lower right hand corner if you don't see the English subtitle.​

To learn more, CLICK HERE.

We are still waiting for the City of Aurora, Colorado, to take similar action to that which the City of Bologna did. Please ask the Mayor of Aurora to contact the Seongnam Mayor today! CLICK HERE to take action!

Photo: Moran Dog Meat Market in Seongnam, South Korea. Nami Kim Team.
TIME IS NOW to speak out for the Korean animals!
Boycott PyeongChang 2018!

PyeongChang 2018 Winter Olympic in South Korea is just around the corner. Please do not let this opportunity of making a change for the animals in Korea slip away. Take some quick action today to put pressure on South Korea to stop the horrific cruelty of the dog and cat meat trade!

Click below to post comments on the PyeongChang 2018 Homepage using our suggested messages or your own words!

Vision & Strategy
Effects of Hosting the Games
Games Introduction
Organizing Committee
Dream Programme

Let's double the signatures for our very important petition. CLICK HERE to sign and invite all your friends to sign TODAY!

Photo: South Korea. Yellow Dog.
"Never be afraid to raise your voice for honesty and truth and compassion
against injustice and lying and greed.
If people all over the world…would do this, it would change the earth."
-William Faulkner