Newsletter – May 26, 2017
His Holiness, we are still waiting for you | Join us in San Francisco
Click

HERE

to see this newsletter from our homepage.​
​
His Holiness the 14th Dalai Lama,
please speak out against the brutal dog meat trade.

We are still waiting for
​ his holiness's help.

His Holiness The Dalai Lama is a highly revered spiritual leader of Tibet and a human rights activist known throughout the world. He is the best known Buddhist leader of today and his teachings on practicing peace and compassion are followed worldwide.
He was born on 6 July 1935, to a farming family, in a small hamlet located in Taktser, Amdo, northeastern Tibet.
The Dalai Lamas are believed by Tibetan Buddhist followers to be manifestations of Avalokiteshvara or Chenrezig, the Bodhisattva of Compassion and the patron saint of Tibet. Bodhisattvas are believed to be enlightened beings who have postponed their own nirvana and chosen to take rebirth in order to serve humanity.
We would like His Holiness to speak out against the practice of eating companion animals and the cruelty involved in the trades, and to share the Buddha's teachings on compassion to animals to his followers and to the world.
Which Olympic Team will care about the Korean dogs?
NOC: Take a stand in Pyeongchang 2018
against the dog and cat meat trade!
PyeongChang, host to the 2018 Winter Olympics – the world will be watching South Korea, which is why this is the perfect time for you take action to support our campaign to end the horrific dog and cat meat trade in South Korea for good!
Let's ask the Olympic Team to take a stand and speak out against this shameful trade. You can help by signing and sharing our petition, sending out letters and emails, and raising awareness of this brutal and barbaric practice and calling for an end to the trade by exposing this issue in social media. Click below countries to take action.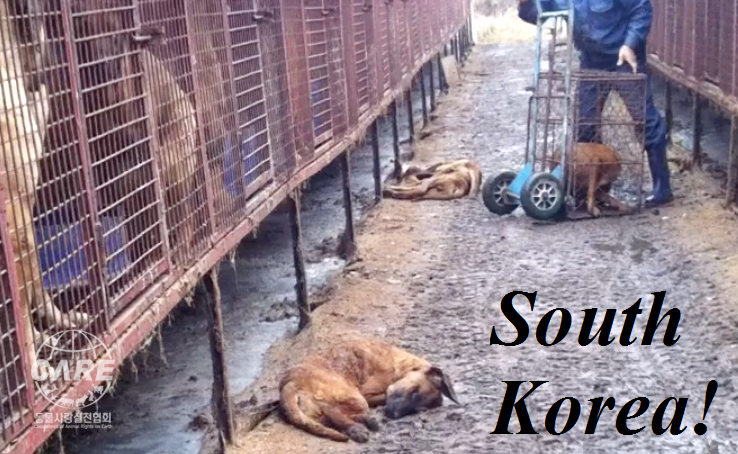 Join Us Tomorrow!
​May 27 Saturday – Fisherman's Wharf in San Francisco
Leafleting and Informational Event on the South Korean Dog Meat Trade
"The proof that one truly believes is in action." ~Bayard Rustin
The three-day Memorial Day Weekend, which is a federal holiday in the U.S., will also be the start of the summer vacation season, which will double the number of visitors to Fisherman's Wharf, the famous San Francisco tourist attraction and landmark. We will be displaying our banners and posters, and will be handing out leaflets and collecting petition signatures against the extremely cruel South Korean dog meat trade. We will need the help of more volunteers to hand out our leaflets and to talk to as many of the visitors as possible, to make them aware of our campaign to help the South Korean dogs and cats. Can you help?
Location: San Francisco, Fisherman's Wharf located near the corner of Jefferson and Powell streets along the chain link fence.
Date/Time: May 27, 2017 Saturday. 9:30am – 4:45pm.
Contact: Contact
RSVP on Facebook or send us a message if you will be coming. Thank you! Dogs are welcome!
Hope to see you there!
Click HERE to learn more.