Newsletter – September 1, 2016
New Sister City Campaigns | UK – Parliament Debate!
New Sister City Campaigns –
Seoul Nowon, Yongsan, and Yeongdeungpo Districts.
Based on the data provided by the Governors Association of Korea, there are 162 Sister City/Friendship City relationships between the various levels of the Korean Government and the US Government. Our campaigns have only covered about a quarter of these relationships so far, so we have a long way to go to get them all covered.
So here we go. A search engine reveals the sickening scale of the below Seoul Districts' s dog meat demand. Please take action TODAY to help put an end to this illegal and gruesome industry.
Friendship City Campaign – Seoul Nowon-District, Korea – Irvine, California: (The City of Irvine took immediate action to address our petition for their Sister City, Seocho District, Seoul, and we are hoping for same response for this campaign.)
Click HERE to take action.
Click HERE to sign petition.
Sister City Campaign – Seoul Yongsan-District, Korea – Sacramento, California:
Click HERE to take action.
Click HERE to sign petition.
Sister City Campaign – Seoul Yeongdeungpo-District, Korea – Monterey Park, California:
Click HERE to take action.
Click HERE to sign petition.
Photo: Dog meat market in Seoul, Korea. SaveKoreanDogs.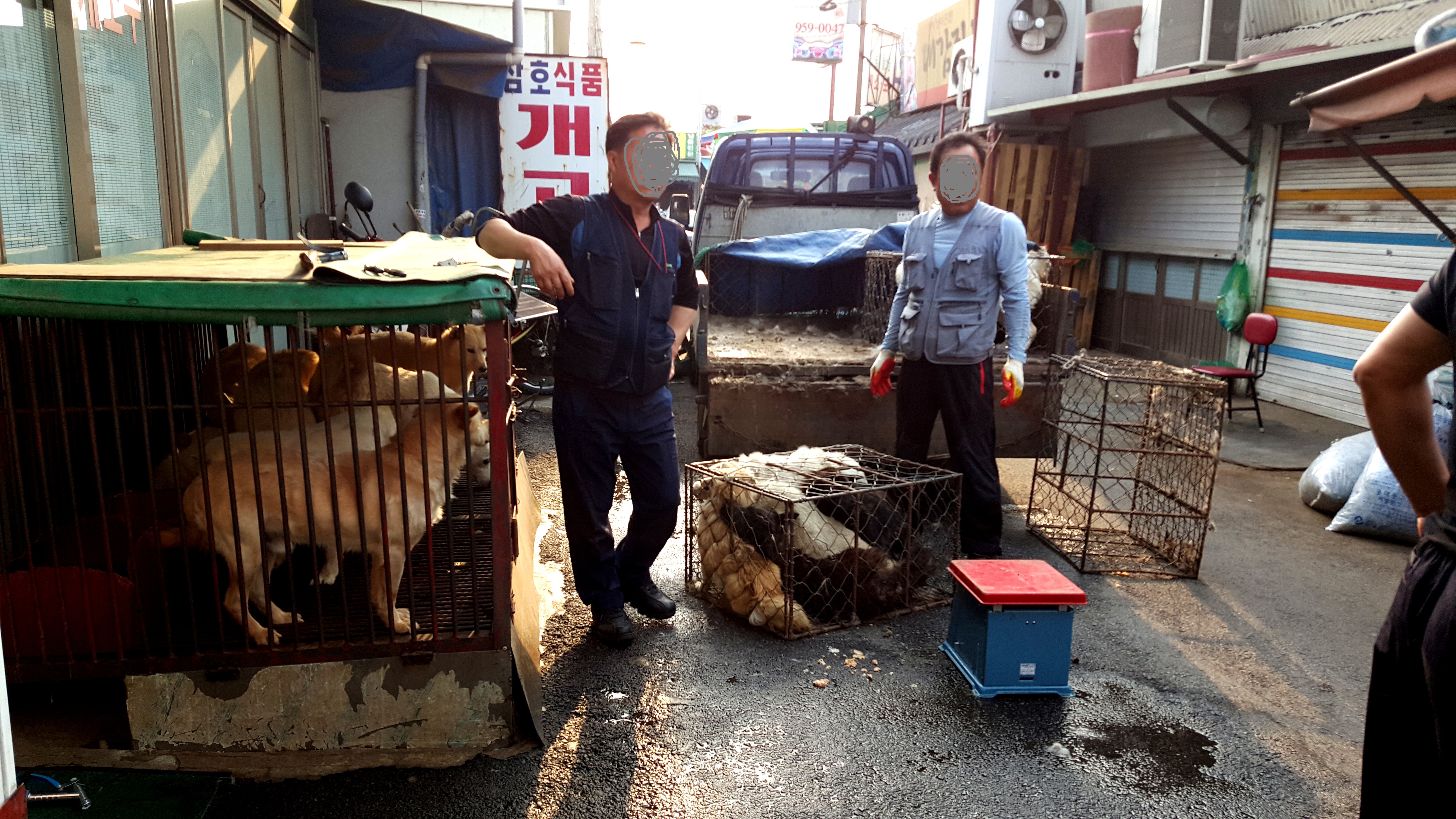 Call for Action for UK – Contact your MP,
Ask to Speak Out Against the Korean Dog Meat Cruelty!
Sharing for Madeline Warren.
UK people- if you would like to help end the dog meat trade, it won't cost you any money or much time. Can you please take a few minutes to contact your MP to make sure they attend the debate on September 12th to discuss the South Korean dog meat trade?
​
I have posted a letter here which you can copy and paste if it makes it easier for you. You can find out who your MP is and get their contact details here: http://www.parliament.uk/get-involved/contact-your-mp/ And please SHARE the post and this text too. Thanks.
SAMPLE LETTER:
Dear
I urge you to attend the debate happening in Parliament on Monday, September 12th at 4.30pm which will be discussing the dog meat trade in South Korea. We ask our government to speak out and persuade the South Korean government to respond to the dog meat issue and make the dog meat trade illegal. This would support the majority of Korean citizens opinions on this matter and help to make Korea a more viable option for tourism and trade.
The South Korean dog meat trade keeps millions of dogs in inhumane, filthy conditions and tortures and kills them for food. The Korean government is, even now, reviewing laws to deal with this trade and I think that with some international discussions, these laws will be enacted swifter and with more force.
There will be a vigil in Old Palace Yard from 2-5 on the day to support this debate. It would be appreciated if you would go and speak to them and show your support. You can email madelinewa[email protected] to find out more about the trade and the vigil.
You can look up https://koreandogs.org/ to find out more information on the dog meat trade as a whole.
Thank you!
[Name and Address]
Click HERE for this campaign page to share.
Click HERE for info on vigil planned for Sept 12 in London.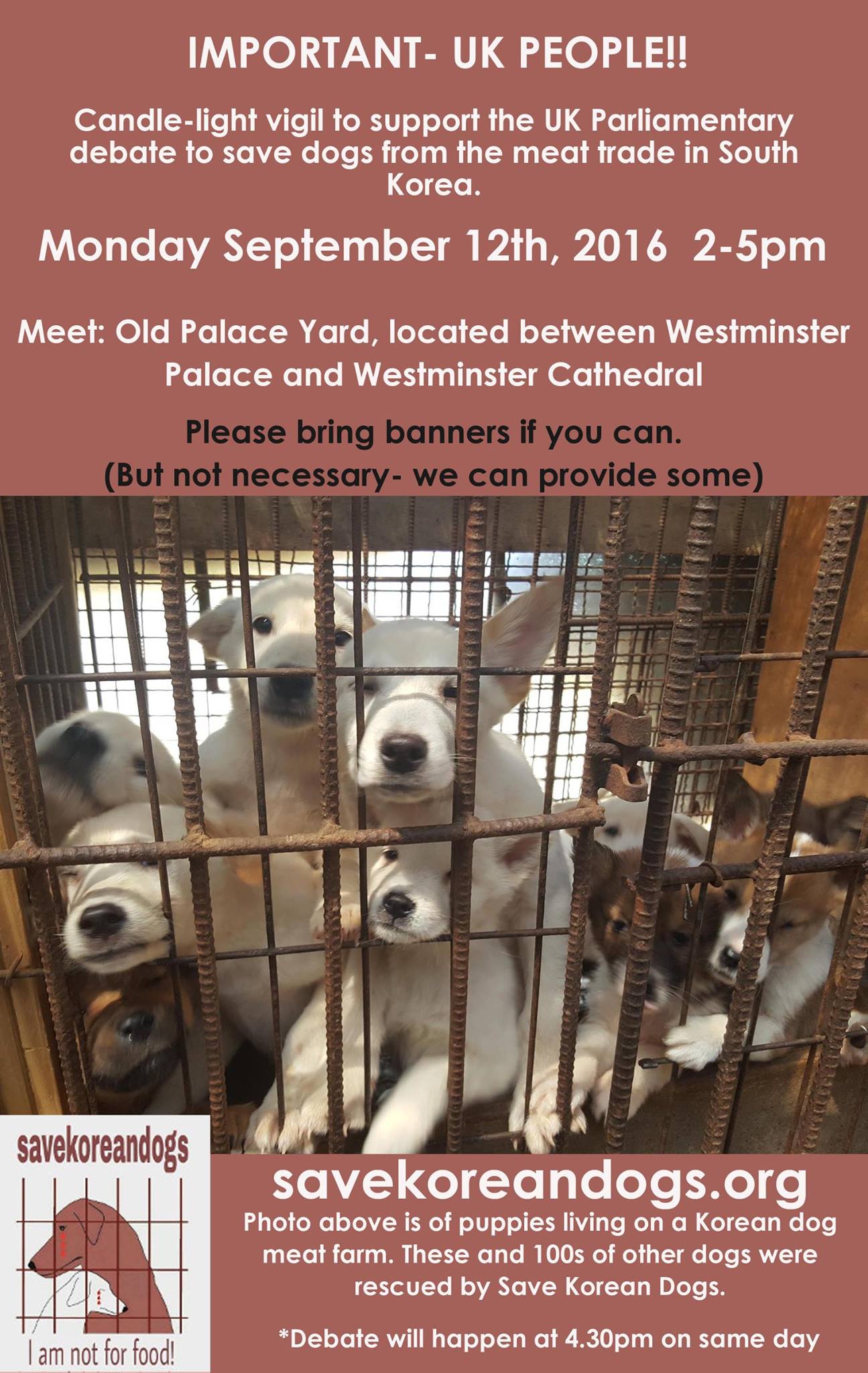 Wear our T-shirts to help end
​the South Korean dog meat cruelty.
Fund documentary by
the Korea Observer.

Wear one of our t-shirts!
Help fight the South Korean dog and cat-meat cruelty and help bring awareness to our campaign. 100% of the funds raised from the sale of these t-shirts will be donated to the documentary project by the Korea Observer.

Click HERE to buy one TODAY. Price is $15 plus shipping.

Photo: Daniela and Sam wearing our t-shirts. Fishermans' Wharf. Aug 13, 2016.
"The thinking person must oppose all cruel customs
no matter how deeply rooted in tradition or surrounded by a halo….
We need a boundless ethic, which includes the animals also."
– Albert Schweitzer