Newsletter – September 6, 2016
Knife stuck in throat, gasping in agony | Irvine City does it again
Ulsan Dog Meat Market illegal dog slaughter…
​Knife stuck in throat, gasping in agony

It was reported on August 16, 2016, by KBS News and Kukje News, and again on August 17 by TV Chosun News, that the butcher of a dog slaughterhouse in Ulsan, Namgu District Sanggae-dong that has been brutally slaughtering and selling dogs has been caught.
On August 12, ahead of 'Malbok,' the 3rd of 3 'Boknal' Korean dog days of summer, Ulsan City officials and Busan KAPCA (Korea Alliance for the Prevention of Cruelty to Animals) conducted a joint inspection of this dog slaughterhouse and caught the butcher AOO with dogs bludgeoned with a hammer and knife stuck in their throats to bleed them to death in full and unobstructed view of other live dogs.
At the time of the visit, Busan KAPCA reported that two dogs were lying on the ground bleeding profusely. One of the dogs was still alive and torturously gasping for breath.
Pursuant to Article 8 of the Animal Protection Law, the act of killing an animal in front of other animals of the same species is subject to up to 1 year of imprisonment or a monetary fine of up to 10,000,000 Korean won. Accordingly, Busan KAPCA reported AOO to the police for the blatant violation of the Animal Protection Law.
Until last year, businesses that slaughter and market a variety of livestock animals, including dogs, were prevalent in the old Sanggae-dong livestock market area. When the livestock market was closed down the number of slaughterhouses was significantly reduced. However, 6 dog slaughterhouses remain in operation, inflicting unbearable pain and suffering on these animals and selling their meat.
An Ulsan city representative stated that several years ago, local government over this jurisdiction conducted a broadscale maintenance, thereby eliminating the illegal dog slaughterhouse buildings. However, because the actual act of slaughtering dogs for the purpose of human consumption is not illegal, there are still people selling dog meat.
Click HERE to learn more.
​
Video: KBS News Ulsan, 8/16/16.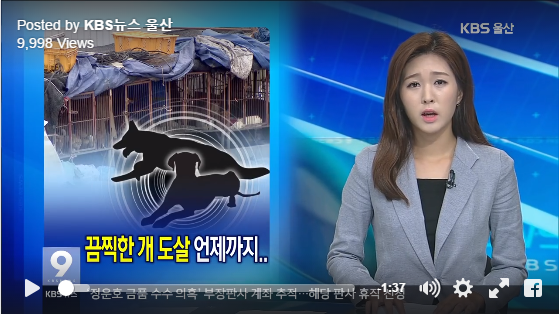 Irvine City does it again
​– immediate response sent to Seoul's Nowon District

We have just received a response to our campaign/petition, shown below, from the City of Irvine – and once again they didn't let us down. We are very grateful to Mayor Choi and all of Irvine City Council, and its staff, for taking such immediate action to help the Korean dogs in the meat trade, and for being their voice!
We are pleased to say that this is our 6th victory, even though we don't yet know how Seoul's Nowon District will respond. And, we are sure that, as a result of our campaigns, there are many more cities/states contacting their counterparts in Korea to address this issue, even though they have chosen not to respond to us.
​These Sister City campaigns, that put a spotlight on the Korean Government's shameful indifference, are effective and therefore very important. So please keep up the great work and stay with us as we take on each one of the 162 such relationships, one by one. It could take many years to cover them all but we will not stop until Korea ends this brutality.
Click HERE to learn more and to send 'Thank You' email to City of Irvine.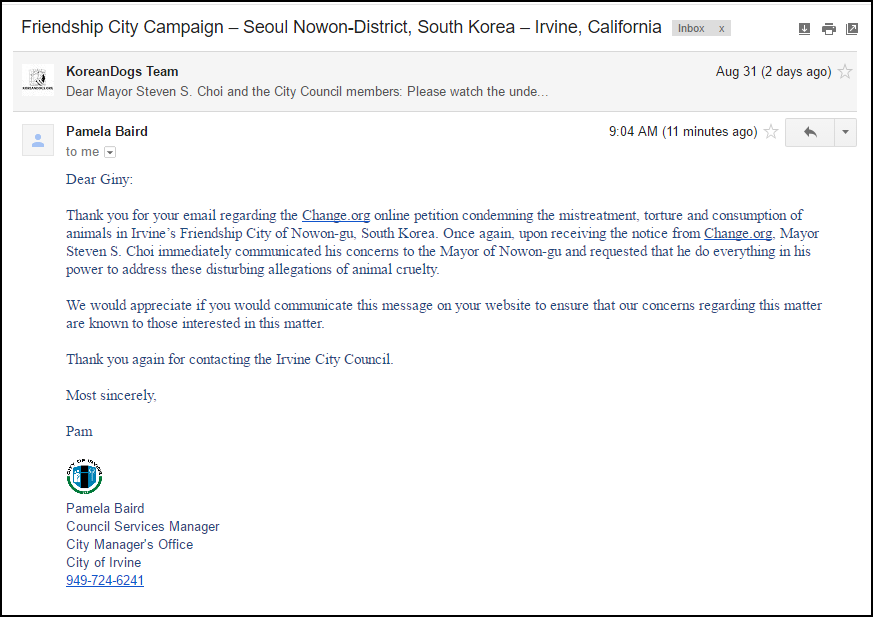 Yeongdeungpo invites criticism
– Let's tell them what we think of their bloody dog-meat trade.
Yeongdeungpo district of Seoul, the home of 'shiny skyscrapers', Hanjin Shipping and LG; it has super-malls, 5-star hotels and – oh so importantly – a self-quoted desire to: "strive to provide a brighter future for a green city exuding vitality and affection".

So let's ask what the brighter future will be for the dogs in their meat trade; dogs which are currently being raised in abusive, neglected conditions – subjected to terror, torture and barbaric treatment, before being brutally slaughtered for the profits of health-food shops and restaurants.
This place claims to wish to "focus attentively on the diverse opinions and criticism", so let's not disappoint them: please share your opinions and pass on your criticisms – tell them what you think of their dog-meat trade, tell them it must stop.
Click HERE to take action.
Click HERE to sign petition.
Photo: Yeongdeungpo-gu District Mayor Gil-Hyeong Jo. Dog meat market in Seoul, Korea. SaveKoreanDogs.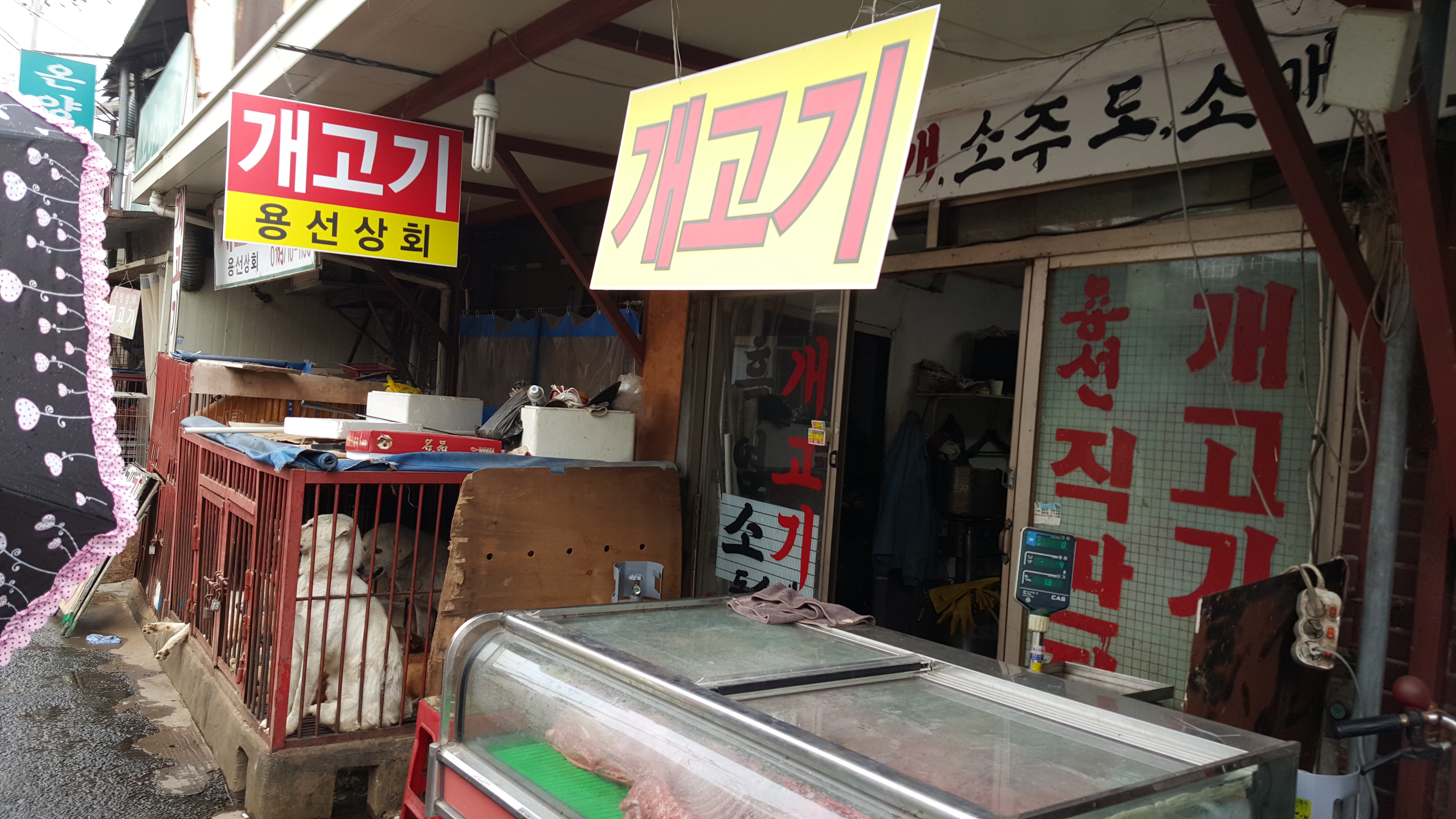 Call for Action for UK – Contact your MP,
Ask to Speak Out Against the Korean Dog Meat Cruelty!
Sharing for Madeline Warren.
UK people- if you would like to help end the dog meat trade, it won't cost you any money or much time. Can you please take a few minutes to contact your MP to make sure they attend the debate on September 12th to discuss the South Korean dog meat trade?
​
I have posted a letter here which you can copy and paste if it makes it easier for you. You can find out who your MP is and get their contact details here: http://www.parliament.uk/get-involved/contact-your-mp/ And please SHARE the post and this text too. Thanks.
SAMPLE LETTER:
Dear
I urge you to attend the debate happening in Parliament on Monday, September 12th at 4.30pm which will be discussing the dog meat trade in South Korea. We ask our government to speak out and persuade the South Korean government to respond to the dog meat issue and make the dog meat trade illegal. This would support the majority of Korean citizens opinions on this matter and help to make Korea a more viable option for tourism and trade.
The South Korean dog meat trade keeps millions of dogs in inhumane, filthy conditions and tortures and kills them for food. The Korean government is, even now, reviewing laws to deal with this trade and I think that with some international discussions, these laws will be enacted swifter and with more force.
There will be a vigil in Old Palace Yard from 2-5 on the day to support this debate. It would be appreciated if you would go and speak to them and show your support. You can email [email protected] to find out more about the trade and the vigil.
You can look up https://koreandogs.org/ to find out more information on the dog meat trade as a whole.
Thank you!
[Name and Address]
Click HERE for this campaign page to share.
Click HERE for info on vigil planned for Sept 12 in London.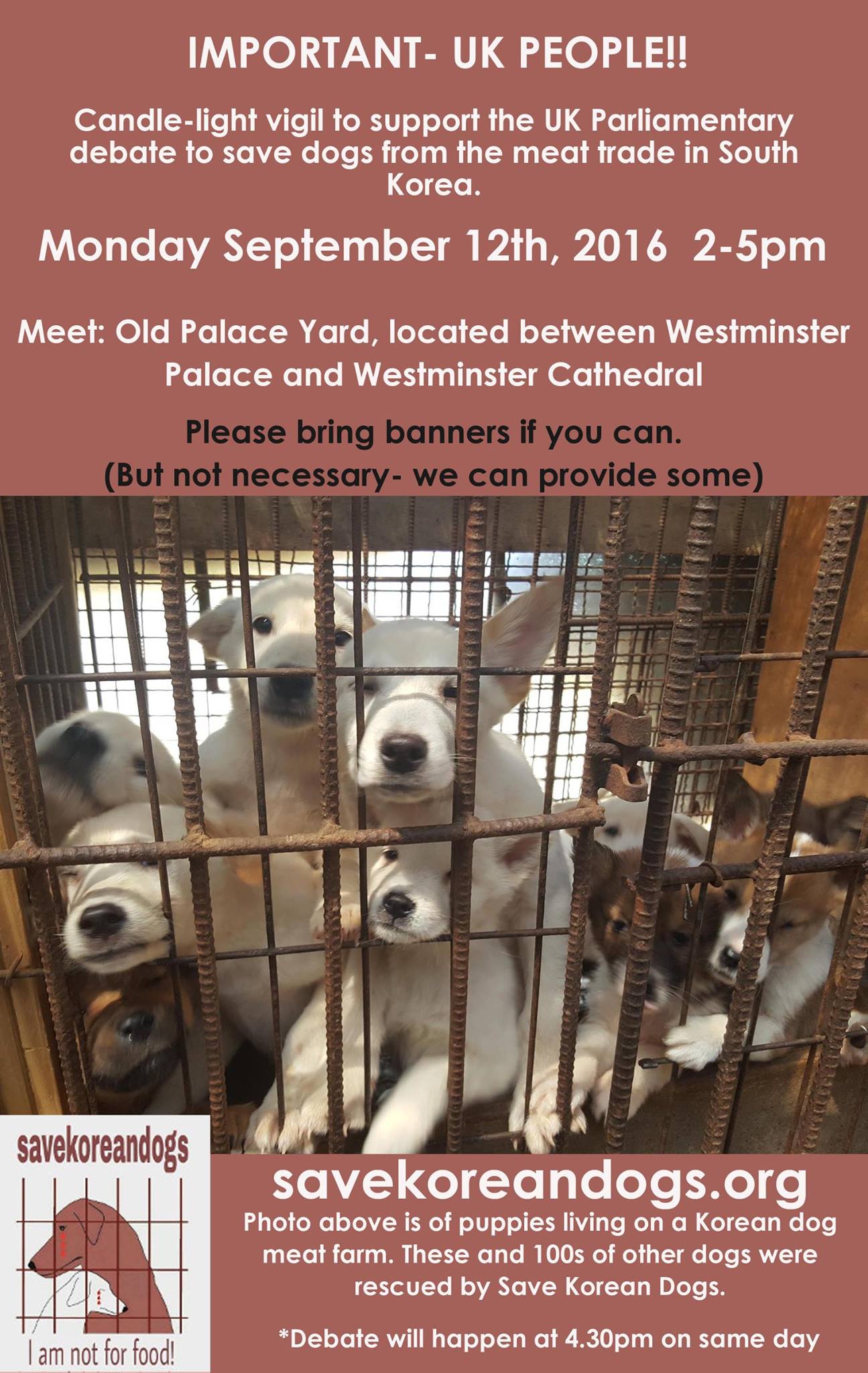 "A small body of determined spirits,
fired by an unquenchable faith in their mission,
can alter the course of history."
– Mahatma Gandhi