Newletter – March 23, 2018
Korea's Constitution to Establish National Policy on Animal Protection? | Sanary & Hongcheon-gun Sister City
Click

HERE

to see this newsletter from our homepage.
​
President Moon Jae-in's proposed amendment
for a new Constitution –
​"Establishing National Policy on Animal Protection"
Korean news Hankyoreh reported on March 20, 2018, that if the new Constitution to be proposed by President Moon Jaein passes, provisions for a national policy on animal protection will be established.
On March 20th, Cheongwadae (Blue House, the presidential residence) announced part of the bill for a Constitutional amendment, stating that they have created provisions to establish a national policy on animal protection as well as stipulating a right to life to animals. The details were not disclosed, but according to Cheongwadae officials it is absolutely certain that provisions for animal protection are included. If the Constitution stipulates animal protection as the nation's responsibility, changes in lower level legislation can also be expected.v Under the current civil law, humans and objects are defined; animals are considered objects, a possession by humans. However, the proposed constitution will specify humans, animals, and objects separately.
Mr. Ha Seung-Soo, Attorney and Vice Chairman of the Special Advisory Committee on National Constitution stated, "Under the current civil laws, animals are considered objects, but if the Constitution is amended, animal protection becomes the responsibility of the nation (government) and specific laws and regulations will be established."
Click HERE to learn more and take action.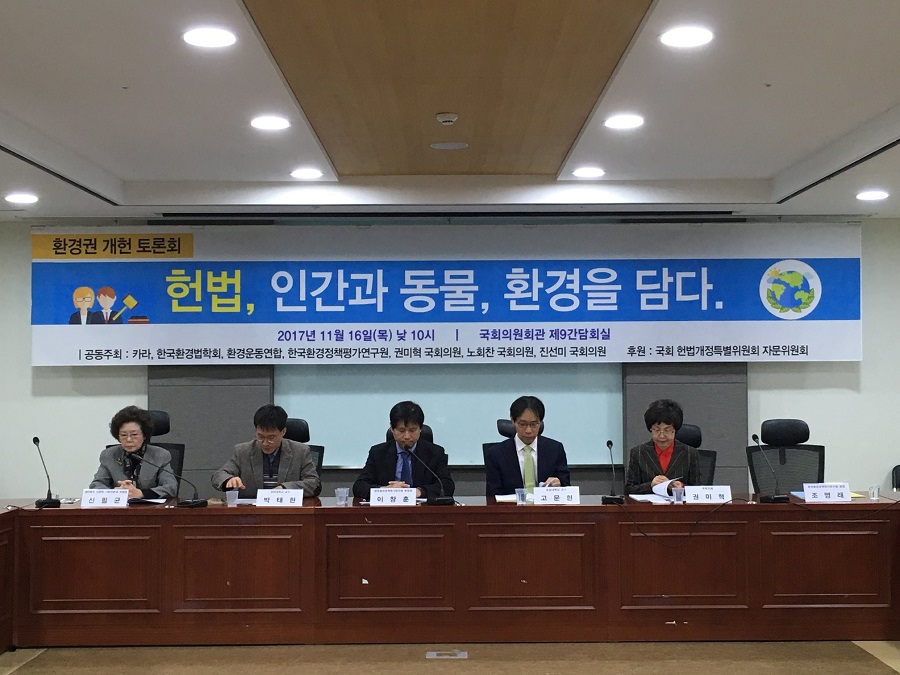 Photo: Constitution Amendment on Environment Panel Discussion on November 16, 2017 " Inclusion of Human, Animal, Nature to the Constitution". KARA.
Sister City Campaign
​Hongcheon-gun, South Korea – Sanary-sur-mer, France
Now that the PyeongChang 2018 Winter Olympic is over, our focus will go back to our Sister/Friendship city campaigns. Hongcheon-gun in Gangwon-do province became Sister city with Sanary-sur-mer in 1991. Please take the action to urge Mayor of Sanary-sur-mer to speak out against their Sister city's horrific and gruesome trade.
Click HERE to learn more and take action.
Video: Shocking cruelty of dog farms/slaughterhouses in Gangwon-do Province, South Korea. CARE.
Busan KAPCA Shutting down dog farm
​with Ulsan Dong-gu District Office
We are glad to hear that Ulsan Dong-gu District government ("Dong" means East, "gu" means District) is taking action to shut down illegal dog farm and is working together with the Busan Korea Alliance for the Prevention of Cruelty to Animals (KAPCA) in this effort. We are grateful to both Busan KAPCA and the Ulsan Dong-gu. We look forward to seeing more proactive actions by Ulsan to eradicate the illegal and horrendous dog meat industry operating in their city.
Click HERE to learn more.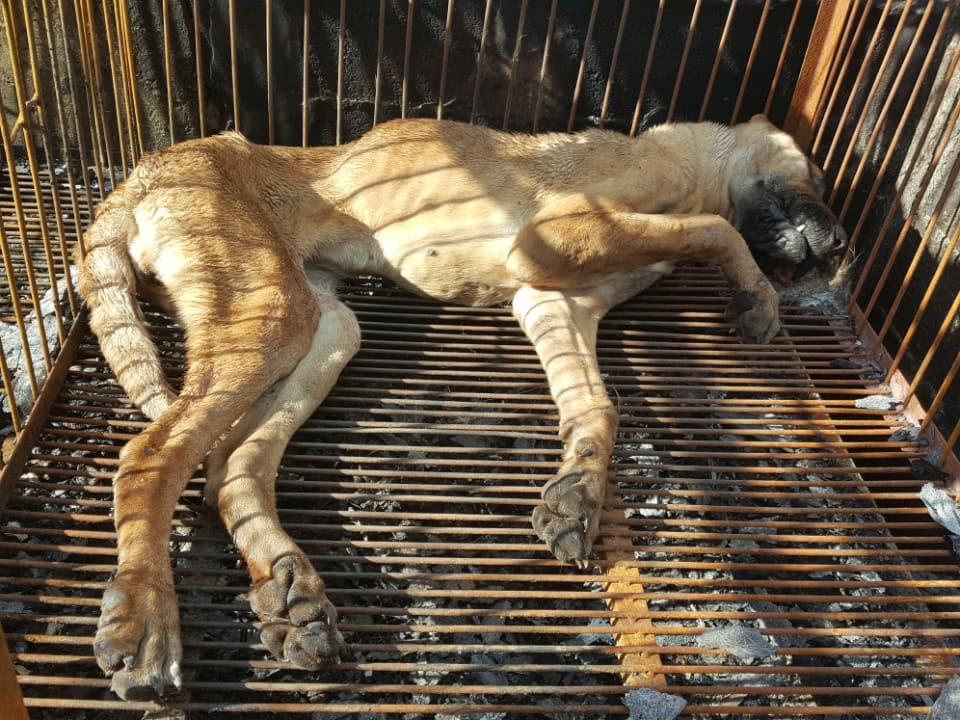 Beefed Up Penalties for Animal Cruelty,
​Pet Abandonment Goes into Effect
Korean English news Bizwire reported on March 22, "A revision to the Animal Protection Act that toughens punishment for perpetrators of animal cruelty and pet owners who abandon their animals has gone into effect as scheduled starting today. The Ministry of Agriculture, Food and Rural Affairs will expand the scope of "animal cruelty" to include force-feeding animals food and drink, leaving them in extremely cold or hot conditions and arranging animal fights. Those guilty of committing animal cruelty will going forward be punished with an enhanced sentence of a maximum prison term of 2 years and a fine up to 20 million won."
Click HERE to learn more.
Photo: Dogs left in cold to die in South Korean dog meat farm. KAWA.
Adopt dogs rescued from dog meat industry
by SaveKoreanDogs.org
Dogs rescued from dog meat industry in South Korea by Nami Kim and her team are waiting for their loving and caring forever homes. Thank you for opening your heart and your home to these angels!
​
​Click HERE to see the dogs available for adoption.
Click HERE to follow SaveKoreanDogs.org on Facebook for the latest updates.
| | | |
| --- | --- | --- |
| Photos: Gina Nam rescued 10 small dogs from this dog farm/slaughterhouse situated illegally on the National Ministry of Defense property for the last 20 years in Songcheon-dong, Jeonju, South Korea. Dog farmer promised to shut it down 2 years ago but he never followed through and continued to slaughter dogs. Rescued dogs will be moved to Nami (SaveKoreanDogs.org)'s sanctuary and Nami's team will be helping with the care and adoption. | | |
Please donate to SaveKoreanDogs.org team so that they can continue to rescue dogs like Khun and continue their fight to end the horrific dog meat trade.
Thank you!!