Newsletter – August 20, 2018
Exposing Seongnam's Illegal Dog Slaughterhouses | New Calls for Action!
Click

HERE

to see this newsletter from our homepage.
​
[Urgent Petition]
Stop Dog Meat Infected with Canine Influenza
being Traded in South Korea
Coexistence of Animal Rights on Earth (CARE) visited the Taepyeong dog slaughterhouse on the 15th of August. The dogs rescued from the slaughterhouse at that time were discovered to be infected with Canine Influenza.
The reason for this is that living dogs were kept in the same cages as dogs who had died. Before they died, more than 10 of the dogs were coughing up blood. It is evident that the dogs had died from a contagious disease.
CARE removed 5 dead dogs and two very sick dogs from the cages. On examination, the sick dogs tested positive for Canine Influenza. Unfortunately, after examination, both of the sick dogs died coughing blood. Canine Influenza is a highly contagious airborne virus.
Click HERE to learn more from CARE's page and sign petition.
Click HERE to watch more videos from CARE's visit to the Seongnam dog slaughterhouses and their press conference.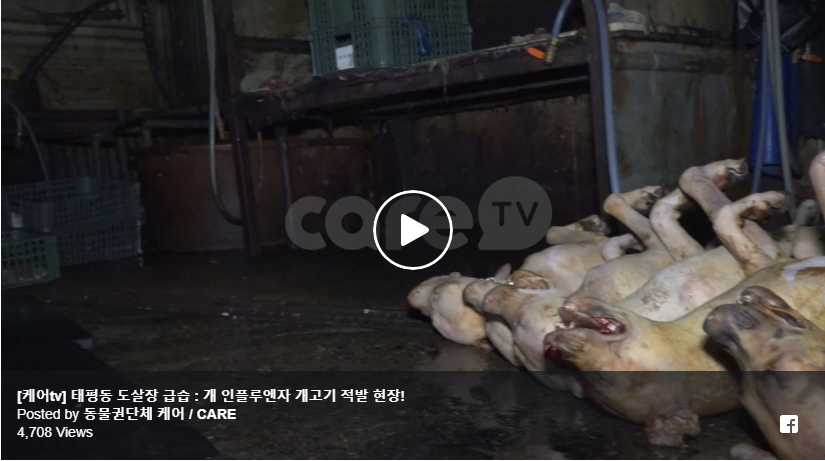 Call for Action:

Send emails to the South Korean National Assembly Members!
Please help to bring awareness of the barbaric South Korean dog meat industry by sending emails to the South Korean National Assembly Members. All the work has been done for you, all email addresses are provided and a sample letter has been written. It will take just a few minutes to help with such important work.
Click HERE to learn more and take action.
Photo: Coexistence of Animal Rights on Earth (CARE), Jung Jin Woo.
Victories! Thank you, Burbank and Wellington!
Please click below to learn more about the positive news from our campaigns:

Click HERE to learn more and take actions on our Sister/Friendship City Campaigns.
Call for Action:
South Koreans: start taking responsibility for enforcing your own country's laws: stop the illegal dog and cat meat trades.
Despite the fact that dog and cat meat consumption is an everyday occurrence and is being carried out all over South Korea, it is NOT LEGAL in that country. Their Government does nothing to stop this illegal practice and they seem happy to ignore it; many Korean citizens are just as apathetic and must also be held accountable.
This is the 21st Century, and it is high time that all South Koreans, leaders and general public alike, stand up and take responsibility to enforce their own country's laws. South Korea and South Koreans cannot continue to ignore these brutal and unethical trades, so let us campaign to urge each of South Korea's cities to enforce their laws and to put an immediate end to these illegal dog and cat meat trades.
Below are the most populous cities in South Korea. Please sign our petitions and send postal letters to these cities calling for an end to these illegal trades.
Thank you for the 2018 "Boknal" Demonstrations!!
We are grateful to the Animals' Battalion, the Holmans and all the caring and dedicated activists who have helped out at this year's "Boknal" Demonstrations to speak out against the horrific cruelty of South Korea's dog and cat meat trade! Their actions have helped to put more pressure on the Korean government to end the shameful and extremely cruel companion animal meat trade.
Click HERE to see the photos/videos and learn more about these demonstrations.
Photo: The Animals' Battalion.
Adopt dogs rescued from dog meat industry by SaveKoreanDogs.org
Dogs rescued from dog meat industry in South Korea by Nami Kim and her team are waiting for their loving and caring forever homes. Thank you for opening your heart and your home to these angels!

Click HERE to see the dogs available for adoption.
Click HERE to follow SaveKoreanDogs.org on Facebook for the latest updates.

Photo: Sally and Lucky are siblings. Unfortunately SaveKoreanDogs.org could not save their mom. They are fully vaccinated, spayed/neutered, more than ready fly to a home. SaveKoreanDogs.org.
Please donate to SaveKoreanDogs.org team so that they can continue to rescue these angels and continue their fight to end the horrific dog meat trade. Thank you!!