Newsletter – December 14, 2016
[Breaking News] Illegal dog slaughter to be banned in Moran Market
Click

HERE

to see this newsletter from our homepage.
​
[Breaking News]
Illegal dog slaughter to be banned in Moran Market
But this DOES NOT BAN the sale of dog meat
On Dec 13, the Korea Herald reported, "The slaughter of dogs will be abolished and butchery facilities removed from South Korea's largest dog meat market, in a move which officials described as a step toward ending the animal welfare controversy over the industry.
The decision was announced Tuesday by Seongnam City Government and the vendors' association of Moran Market, which, among others, represents its 22 dog meat dealers.
According to their agreement, the dog meat vendors will start removing slaughter facilities and dog cages from next week and will completely move them out by early May." Click HERE to read.
Click

HERE

to learn more.
This is a big step forward, as well as a victory for the countless animal activists who have campaigned for many years to shut this place down. Much more work and campaigning will be needed to stop the selling of dog meat altogether at this market, as well as throughout Korea.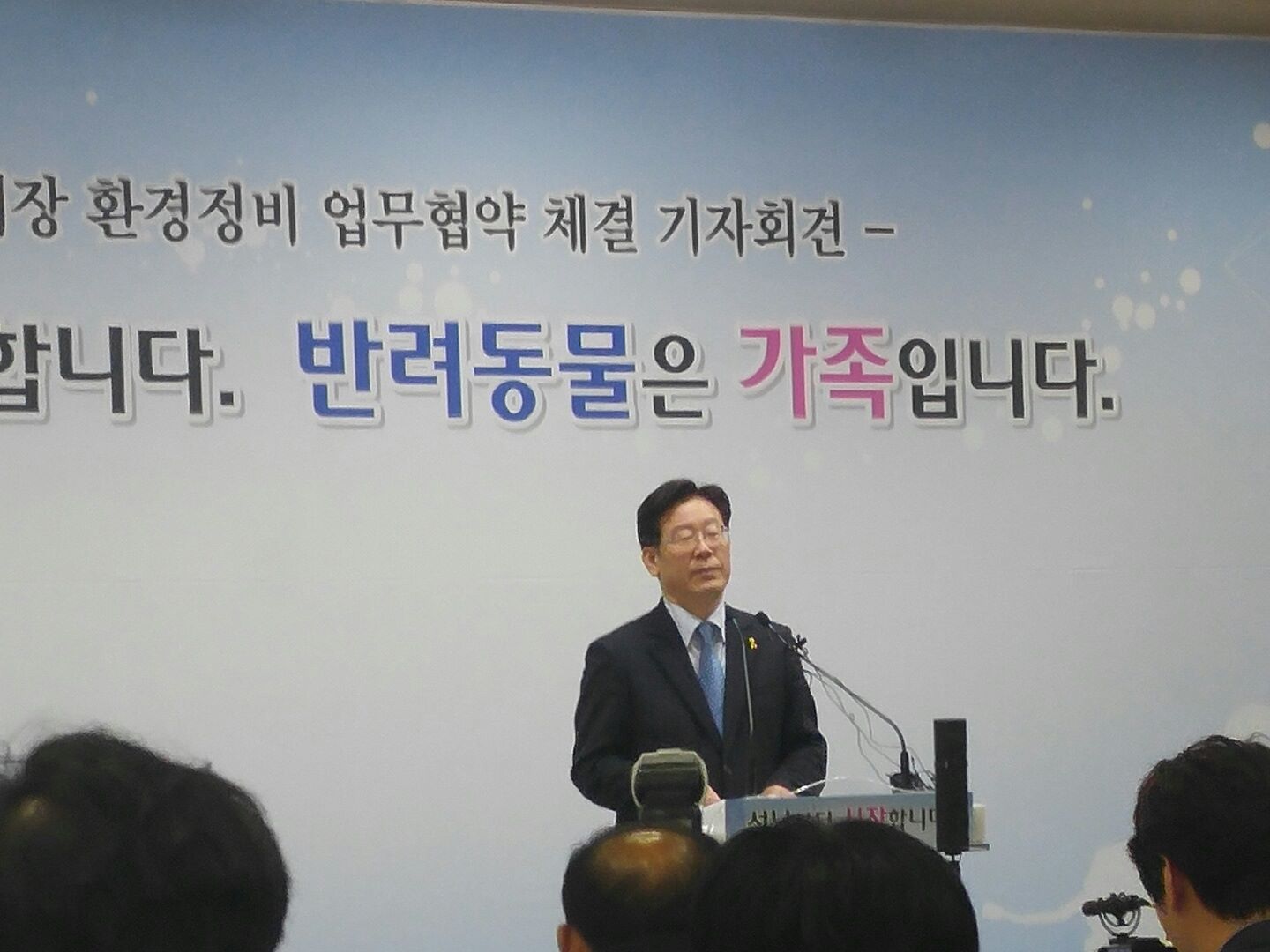 Photo: Mayor Lee Jae-Myung speaking at the press conference. Banner behind him states "Companion animals are our family." SaveKoreanDogs.
Let's show Sister Cities the truth about
the dog and cat meat trades – and ask them to take action.
Sister City Agreements are formed between two cities with the aim of being mutually beneficial (for trade, cultural exchanges, business links etc., and to foster friendship), and many cities throughout the United States have such 'twin cities' all over South Korea. But, however beneficial these links are, it cannot simply be all about "taking the good, and ignoring the bad" – there must surely be some social responsibility for the representatives of one city to take a stand against any wrongdoing being sanctioned or ignored by their Sister City: in this case the illegal and aberrant dog and cat meat trades in South Korea. Therefore, we wish to bring the unacceptable practices of these trades to the attention of the relevant US City Mayors and their Offices, and to urge them, in the spirit of friendship and for the good of the Korean people, to reach out to their counterparts in South Korea, asking them to enforce their laws and to put an end to the cruel dog and cat meat trades.
Please click on each campaigns below to take action. Thank you for caring!
Suncheon, South Korea – Columbia, Missouri

Yeosu, South Korea – Newport Beach, California
Wanju, South Korea – Carson, California
Iksan, South Korea – Culver City, California
Dangjin, South Korea –Snohomish County, Washington
Asan, South Korea –Palm Springs, California
Gongju, South Korea –Calhoun County, Alabama
Gyeongju, South Korea –Pompei, Italy
Pohang, South Korea –Pittsburg, California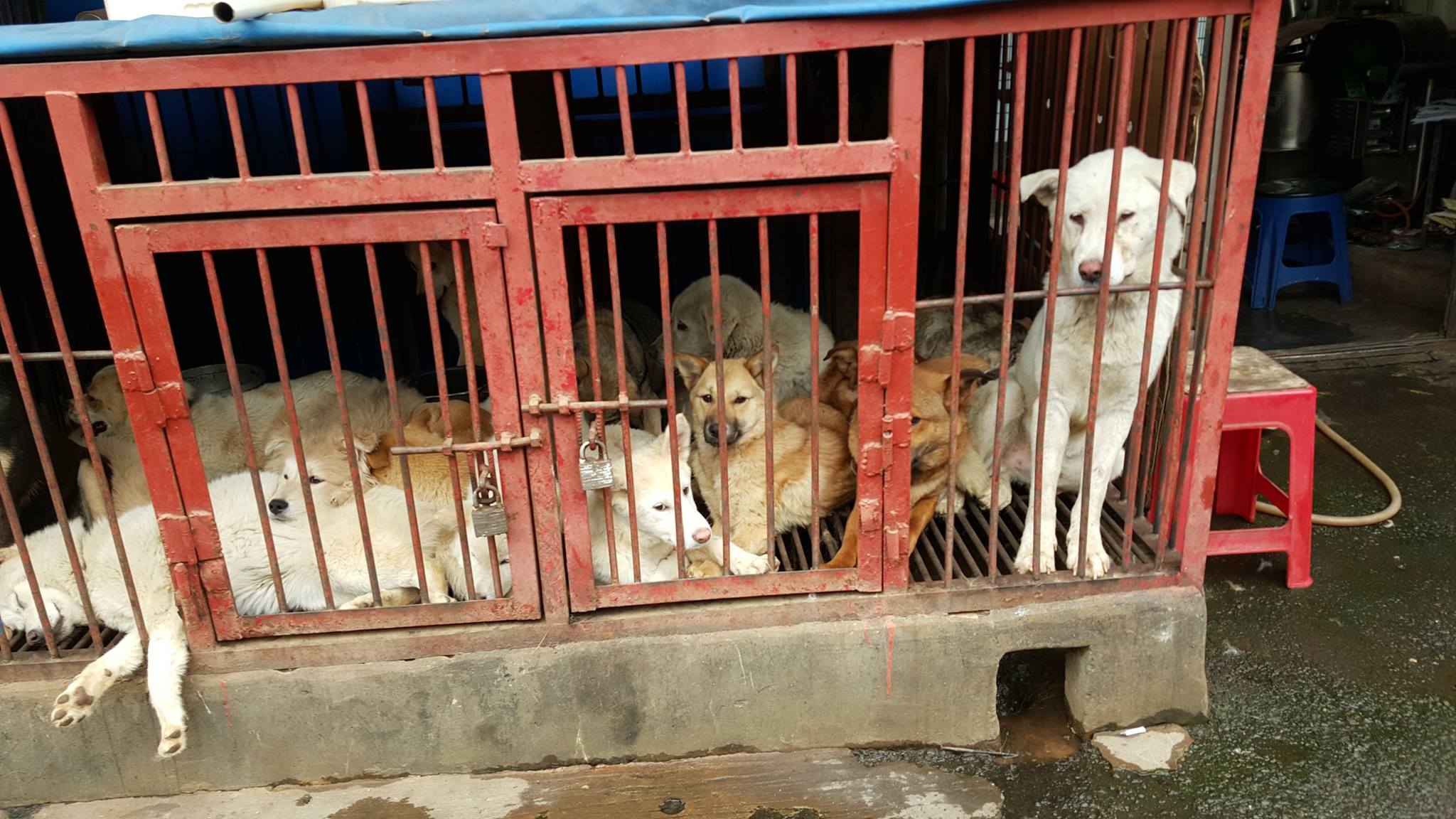 We have many Sister/Friendship City Campaigns going on now.
Please add your voice TODAY to help the Korean dogs.

64 members of the National Assembly from both the ruling party and the opposition parties co-sponsored
​amendment to the Animal Protection Law.
On September 2, Daily Vet, a professional newspaper for the Veterinarian community in Korea reported on the new proposed amendment to the Animal Protection Act.
Their report states, "An amendment to the Animal Protection Act was initiated by 64 members of the National Assembly on 31 August. Since the law requires 10 lawmakers to propose a bill, it is common for a bill to be co-sponsored by 10 to 15 members. However, it is extraordinary that 64 lawmakers co-sponsored this bill.
In addition, led by a large number of high-ranking politicians of the three opposition parties; such as Minjoo Party Chairman Choo Mi-Ae, Justice Party Chairman Sim Sang-Jeong, People's Party Interim Chief Park Ji-Won, Park Young-Sun, Lee Jong-Gyeol former representatives of the party, Lee Seok-Hyun former Vice Speaker of the National Assembly have participated in this bill. This demonstrates that there is a high interest around animal protection and welfare in the National Assembly." Click HERE to learn more.​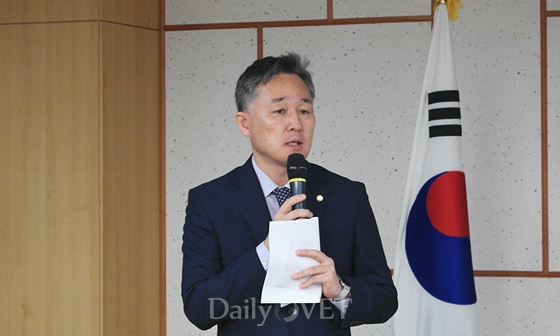 We need at least 30,000 signatures to hand-deliver our petition to Mr. Pyo next month. Please sign and share TODAY!

Join us in Australia – February 9, 2017
Protest the horrific & cruel dog meat trade in South Korea!
On the 9th February 2017 – one year out from 2018 Winter Olympics held in PyeongChang, South Korea…..come to a protest outside the Korean embassy in Australia's Capitol!…Boycott Korea! Boycott the Winter Olympics! Lobby the South Korean government to shut down this cruel and barbaric practice!….Please let Francie and Susan, the organizers, know if you plan to attend, as they need to know numbers. Thank you!
Location: Korean Embassy, 113 Empire Circuit, Yarralumla, ACT.
Date/Time: February 9, 2017. Thurday. 9 am – 5 pm. Come when you can and stay as long as you can.
Contact: Francie Campbell, [email protected]
RSVP on Facebook or send the organizer an email if you will be coming. Thank you!
Can you organize a protest where you are on the 9th February, 2017 –
​to coincide with ours?…..If so, click HERE for Francie's tips on how.

Photo: Korean Embassy in Australia, Busan Gupo Dog Meat Market. Busan KAPCA.
"We must always take sides. Neutrality helps the oppressor, never the victim.
Silence encourages the tormentor, never the tormented."
― Elie Wiesel