Newsletter – May 16, 2018
Busan Bukbu Office of Education's response lacks clarity and transparency | Dog meat trade survivors waiting for home
Click

HERE

to see this newsletter from our homepage.
​
Busan Bukbu Office of Education's response
lacks clarity and transparency
Samsung must speak out against the brutality of South Korea!
Translations available in 9 languages!
Out of all the conglomerates, or 'Jaebol', in South Korea, Samsung must rank as the most famous; their products are common household items. It is also an extremely powerful company: when the Samsung Management speaks, the President of Korea will listen. How disappointing and shameful it is, therefore, that despite its wealth and influence, Samsung shows no interest in helping to fight the horrific and diabolic practice of dog and cat meat cruelty in their own country. These evil meat trades are a blight on their people and their homeland – for numerous reasons. So, why doesn't Samsung feel any social responsibility to take action? Why are they content to do nothing to help end this abhorrence?

It's time for Samsung to speak up and do their part to bring an end to this illegal and unethical practice of brutalizing and eating man's best friends.

Click HERE to take action.

Busan KAPCA Yangsan Dog Farm Rescue Update
Large, mixed breed dogs still waiting for homes abroad.
We have received an update on the adoption status of the dogs rescued by Busan Korea Alliance for the Prevention of Cruelty to Animals(Busan KAPCA). The dogs were rescued from a Yangsan dog farm Busan KAPCA had shut down in January 2018. Click HERE for the Yangsan dog farm rescue.
As of today, May 4, 2018, 7 dogs have been adopted and 2 dogs have been reserved for adoption. However, all the remaining dogs, medium by Western standards, have a slim chance of finding homes within Korea, as most of Koreans live in high-rise apartments without a yard. Koreans, as well, prefer small pure breed dogs as companion dogs. Even if they were to be adopted in Korea, most likely they will be chained outdoors, guarding homes or businesses, exposed to the elements, with minimum interaction with humans, and no exercise.
Therefore, Busan KAPCA is asking for your support in finding homes for these dogs outside of Korea. They have English-speaking staff and are able to facilitate overseas adoption.
Click HERE to learn more.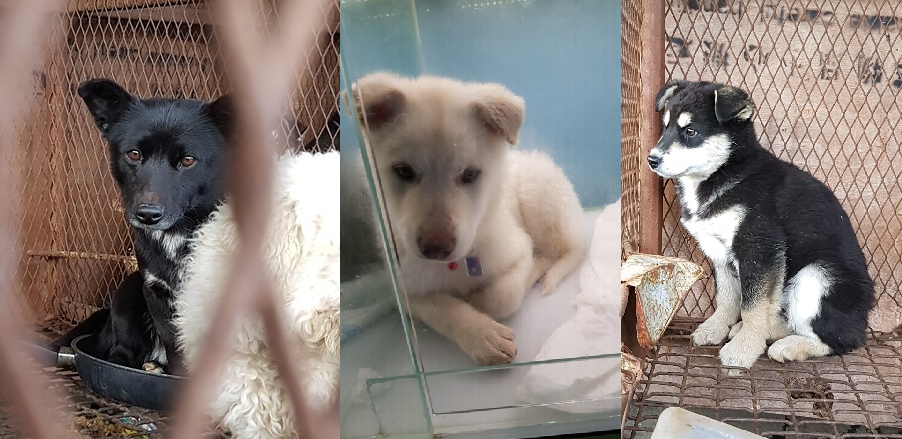 [Call for Action] Is the food waste recycling business
​ just another 'license to kill' in the filthy, dirty dog meat trade?
The Korea Animal Rights Advocates (KARA) has exposed another shameful side to the dog meat trade – and more Government failures. Not only does the South Korean Government neglect to enforce their animal welfare laws by continuing to allow the appalling and blatantly cruel dog meat trade, but Government Departments, such as the Ministry of Environment, Ministry of Food and Drug Safety and the Ministry of Agriculture, Food and Rural Affairs, fail to properly monitor the food waste disposal business, being carried out as a lucrative side-line to dog meat production – and thereby ensuring continuation of these trades.
The Korean Government must step up and take responsibility, the Moon Jae-In Administration must keep its promise to survey the dog meat farms throughout the country, and act on illegal practices – it must bring about change.
Click HERE to learn more and take action.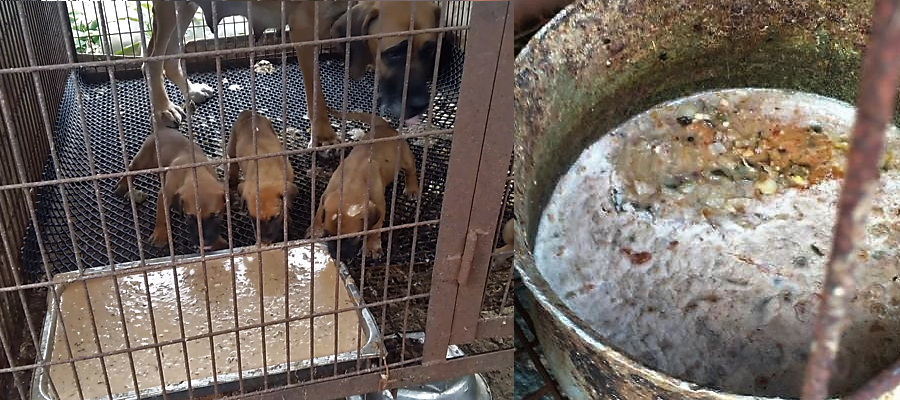 Photos: Dog farm in South Korea. KARA.
[Breaking News] Dog meat farmers protest
​for survival rights near National Assembly!
Korea Herald reported today, May 16, that "Dog meat farmers staged a protest near the National Assembly on Wednesday, calling for equal treatment as other animal farms and demanding survival rights. Some 200 members of Korea Dog Farm Council members took to the streets in front of the ruling Democratic Party of Korea headquarters in Yeouido, Seoul, and demanded the lawmakers introduce a grace period for dog farms to install excreta treatment facilities."
"In February, the National Assembly passed a revision to the Act on the Management and Use of Livestock Excreta, mandating animal farms operating without permits to install excreta treatment facilities. While all farms were given a grace period of six months, dog meat farms were subjected to the law immediately when it went into effect in March."
Click HERE to read.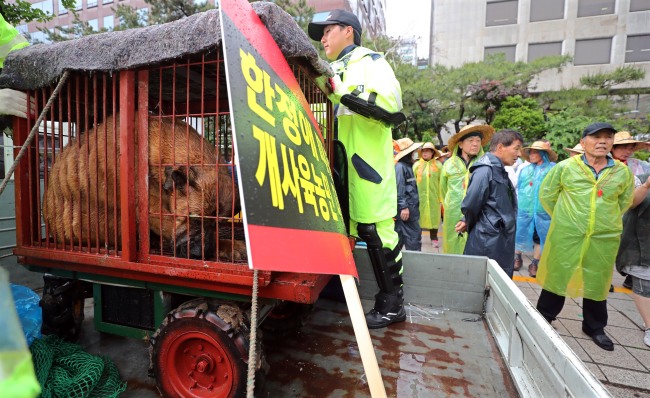 Adopt dogs rescued from dog meat industry by SaveKoreanDogs.org
​
Dogs rescued from dog meat industry in South Korea by Nami Kim and her team are waiting for their loving and caring forever homes. Thank you for opening your heart and your home to these angels!
​
​Click HERE to see the dogs available for adoption.
Click HERE to follow SaveKoreanDogs.org on Facebook for the latest updates.
Photo: Dogs rescued from dog tonic farm.
Please donate to SaveKoreanDogs.org team so that they can continue to rescue these angels and continue their fight to end the horrific dog meat trade. Thank you!!