Newsletter – October 19, 2016
Thank you, Fairfax County | Next is Daejeon!
Fairfax County, Chairman Bulova, responds quickly,
and once more takes action to help dogs in Korea
We have just received the response we have been hoping for, from Fairfax County, to our campaign/petition! We are very grateful to Chairman Bulova and all members of the Fairfax County Board of Supervisors for taking such prompt action to help the Korean dogs in the meat trade, and for being their voice! We are pleased to say that this is our 7th victory, even though we have yet to hear what response Seoul Songpa District will give to Chairman Bulova's request.

Click HERE to learn more and send a 'Thank you' email to the Chairman Bulova!
Adopt Dogs Rescued from Meat Trade by SaveKoreanDogs
We, KoreanDogs.org, do not rescue dogs from Korea or anywhere else. We are a volunteer group that focuses our effort on campaigning to end the dog meat trade in Korea.
However, rescuing dogs from the dog meat trade is not only an incredibly effective way to raise awareness about this issue, but also gives these poor dogs a chance at a peaceful, happy and loved life they deserve.
SaveKoreanDogs (Korean Dogs Sanctuary, Nami Kim and her team) is a registered nonprofit charity in South Korea that works to close down and rescue survivors from the dog farms/slaughterhouses. This organization is always looking for caring, loving homes in the US and Canada who will welcome these precious angels into their family. SaveKoreanDogs can only send the dogs to US and Canada. This is due to the EU quarantine rules and regulations. It takes 4-6 months to EU, which is too long for the dogs to wait.
Click HERE to learn more.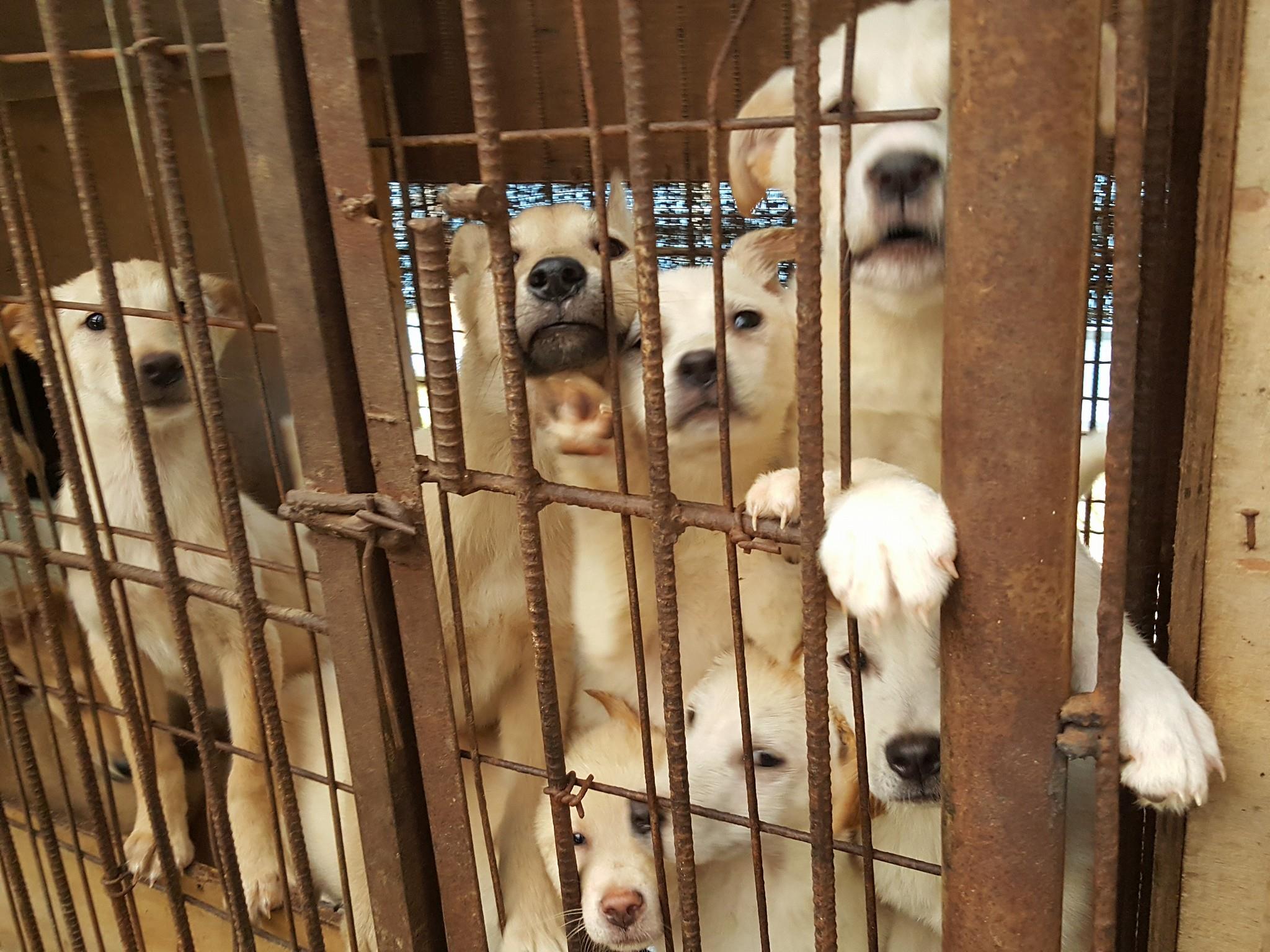 Seeking talented writers to speak for the Korean dogs.
We are constantly on the look-out for reliable volunteers who have writing and editing skills, to help with our campaign and social media messages. Advocating and giving a voice for these dogs requires effective communication in English and, as a first generation immigrant from Korea, I am unable to do this as well as someone with English as a first language. Had I known, some while back, that I was going to be campaigning to save the dogs, I might have studied English or Communication instead of Accounting; however, we are lucky that Camilla has volunteered to help with this task and has been such an invaluable help.
But, there's only so much one person can do, which is why I am now asking for the additional help of talented and dedicated writers who really want to help end the plight of the Korean dogs, through utilizing their writing skills.
Are you that person? Will you join our volunteers?
Click HERE to learn more.
"Vibrant Daejeon Happy People"
– happy to do nothing to end the dog and cat-meat trades.
Daejeon "the New Hub City for Korea states on its website that it "has a high standard of living for foreigners". Daejeon, with the slogan 'Vibrant Daejeon Happy People' boasts that the City Government "rolled its sleeves and worked very hard to … revitalize its local economy through promotion of tourism".
But 'vibrant', 'happy' and 'high standard of living' are not words anyone can use to describe the way in which the dog-meat trade inhumanely raises and brutally slaughters its millions of animals each year. Daejeon is one of the largest dog meat consumption areas in South Korea; it has countless dog slaughterhouses, markets and restaurants where these pitiful dogs are subjected to the final brutality of being electrocuted, hanged, or beaten – then thrown into boiling water – sometimes while still alive. In many places these dogs (some stolen or abandoned pets) are killed in full view of other terrified, caged dogs.
And this takes place in public and in broad daylight. So, what foreign resident or tourist could feel really comfortable being in a city whose 'happy people' do nothing to stop this aberrant meat trade?

The Mayor of Daejeon states that he feels "it is an honor and profound responsibility to serve the people of Daejeon". But the best way for the Mayor to live up to this claim, and to really prove a Vibrant Daejeon with Happy People would be for him to end the dog and cat meat trades in his city.

Click HERE to learn more and take action.

Video: CARE . Cruelty while dogs transported from Jeju to mainland Korea.
KARA publishes Legal Information Booklet
for the ending of dog meat consumption!
*Full Translation Available Now*
At present, dog-meat consumption in South Korea is NOT LEGAL. Yet the government and general public basically ignore its presence and allow it to continue.
Some people believe a solution to the social, environmental, and health problems of the illegal dog meat industry is to legalize it. However, legalizing dog eating will do nothing to stop the cruelty. It would only become more widespread and open. And it would be impossible to police. Dog farmers will not want extra social responsibilities, regulations, and costs so they would likely continue to farm illegally anyway.
By simply ignoring the issues associated with the dog meat industry, the government can avoid costs of policing it, avoid moral debate, and avoid any backlash from farmers and dog eaters.
The government is able to do nothing because the majority of Koreans show a profound indifference to both the law and moral principles concerning the dog-meat industry. With an indifferent government and general public, dogs are still being brutally tortured and eaten as if it were legal.​

KARA (Korea Animal Rights Advocates) have published information booklets explaining the laws involving dog meat consumption. Through this booklet, they summarized the major disparities between the current law on farming dogs for the meat trade – to sale and slaughter for human consumption and what is currently practiced in S. Korea. You can download the copy of this booklet from their website.

Click HERE for the full translation of KARA's page and legal info summary.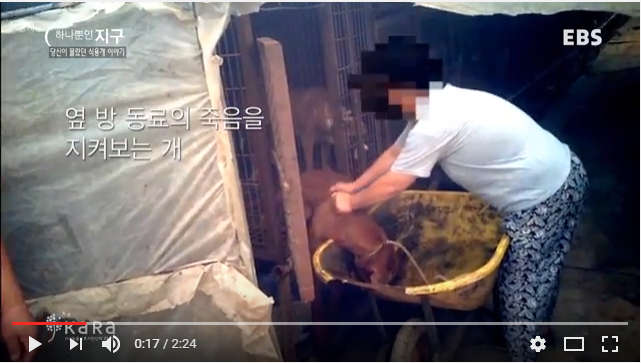 Join us in San Francisco – Nov 5, 2016!
We will be displaying our banners/posters, handing out leaflets and collecting petition signatures against the extremely cruel South Korean dog meat trade, at this famous San Francisco tourist attraction and landmark.
Location: San Francisco, Fisherman's Wharf located near the corner of Jefferson and Powell streets along the chain link fence.
Date/Time: November 5, 2016 Saturday. 9:30am – 4:30pm. Come when you can and stay as long as you can.
Click HERE to learn more.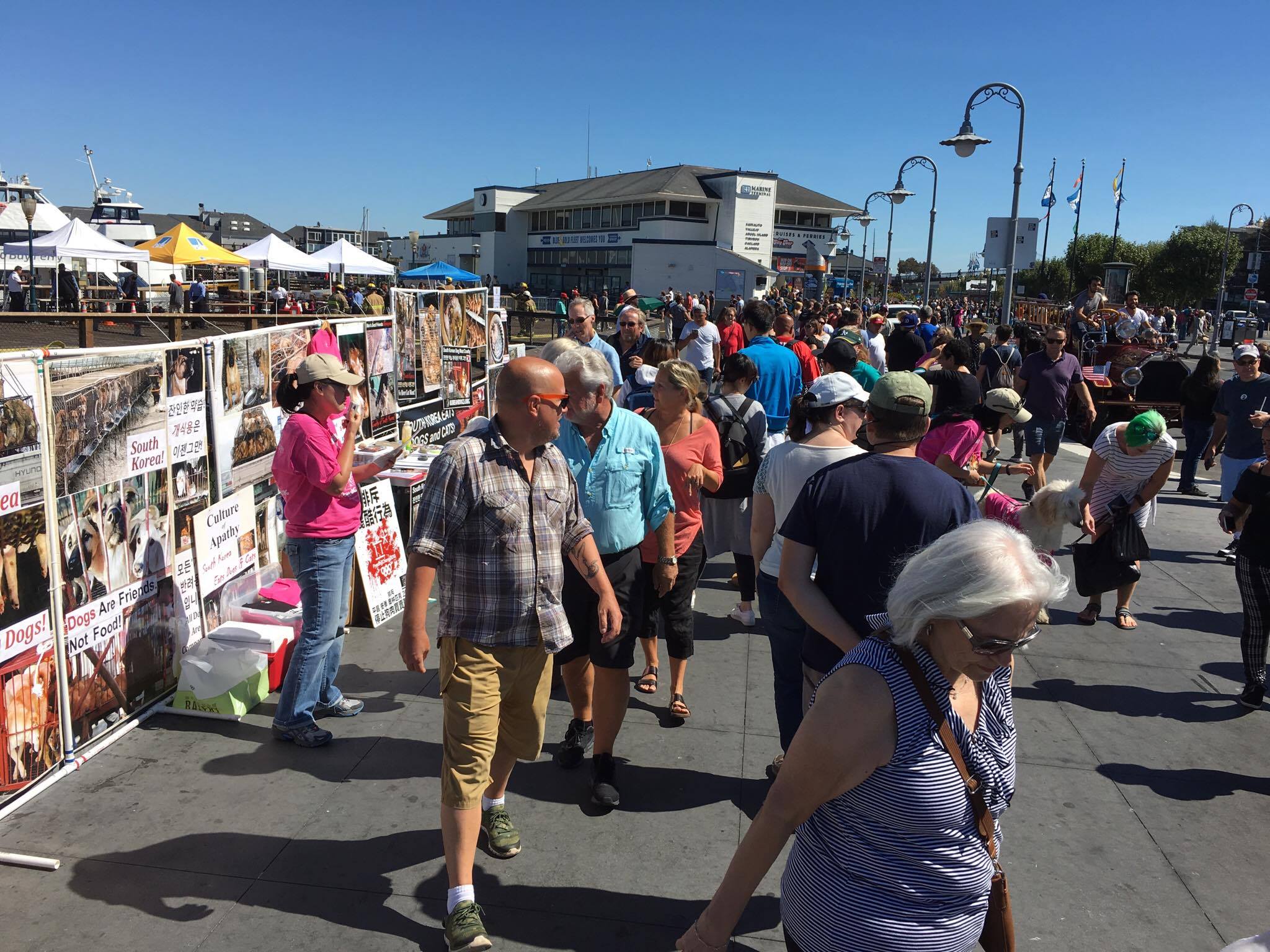 We have many Sister/Friendship City Campaigns going on now.
Please add your voice TODAY to help the Korean dogs.
"All that is necessary for the triumph of evil is for good men (and women) to do nothing"
-Edmund Burke