Newsletter – June 26, 2017
Click

HERE

to see this newsletter from our homepage.​
​
KARA discloses results of their investigation
of 'meat dog farms' at press conference.
Translation complete.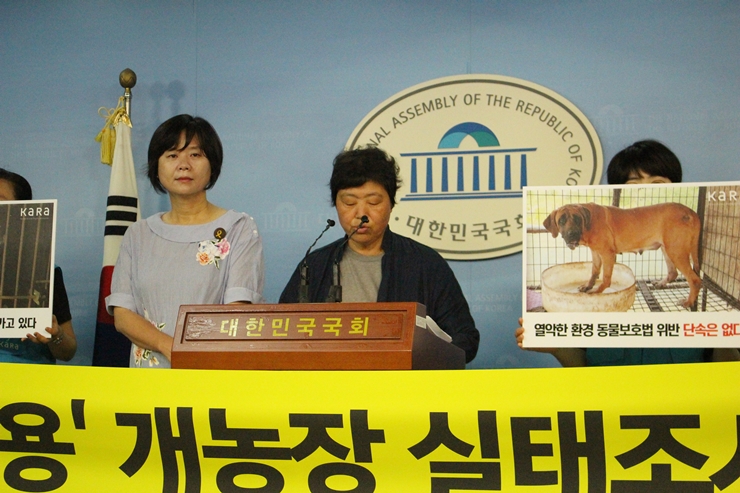 This is translation of Korea Animal Rights Advocates (KARA)'s post.
In an era when 10 million dogs are considered companion animals, more than one million are being slaughtered every year at 3,000 of the "world's only meat dog farms." It would not be an exaggeration to call these meat dog farms "companion animal slaughterhouses."
These statistics, however, may be low and the breeding environment and slaughtering process of dogs is unregulated. While dog meat consumption still exists in countries like China and Vietnam, South Korea is the only country with farms that breed dogs continually, and where large farms housing more than 1,000 dogs are in operation for the purpose of human consumption. These animals are confined their entire lives to tiny steel raised wire cages before they are slaughtered and eaten.
To gain an understanding of the meat dog farms that operate in the darkness of no governmental regulation, Representative Lee Jeong-Mi of the Justice Party and animal rights group Korea Animal Rights Advocates (KARA; Im Soon-Lye, director) requested data from the Ministry of Environment on dog farms that are required to submit reports for the livestock manure treatment facility and conducted analysis.
Based on this data, KARA conducted field investigations in sample areas including Gyeonggi-do Gimpo and Yeoju, Gangwon-do Wonju, Gyeongsangbuk-do Gimcheon for 10 months beginning August 2016 and inspected the state of the breeding conditions and livestock manure treatment status of these dog farms.
As a result, it was confirmed that there are at least 2,862 dog farms in South Korea that are over 60 square meters and therefore are required to file livestock manure treatment facility reports. At least 781,740 dogs were being bred on these dog farms, with an average of 273 dogs per farm.
Click HERE to learn more.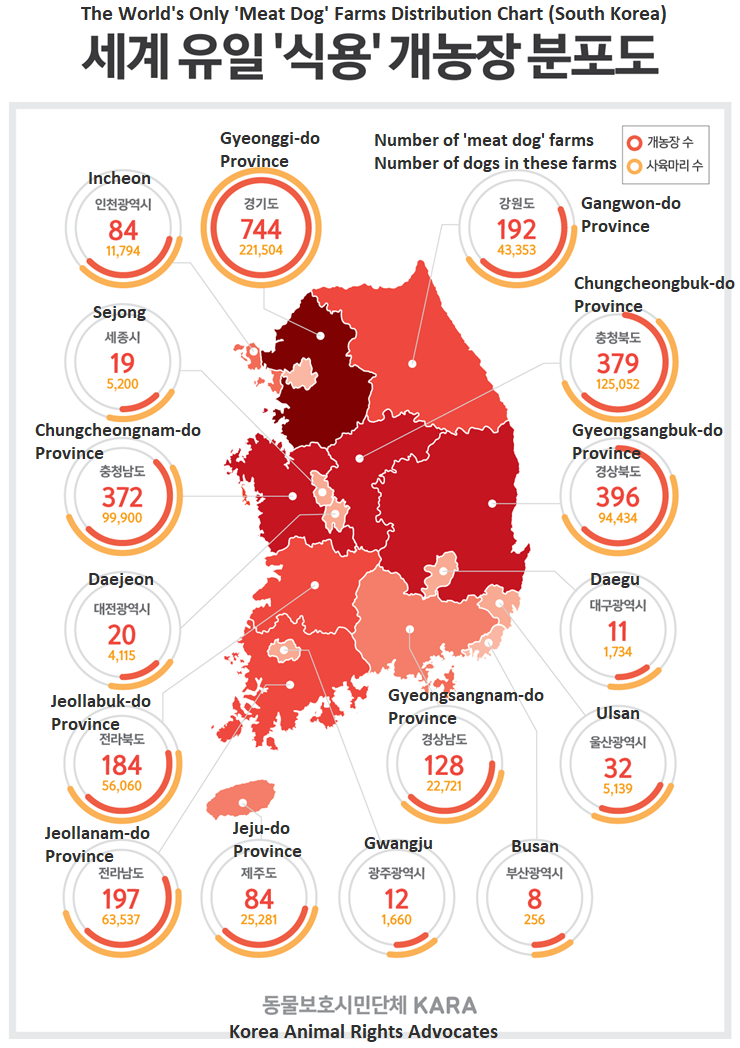 NEW PETITION – Please sign!
Shut down the "Hell on Earth" illegal dog farm
in Yangsan Sangbuk-myeon Gongwon-ro! .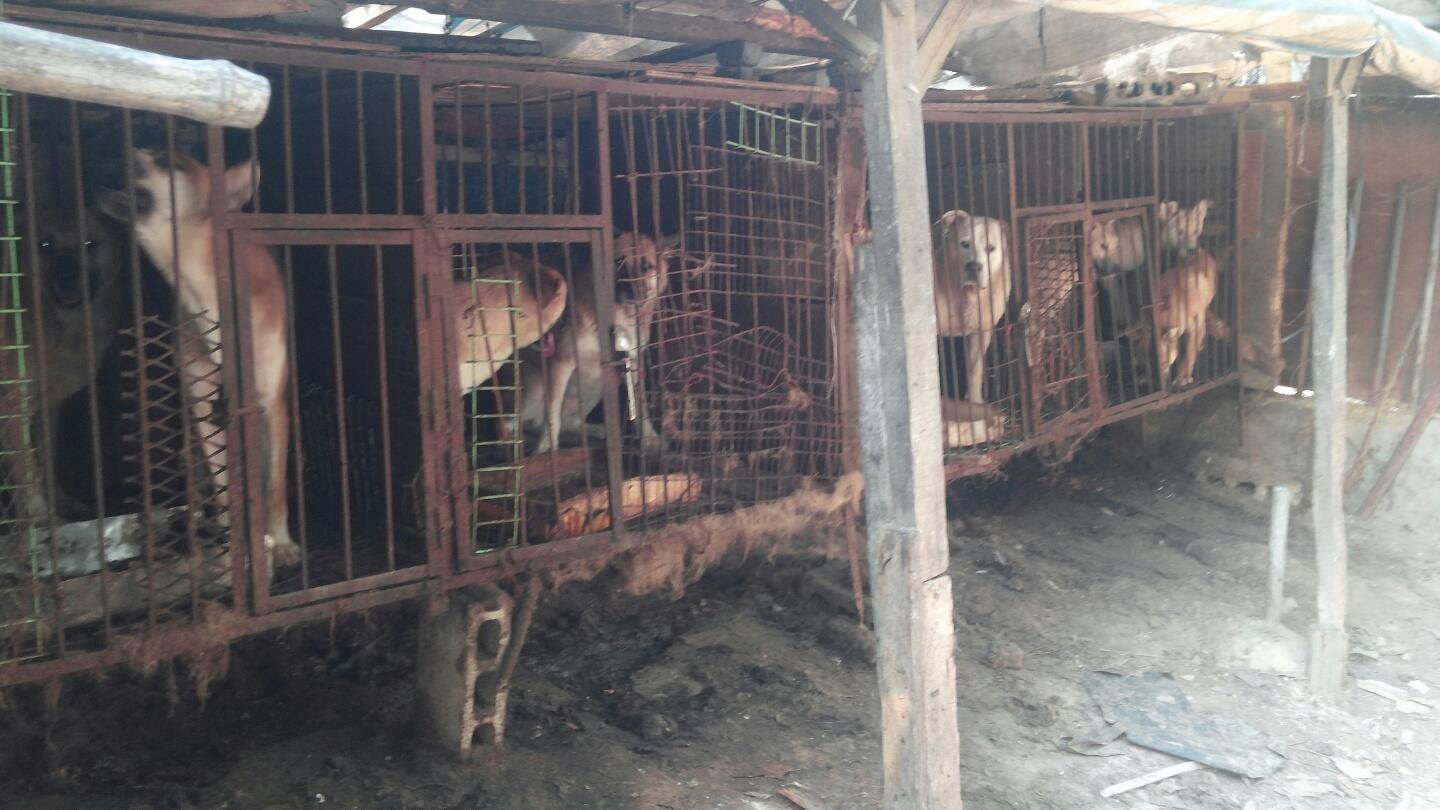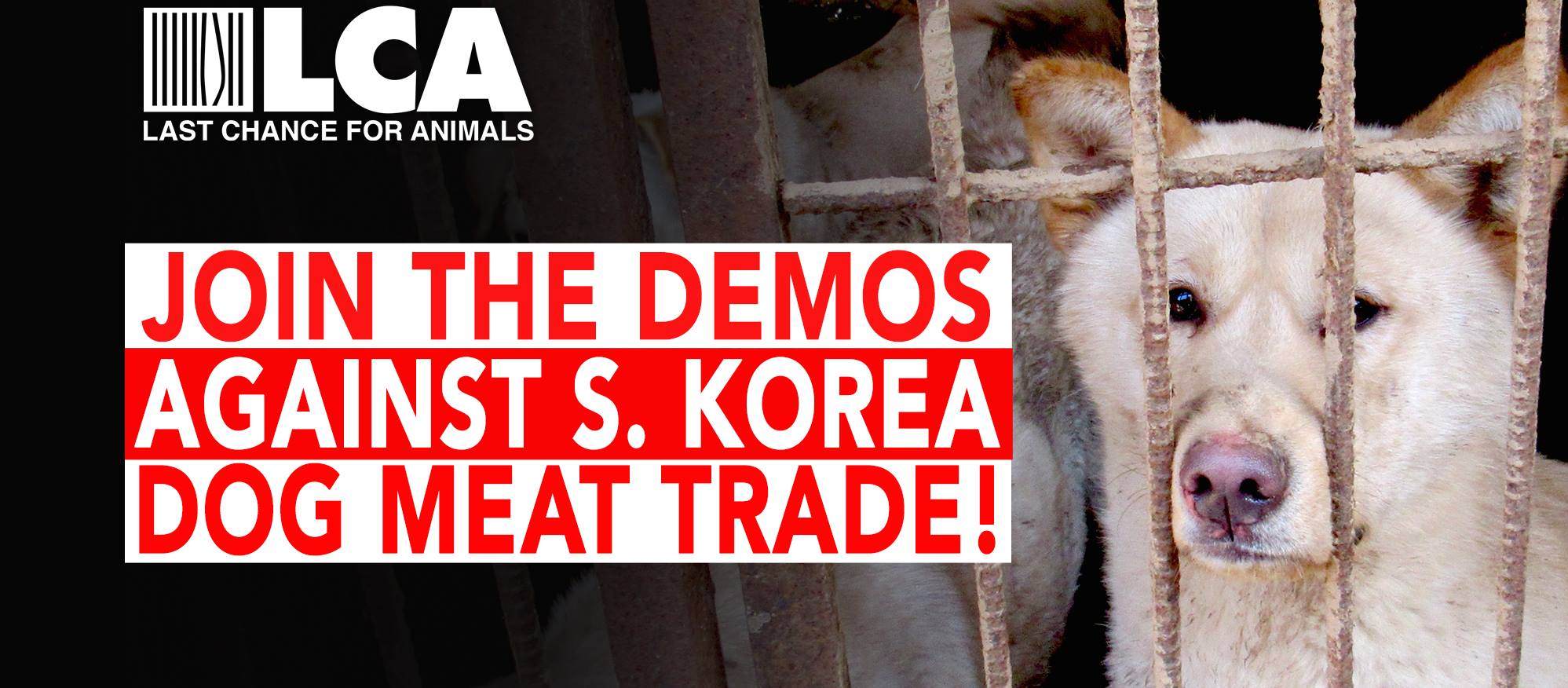 Sharing for LCA:
Join the Two-Day Demo Against the S. Korean Dog Meat Trade!
Last Chance for the Animals (LCA) is organizing 2 demonstrations
at the Washington DC this week. Please join! Thank you!
South Korea's newly elected President Moon will be coming to Washington DC next week to meet with President Trump. LCA will be having a demonstration in DC to urge him to end the dog meat trade now! Please see details below. The demonstration will be held over 2 days and will be at 2 different locations.
Click HERE for the first demonstration.
Click HERE for second demonstration.
FIRST DEMO
WHEN: 10 am – 1 pm THURSDAY, JUNE 29TH
WHERE: CAPITOL HILL
Meet at the corner of Constitution Avenue and New Jersey Avenue – 10 am sharp until 1pm. LCA hope to deliver their message in person to the South Korean President Moon to ban the dog meat trade.
SECOND DEMO
WHEN: 10 am – 1 pm FRIDAY JUNE 30TH
WHERE: S. KOREAN EMBASSY
Meet in front of the Korean Embassy – 2450 Massachusetts Ave NW, Washington, DC 20008
LCA will have posters and banners to hold.