Newsletter – February 19, 2018
[URGENT] Only 4 Days Left of PyeongChang 2018! | Response from PyeongChang 2018
Click

HERE

to see this newsletter from our homepage.
​
[URGENT]
PyeongChang 2018 Athletes,
Please speak out against animal cruelty!
There are only 5 days left before the PyeongChang 2018 Winter Olympics comes to an end. So please, will you take a moment of your time today and be a voice for the Korean animals suffering in the dog and cat meat trade? On the Olympic website is a list of all participating athletes. Let's ask these athletes to speak out against South Korea's cruel dog and cat meat trade and help to save millions of animals that each year suffer from horrific brutality and mass slaughter.
Click HERE to take action.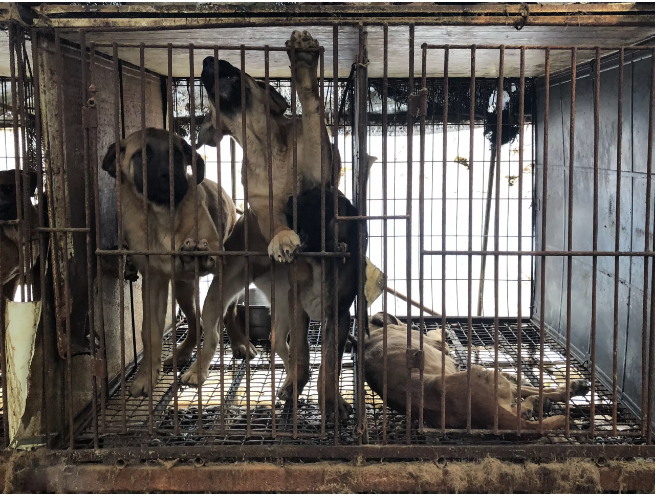 Swedish star cross-country skier Charlotte Kalla
​ is a champion of compassion and courage
Swedish star cross-country skier, Charlotte Kalla, was shown a video of South Korea's dog meat industry and was very saddened by it. Swedish news Expressen, published on February 7, 2018, reported the peoples' reaction to Charlotte, applauding and thanking her. We are thankful to Charlotte for her compassion and courage in speaking out for the millions of Korean animals in the horrific dog and cat meat trade! You are a true champion and we love you.
Click HERE to learn more.
Response from PyeongChang 2018 Olympic Committee
​USA TODAY Sports reported on February 7 that they received a reply from the news desk of the organizing committee, with its "official statement on dog meat consumption." ​The statement read:
| | | |
| --- | --- | --- |
| ​"We are aware of the international concern around the consumption of dog meat in Korea. This is a matter which the government should address. We hope that this issue will not impact on the delivery or reputation of the Games and the province and we will support the work of the province and government on this topic as needed. Also, dog meat will not be served at any Games venue." | | |
Thunderclap Campaign "Boycott PyeongChang 2018!"
​Only 6 Thunderclap campaigns "Boycott PyeongChang" left to go. So please keep participating and sharing! Thank you! Click HERE to join now.
Adopt dogs rescued from dog meat industry
by SaveKoreanDogs.org
Dogs rescued from dog meat industry in South Korea by Nami Kim and her team are waiting for their loving and caring forever homes. Click the below button to learn about how you can adopt them. Thank you for opening your heart and your home to these angels!
Click HERE to see the dogs available for adoption.
Click HERE to follow SaveKoreanDogs.org on Facebook for the latest updates.

Photo: Madeline is named after Madeline Warren, one of SaveKoreanDogs.org's board of directors. Madeline was rescued together with Bob on the 23rd Jan 2018. She gave birth to five puppies on the 30th January. SaveKoreanDogs.org
While we are all filled with joy knowing the horrors these puppies have been saved from, the work doesn't end with their rescue. It takes a great deal of money to keep the sanctuary afloat, pay the enormous medical costs, pay staff to run the shelter, transport them to their foster/forever homes and continue the rescue work. Won't you please help by donating whatever you can to this ongoing effort? Thank you!

San Francisco – Join us this Saturday!
We will be displaying our banners and posters, and will be handing out leaflets and collecting petition signatures against the extremely cruel South Korean dog meat trade at the Fisherman's Wharf, the famous San Francisco tourist attraction and landmark. We will need the help of volunteers to hand out our leaflets and to talk to as many of the visitors as possible, to make them aware of our campaign to help the South Korean dogs and cats. Can you help? Free T-shirts and cold drinks are provided to volunteers at this event.
Location: San Francisco, Fisherman's Wharf located near the corner of Jefferson and Powell streets along the chain link fence.
Date/Time: February 24, 2018 Saturday. 9:30am – 4:45pm.
RSVP on Facebook or send us a message if you will be coming.
​Click HERE to share our event. Thank you!
Dogs are welcome! :O) Woof!
Hope to see you there!