Newsletter – March 1, 2018
The pet shop of horrors! 79 dogs found dead, and many more seriously ill | Vote for Willow!
Click

HERE

to see this newsletter from our homepage.
​
Pet shop of horrors – 79 dogs found dead,
​many more left to starve by a heartless pet shop owner
A heartless pet shop owner in Cheonan Dongnam-gu district is reported to have neglected a total of 160 dogs, causing the death of 79 of them because he did not want to spend any more money on them. Many corpses were found in a significant state of decomposition, with their skulls and ribs fully exposed. The remaining 80 surviving dogs, were clearly starving and many found diseased. Astoundingly the pet shop is also reported to have been offering an adoption service to clients, promising to find new homes for these unfortunate animals!
​Click HERE to learn more and take action.


Please vote for Willow for 2018 Hero Dog Awards
You can help rescue more dogs!
Willow is the most popular and loved volunteer at our San Francisco Fisherman's Wharf leafleting events. He is also a survivor of the S. Korean dog meat trade. His owners turned him into the slaughterhouse because he was old. Neglected, with cut ears, matted hair, a mouth of bad teeth and an infected tongue, he was allowed rescue because he "didn't offer much meat". He was a lucky one. Arriving Sept 2016, Willow is spreading awareness on social media and making public appearances to educate people on animal welfare topics (incl. the dog and cat meat trade) through non-traumatic and non-graphic ways and presenting resources to help more of his 4-legged friends. Willow travels internationally in foam board form and poses with trade survivors. His campaign, "I Am Willow I Am Not Food" raises flight funds for dogs.
Click HERE to learn more about the award.
Click HERE to vote for Willow.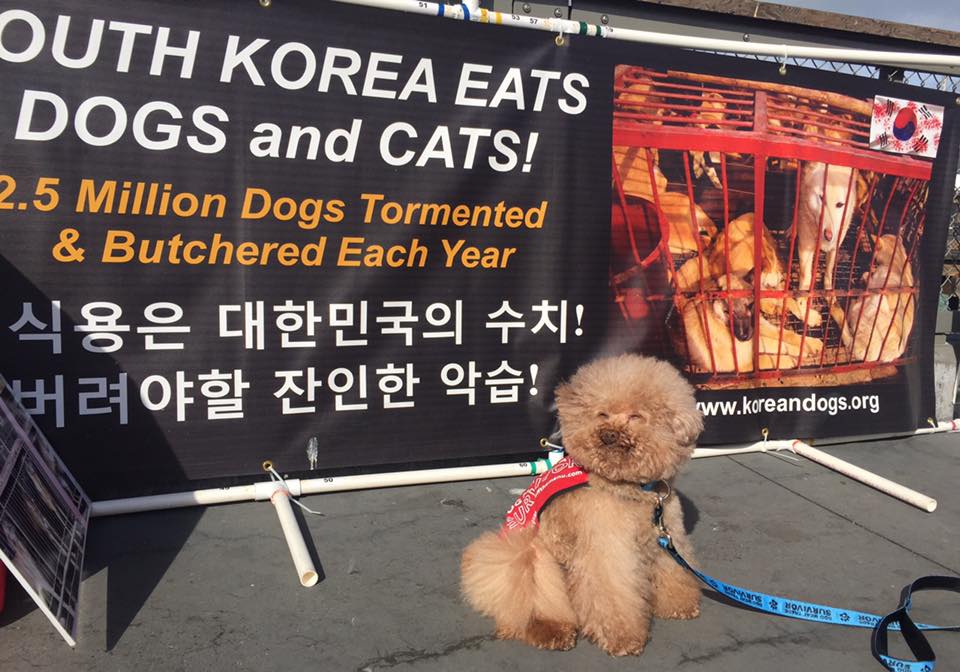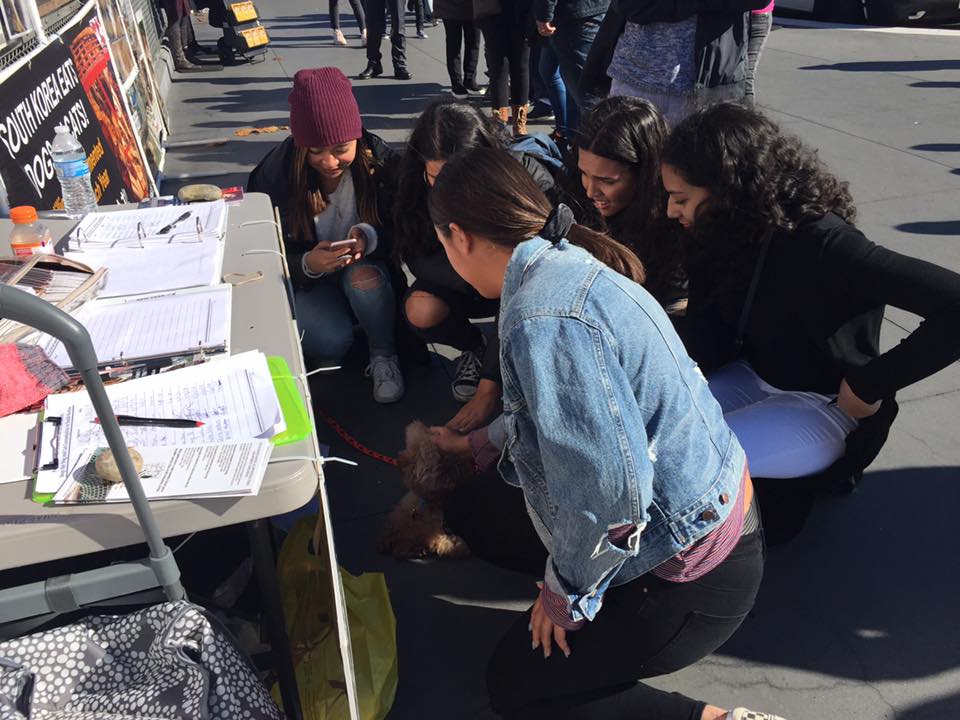 Adopt dogs rescued from dog meat industry
by SaveKoreanDogs.org
Dogs rescued from dog meat industry in South Korea by Nami Kim and her team are waiting for their loving and caring forever homes. Thank you for opening your heart and your home to these angels!
​
​Click HERE to see the dogs available for adoption.
Click HERE to follow SaveKoreanDogs.org on Facebook for the latest updates.

Photo: "Aengdu" means "Cherry" in Korean. She is simply an adorable affectionate girl. She can play all day long and gets along well with others. Aengdu is spayed, and fully vaccinated but heartworm positive. She will be under heartworm treatment till end of March. Click HERE to learn more.
While we are all filled with joy knowing the horrors these puppies have been saved from, the work doesn't end with their rescue. It takes a great deal of money to keep the sanctuary afloat, pay the enormous medical costs, pay staff to run the shelter, transport them to their foster/forever homes and continue the rescue work. Won't you please help by donating whatever you can to this ongoing effort? Thank you!