Newsletter – October 28, 2016
IOC Turning a Blind Eye! | Boycott PyeongChang 2018 Action Center
IOC say they are 'limited to the scope of the Games'
– we question that response.

Following a letter sent by Francie, to the President of the International Olympic Committee(IOC), in Switzerland, regarding the brutal dog and cat-meat trades in South Korea, a reply was received stating that the remit of the IOC was purely games-orientated and they were declining to take any action, as the IOC could have no say in the affairs of a sovereign nation.
Whilst we are not asking them to 'impose measures' on South Korea, we are asking the IOC to consider their stated aim of promoting 'far-reaching actions for environmental, social and economic development across society' by, not only, building on the partnership they have with the Ministry of Education of this host nation, but also through the IOC's stated expectation that "People expect the Games to be a catalyst for lasting change—a change that ranges far beyond sport performance and facilities."
As such, we feel that the IOC are very well-placed to address our concerns.
Click HERE to learn more!
Write to the International Olympic Committee

The 2018 PyeongChang Winter Olympics is only about one year away and, by now, communications will be well established between the various members of the International Olympic Committee (IOC) and the organizers in the host nation, South Korea.

So, this is the perfect time to ask the IOC to urge South Korea to stop the brutal torture and killing of creatures, known universally as companion animals, by ending the horrendously cruel dog and cat-meat trades.

Send a quick online message and a postal letter to the IOC asking for their help.

Click HERE to take action!

Siheung: "gate of Asia", or gate of hell?
The citizens of Siheung apparently think that their "garden city" is the "gate of Asia connected to the world". A lovely concept, but one that falls short of the image that many people in the rest of the world will hold of Siheung once they are aware of the stark fact that Siheung also harbours a brutal and thriving dog-meat trade.
With around 205 dog-meat restaurants in the vicinity of this city, hundreds of thousands of dogs are being bred and kept in filthy, inhumane conditions, before being subjected to cruel and sadistic methods of slaughter, in order to supply these outlets and to satisfy the appetites of those living in their "comfortable residential districts".
Siheung "the center of international business", and one that "will transform itself into a high-tech, culture, leisure and tourist city" …
Back to the drawing board, Siheung: international business people and tourists will not be impressed by these slogans or your brutal dog-meat trades. So, end these trades now, Siheung, and then you will become the tourist attraction you aspire to be.
Click HERE to learn more and take action.
Click HERE to sign and share petition.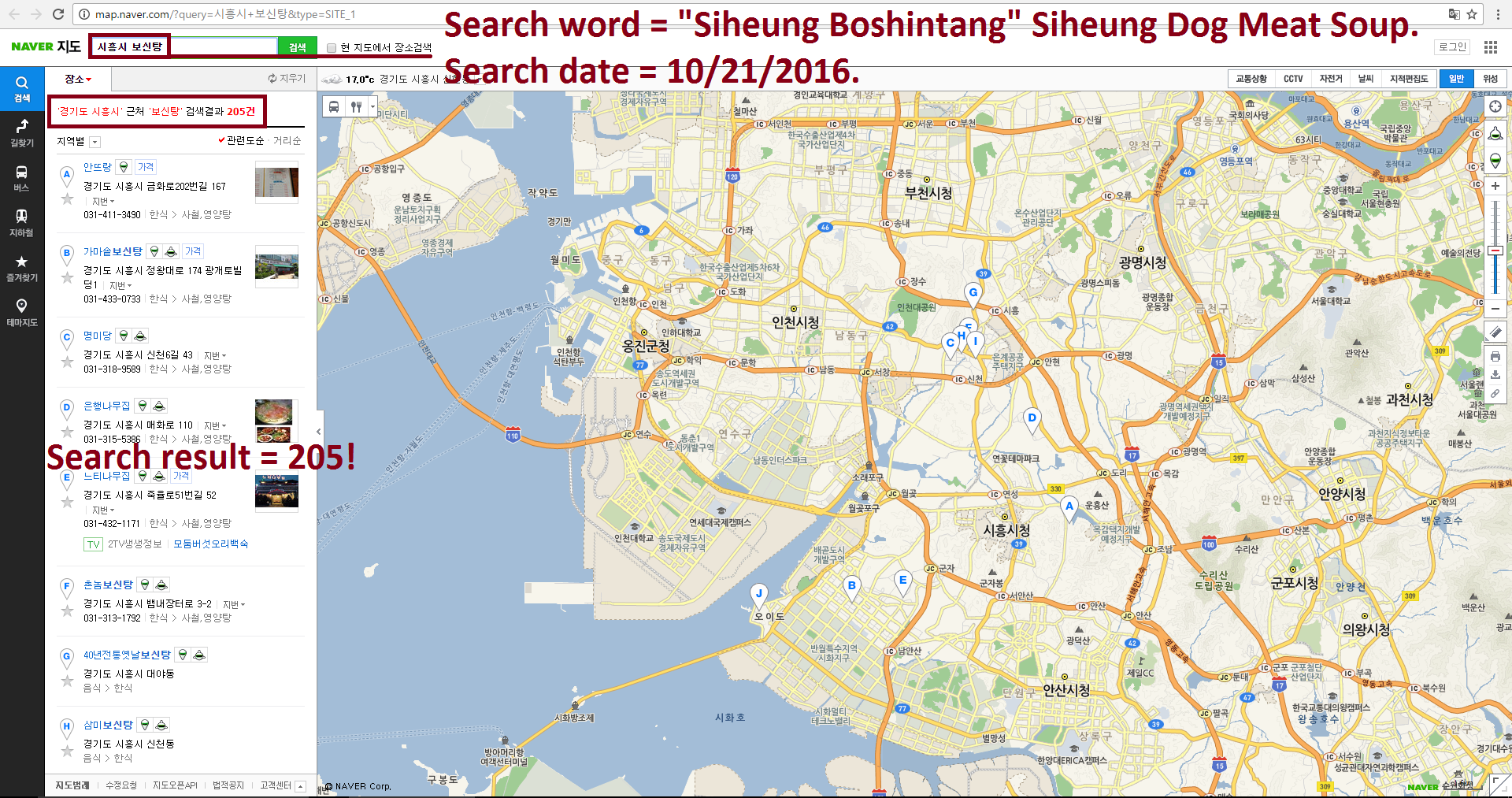 Guri – a city that aspires to become a "world class" city
​- take action now to combat the internationally condemned and brutal dog and cat meat trade operating right now!
The Mayor of Guri City aspirationally states that Guri striving to be a "world-class city". His goal is for Guri to become the education and culture-oriented centre in the eastern part of Seoul and he describes it as an "environmentally friendly culture". We are afraid that, once you peel back the gloss of this historical and culture-orientated city, there is none of that focus or aspiration when it comes to how this City and its residents treat the dogs and cats that live there too!
How can a City which fails to tackle the brutal and medieval dog and cat meat trade in its own backyard be "world-class" or indeed "environmentally friendly!" The ambitions of this City and what it puts into practice are completely juxtaposed! Guri is host to dog and cat meat restaurants as well as farmers and butchers unconcerned with animal welfare, care for the environment or indeed, even the safety of their own customers when it comes to serving up cats and dogs for human consumption. If Guri truly wishes to meet its ambitions and to indeed become a "world class city" then it needs to take action NOW to stop the operation of the restaurants, butchers and farmers operating in the sickening, cruel and internationally condemned dog and cat meat trades.
Help us to tell Guri what the meaning of "world class city" truly is, that is, one where the barbaric dog and cat meat trades are extinguished for good! Help us Tell Guri the world is watching!
Click HERE to learn more and take action.
Click HERE to sign and share petition.

Photo: Yellow Dog. Dogs are hanged to death in slaughterhouses. South Korea.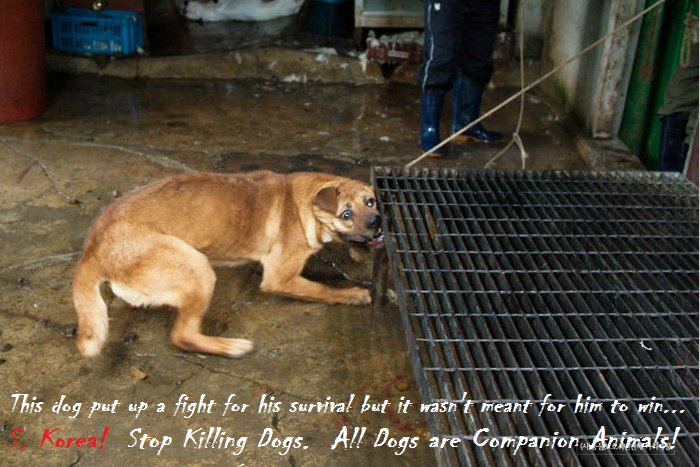 Hampton 'brushed off' by standard official Korean response
In response to our Sister City Campaign/petition, and the many e-mails received from concerned individuals, City of Hampton made contact with their counterparts in Anyang. Click HERE for the Sister City Campaign!
| | | |
| --- | --- | --- |
| We want to thank Mayor Tuck and his colleagues for taking swift action; once again, though, the response they received from the Korean authorities was the standard one of stating that 'abuse and cruelty is against the law in South Korea' and that 'dogs are popular pets' etc. Statements which are true enough, but, in addition to pointing out that Koreans consider meat dogs to be completely different from pet dogs, we do not see the response given to be relevant to our concerns about dogs in the dog-meat trade, which is thriving and in which these animals are routinely kept in inhumane conditions, then brutalized and tortured their entire lives. | | |
Mayor Tuck's office has accepted the advice that the Anyang officials say their laws are 'continuously strengthened and enforced' and inferred that any facilities or restaurants [carrying out dog-meat trade activities] would not be legal ones. So we would like to make Mayor Tuck and his colleagues aware of a simple internet search we carried out recently, on Naver business directory, a Korean search engine, using the search term '안양 보신탕' in Korean, which translated means 'Anyang Dog Meat Restaurant', which clearly listed 70 results in the vicinity of Anyang alone (with what quantity of dog farms in the neighbourhood to supply this demand?). Are these 70 results just advertising errors, then, or is this an official cover up.
Click HERE to learn more and take action.
Click HERE to sign and share petition.
​
Photo: Anyang Mayor Pil-Un Lee.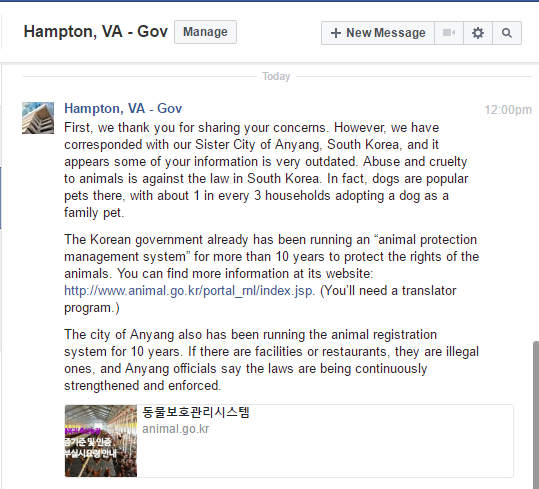 We have many Sister/Friendship City Campaigns going on now.
Please add your voice TODAY to help the Korean dogs.
"Dogs are our link to paradise.
They don't know evil or jealousy or discontent.
To sit with a dog on a hillside on a glorious afternoon is to be back in Eden,
where doing nothing was not boring–it was peace."
-Milan Kundera