Newsletter – April 12, 2017
Taiwan bans slaughter of cats and dogs for human consumption!!
Click

HERE

to see this newsletter from our homepage.​
​
Taiwan bans slaughter of
cats and dogs for human consumption!!

BBC reported on April 11, 2017 that the "Taiwan's parliament has approved a bill banning the slaughter of cats and dogs for human consumption. The bill also prohibits those using a car or motorbike from pulling their pets alongside them on a lead as they travel. Anyone caught breaching the order faces a large fine or up to two years in prison – and having their names and photographs made public. The measures were introduced to improve the country's animal protection laws. The move on Tuesday is a landmark amendment to Taiwan's Animal Protection Act, and is the first of its kind in Asia."
Click

HERE

to read the entire article.
Click HERE to learn more from the World Dog Alliance.

Taiwan's president, Tsai Ing-wen, is the first female president of that nation and she used her leadership role to bring this important change to her country – to ban the slaughter of dogs. What a contrast to South Korea's first female president, Park Geun-Hye, who abandoned her pet dogs – 9 Jindo dogs and puppies, when she was impeached for corruption and moved from the presidential palace.
South Korea must follow the example of Taiwan and stop the cruel dog meat consumption. South Korea is giving other Asian nations such as Taiwan, a negative image to the world, because many people mistakenly believe that all Asian countries eat dogs. The following Asian countries had already implemented bans against dog meat consumption:
Japan – No dog consumption in their history.
Hong Kong – 1950: Banned slaughter of dogs and cats.
Philippines – 1998: Banned dog consumption.
Thailand – 2000: Banned slaughter of dogs and cats.
Taiwan – 2001: Banned sale of dog meat. However, the dog meat restaurants still operated. In 2007, Taiwan animal rights activists sued their government for not enforcing the laws banning sale of dog meat.
We applaud these Asian countries for taking the initiative to put a stop to dog meat consumption, and we implore them to diligently enforce these laws. In Korea, no efforts had been implemented to stop the dog meat trade, because of profound indifference of the government and the majority of the citizens. It is time for these Asian countries to speak out against the dog meat trade, for the benefit of Korean animals as well as their own image.
​PyeongChang, host to the 2018 Winter Olympics – the world will be watching South Korea, which is why this is the perfect time for you take action to support our campaign to end the horrific dog and cat meat trade in South Korea for good!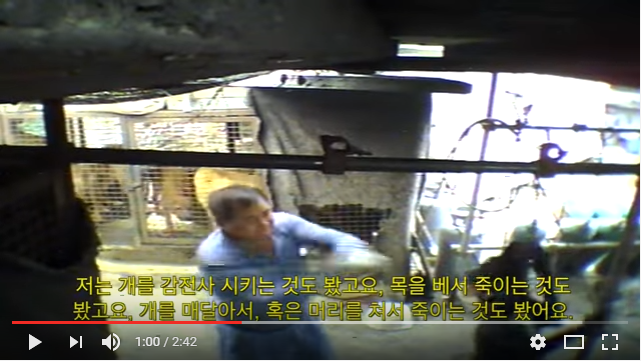 Call the South Korean Embassy!!

A face to face meeting is the most effective way to put pressure on the South Korean Government. If that is not possible, then the next most effective way is to pick up your phone and call them. Please take ten minutes of your time today to call the South Korean Embassy and Consulate General offices in your country and be a voice for the poor South Korean dogs!

Click HERE to call now.


Photo: Gupo Dog Meat Market in Busan. Busan Korea Alliance for the Prevention of Cruelty to Animals (KAPCA).