Newsletter – November 20, 2017
Clicks for Important Petitions | Seoul, Clean up your house before making friends abroad!
Click

HERE

to see this newsletter from our homepage.​
​

Thunderclap – "Boycott PyeongChang 2018 Campaign"!
Please join us to speak out against the South Korean dog and cat meat cruelty. Join our Thunderclap campaigns to say "Boycott PyeongChang 2018 Olympics in South Korea"! We will launch the Thunderclap twice a month until February 2018, when the Olympics will be taking place. We must not let this rare opportunity pass by for saving millions of Korean dogs each year from horrendous cruelty. Click HERE to learn more and take action!
Adopt dogs rescued from dog meat industry
by SaveKoreanDogs.org
Dogs rescued from dog meat industry in South Korea by
Nami Kim and her team
are waiting for their loving and caring forever homes. Click the below button to learn about how you can adopt them. Thank you for opening your heart and your home to these angels!
We are very grateful to
Louise Trevatt
for volunteering her time
and talent to help these dogs get adopted. Thank you!!
Woof! Woof!
Sharing for Louise:
Meet Milk and Shake – these two love each other! They are so bonded!
Milk & Shake grew tremendously in confidence whilst we were at the shelter and came forward to take treats and interact. Milk is a positive character and playful. Light on her feet and interested in what is being offered. To see her build her confidence and place her trust in us proved that outside the shelter environment she will grow quickly.
Shake – As with Milk above – they live together – you can see on the videos that Shake grew in confidence and began to trust coming forward for treats!
Shake is marginally less confident than Milk and learns so quickly. To move from fear to curiosity shows great character and that's what Shake demonstrated to us, that she has the character to connect and use that intelligence she has in bucket loads.

These two deserve to be together, they get on tremendously well and they have learned to rely on each other I realise that ultimately they might need to be homed separately, but that separation process can be managed well. Particularly if you are a foster home who can help them to discover themselves.

The video shows Moo helping us to connect with them and as you can see they are open and receptive to what we are offering!!

They are slight dogs who move gently and lightly!! They will be lots of fun when they grow even more in confidence in their new home!

If you have fallen for them and want them in your life, please complete an adoption application using this link http://savekoreandogs.org/application-form/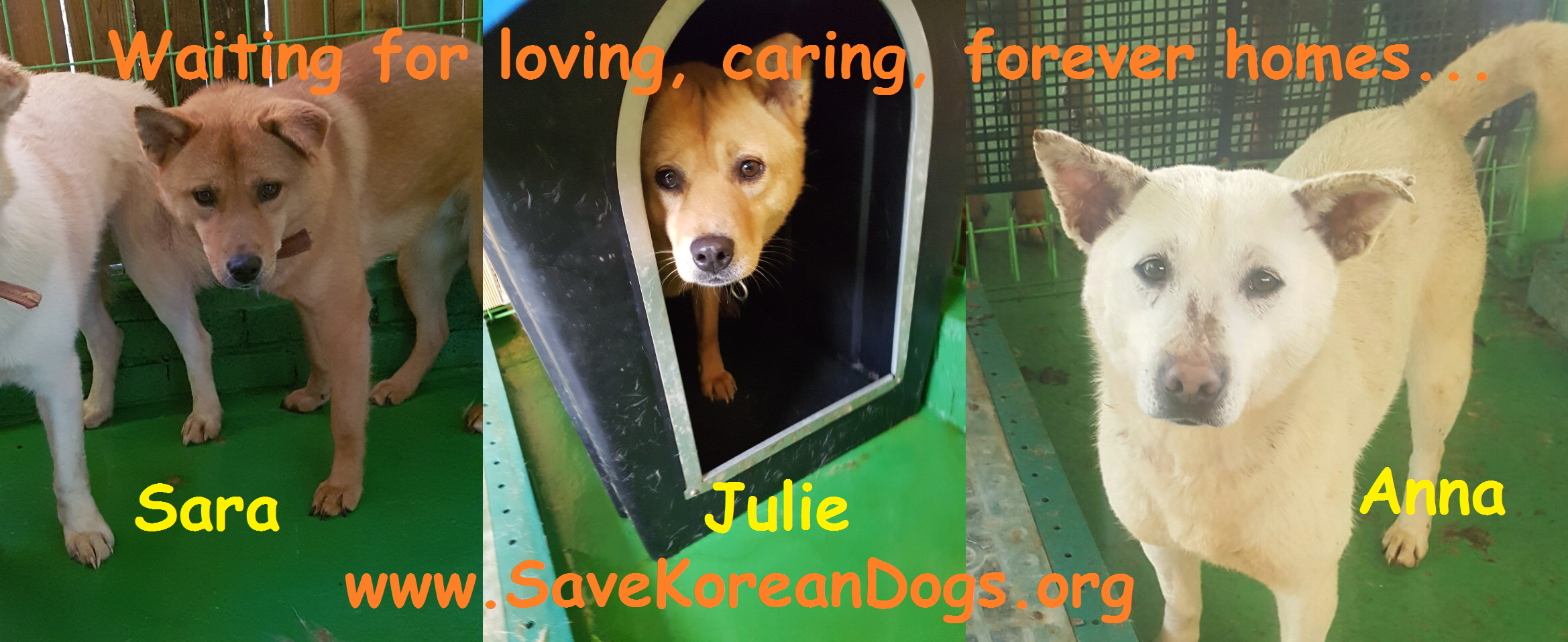 Boycott PyeongChang 2018 Olympic petition signatures shipped.
​As of November 10, 2017, we have collected 218,098 signatures (a total of 9,514 pages) on our petition: Boycott PyeongChang 2018 Winter Olympics in South Korea, A Dog Eating Nation! The petition is being shipped on November 14 via USPS Priority International Mail to the International Olympic Committee in Switzerland.

This petition was created on June 10, 2012 during the early days of our campaign against South Korea's cruel dog and cat meat industry. We are grateful to everyone who signed our petition and stayed with us, supported us, and continued to take action.

Click HERE to learn more.