Newsletter – February 2, 2016
Mayor of Richmond, Virginia: Tell Sister City, Uijeongbu, South Korea, That We're Opposed to Torture and Consumption of Dogs and Cats!

Uijeongbu, South Korea became a Sister City with Richmond, Virgina in 1995, despite the fact that Uijeongbu, South Korea is responsible for a horrendous dog and cat meat cruelty.

Countless dog farms and slaughterhouses are scattered throughout Uijeongbu and they truly are hell on earth for the defenseless dogs suffering there. Man's best friend exists for their entire lives in squalid, feces encrusted raised wire cages in utter misery only to be slaughtered in the most horrific ways – by electrocution, a hammer blow to the neck, being hung or beaten, bleeding to death from a slashed throat, being burned to death from a blowtorch, or thrown into a vat of boiling water while still alive.

Please click HERE to sign petition, call and email Richmond Mayor Dwight C. Jones TODAY!
Update: Unjust verdict on the charges against Nami Kim

Sharing from Nami Kim and her team.

Nami Kim received a notice from the Incheon District Court this week, following a charge against her by the police, for defending herself when being physically attacked by the brother of a dog farmer at the Universe Dog Farm in Incheon(South Korea).

The court case which lasted over six months, and was aired on one of the three major television stations, resulted in a very disappointing verdict for Nami. Nami was not present in court when they issued a verdict for injuring the butcher's brother and fined her 1,000,000 Korean Won (equivalent of US$900).
Click HERE to read.
Seoul, South Korea – First Class City of Barbarity and Indifference!
Mayor Kirk Caldwell of Honolulu, Mayor Ed Lee of San Francisco and Mayor Muriel Bowser of Washington DC: Tell Sister City, Seoul, South Korea, That We're Opposed to the Torture and Consumption of Dogs and Cats.
Seoul became sister city with Honolulu in 1973, San Francisco in 1976, and Washington DC in 2006. Yet Seoul, South Korea is responsible for the horrendous dog and cat meat trade.
If you have ever wondered what a hell would be like, just take a visit or watch the videos on Gyeongdong Market. This place is a "Hell on Earth" with innocent man's best friends in cages after cages waiting for the heartless customers to order them to be slaughtered on the spot by electrocution, hanging, beating,…and thrown into boiling water sometimes while they are still alive. Dogs are being killed in full view of other dogs terrified in cages, in public and in broad daylight. Based on a recent news article (South Korea's dog meat clash http://english.hani.co.kr/arti/english_edition/e_national/542514.html), there are 8 slaughterhouses around Cheongnyangri residential area near Gyeongdong market alone. There are laws in South Korea against selling dogs and cats for consumption, yet these laws are blatantly ignored. No matter where you live, please click HERE to take action.
Click HERE to read the Seoul Government's shameful response to our petition.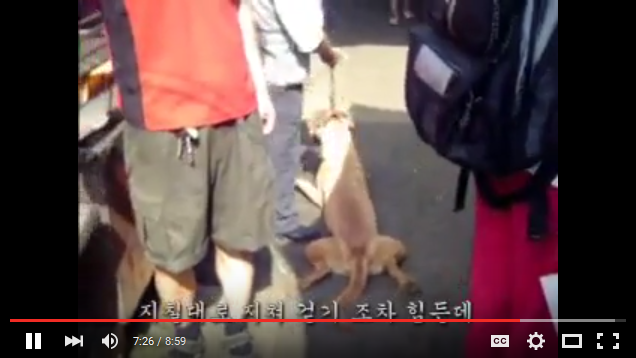 San Francisco Bay Area Activists – Join us this Saturday!
February 6, 2016 Saturday – Fisherman's Wharf, San Francisco, California
Leafleting and Informational Event on the South Korean Dog Meat Trade
Super Bowl 50 will be held in San Francisco this weekend so we we are expecting extra hundreds of thousands of visitors into the city and foot traffic of thousands more at the Fisherman's Wharf. We will be displaying our banners/posters, handing out leaflets and collecting petition signatures against the extremely cruel South Korean dog meat trade at this famous San Francisco tourist attraction and landmark. Click to see the photos from our previous event on November 1, 2015!
Free T-shirts and cold drinks are provided to volunteers at this event.
Location: San Francisco, Fisherman's Wharf located near the corner of Jefferson and Powell streets along the chain link fence.
Date/Time: February 6, 2016 Saturday. 10:00am – 4pm.
Contact: [email protected]
RSVP on Facebook or send us an email if you will be coming. Thank you!
Dogs are welcome! :O) Woof!
Hope to see you all there!
Click HERE to help promote our event by tweeting, using our tweet sheet.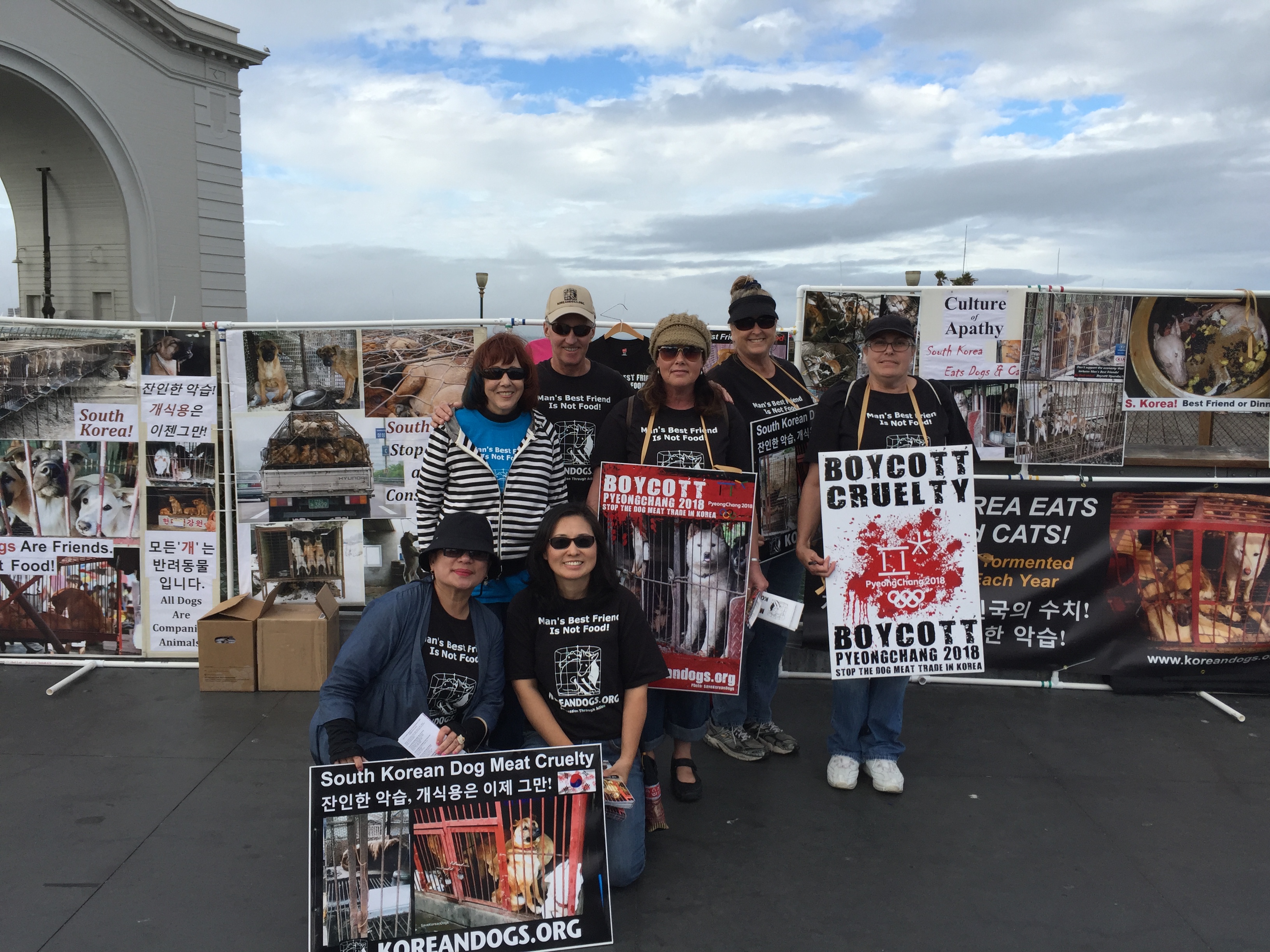 "Dog meat consumption is an evil custom that doesn't belong in a modern society as well as a vice harmful to the mental health of our citizens." –
Beopjeong Buddhist Priest
(South Korea)
"개고기 식습관은 현대에는 걸맞지 않는 폐풍이오, 국민들의 정신 건강에 아주 좋지 않은 영향을 끼치는 악습이다." –법정스님