Newsletter – March 16, 2016
New shelter for the rescued dogs – Please donate!

Sharing for Nami Kim and her team.

Click HERE for the Nami's Facebook post!

This has been my daily pain in the neck for the last two months. We now received a third notice to "vacate" the house we are using as a temporary shelter. We were trying to negotiate to rent an old empty church but they now want double the rent. It's getting warm now so we are afraid the house may fall anytime when everything starts melting.

I have been traveling far and wide looking for a piece of land. Then we also have to add in the cost to build a small sanctuary. The price of land in Korea is as expensive as Hong Kong now. Half of the peninsular, only South Korea 99,720㎢ with the population of 50 million so land is at a premium. We are looking for a small house in a village in Incheon to purchase. We need more funds to do that.

Click HERE for more info and to donate.

Please help!
Bakersfield Mayor Harvey L. Hall: Tell Sister City Bucheon, South Korea, That We're Opposed to the Torture and Consumption of Dogs and Cats.

Bakersfield, California became Sister city to South Korea's Bucheon in 2006.

Yet Bucheon, South Korea is responsible for the ongoing horrendous torture and killing of dogs and cats. Bucheon is one of the largest dog meat consumption areas in South Korea.

If you have ever wondered what hell would be like, just visit or watch the videos of dog farms and slaughterhouses scattered all throughout Bucheon. There are countless dog farms from small to very large, markets, and restaurants where the dogs, who have been tortured their entire lives, end up being slaughtered in the most inhumane ways, such as by electrocution, hanging, or beating, and then thrown into boiling water – sometimes while they are still alive.

Click HERE for more info and to take action.
[Update] Incheon Kyesan Dog Farms
Sharing from Nami Kim and her team.
I received an official written letter from the district office regarding the Incheon Kyesan dog farm and slaughterhouse. The slaughterhouse within the dog farm has been taken down and one row of cages dismantled. The office is working hard to shut down the second dog farm. I am on daily communication with the office about what should be the next step to take. The sad news is the butchers won't surrender the dogs to us calling me an "enemy."
Click HERE for more info and to take action.
Incheon has four sister cities in United States – Burbank, Philadelphia, Anchorage, and Honolulu. Please visit the Call for Action pages below to sign the new petitions addressed to the mayors of these cities and to take simple and quick actions to urge the mayors of Incheon' sister cities to help put an end to this travesty. Click below for Call for Actions!
Burbank
Philadelphia
Anchorage
Honolulu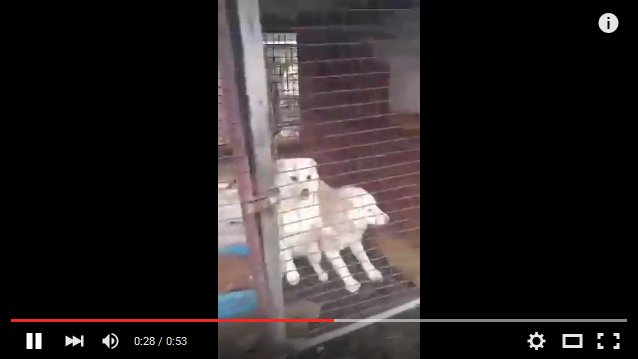 BOYCOTT CRUELTY, BOYCOTT KOREA Banners
The only way to pressure South Korea into ending the dog meat trade is to hit them where it hurts – their wallets! BOYCOTT CRUELTY, BOYCOTT KOREA! This means Boycotting PyeongChang 2018, Samsung, LG, Hyundai, Kia and all South Korean companies and tourism companies.
Please post and share the below BOYCOTT CRUELTY, BOYCOTT KOREA Banners everywhere!
Click HERE for the posters in many languages.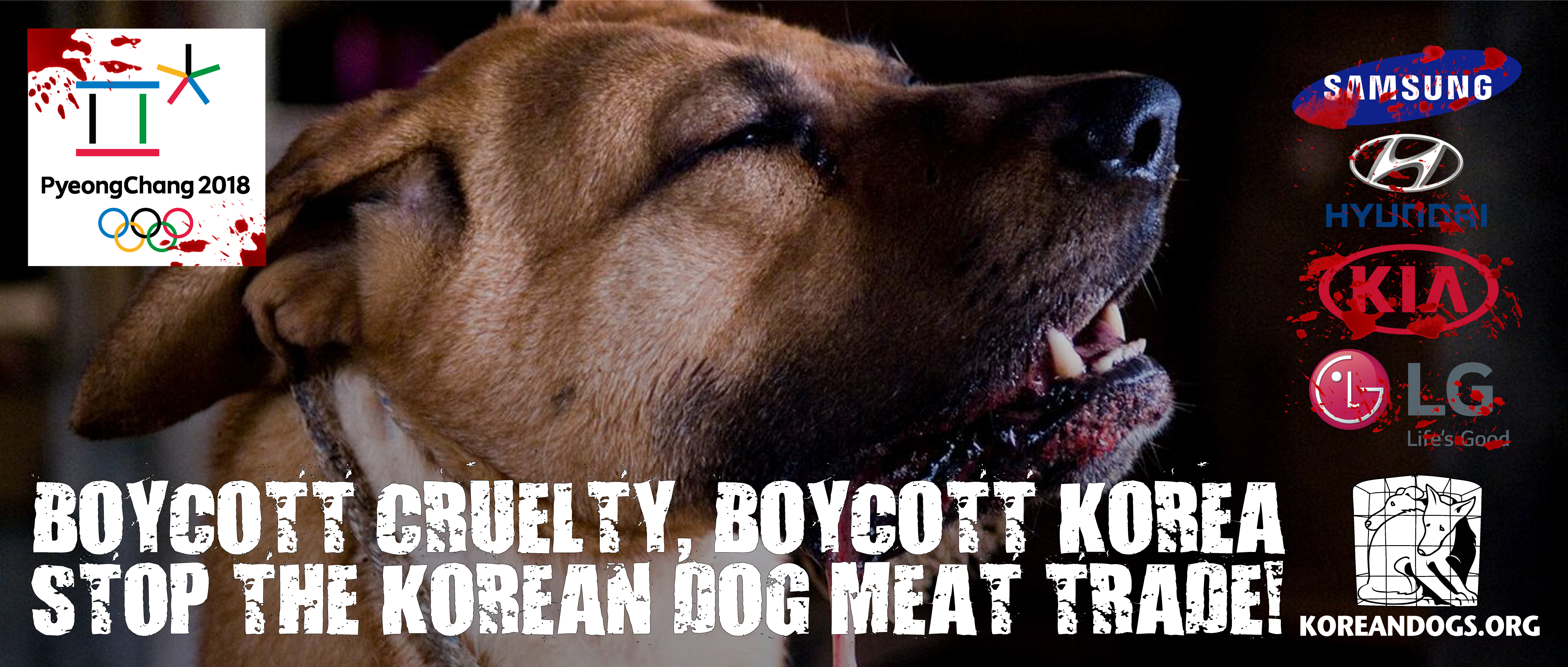 Please nominate Nami Kim for CNN Heroes Award!
Nami Kim has dedicated the rest of her life to ending the dog meat trade in South Korea. While risking her safety, and even her life, she rescues dogs from grossly inhumane confinement in crowded, squalid conditions and saves them from being brutally slaughtered.
Nami provides her rescues with foster care, food and shelter, and veterinary care. She arranges for adoptions outside South Korea. In addition, Nami addresses this industry by educating the public through bus ads, dispensing pamphlets and demonstrations. She also generates petitions, letter writing and phone call campaigns to urge governmental entities and South Korean companies to speak out against the dog meat trade and call for its end. The physical and emotional toll is high, but Nami is tireless and fearless in her devotion to the dogs of South Korea and the end of their unnecessary suffering. Nami has given so much to this cause. Isn't it time she was recognized? If anyone deserves to receive the CNN Heroes Award, it's Nami Kim. Please follow the link and nominate her. Click HERE for more info.
Click HERE to nominate Nami!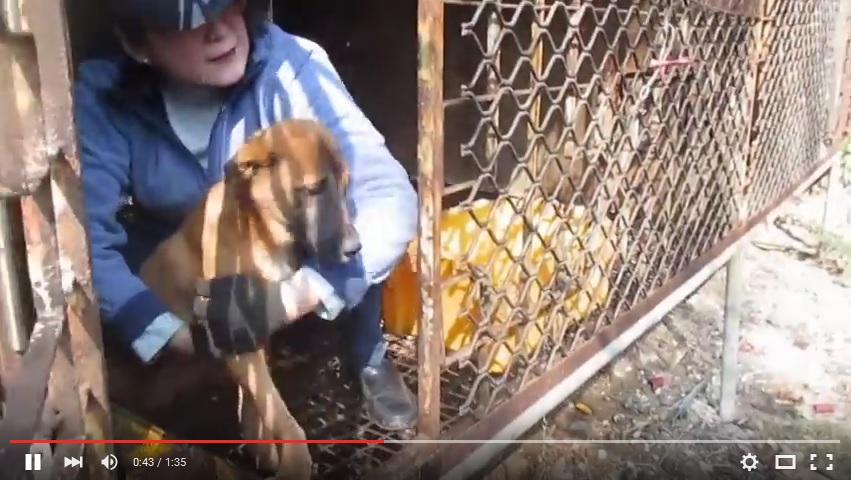 We have 2 events coming up:
Join us in San Francisco and Washington DC!
San Francisco Event:
This Sunday, March 20th
Fisherman's Wharf
Washington DC Event:
Next Saturday, March 26th
The National Air and Space Museum
We need a volunteer videographer who can film our San Francisco event for a documentary being produced by the Korea Observer! They would use about 30 seconds of footage in their documentary.
Click HERE for more info about the documentary.
Click HERE to contact us if you can help.
Click HERE for more info on these events.

"Never be afraid to raise your voice for honesty and truth and compassion against injustice and lying and greed. If people all over the world…would do this, it would change the earth." -William Faulkner